Ethan and Aiden Dvash-Banks are toddler twins who share almost everything: the same toys, the same nursery, the same clothes and the same parents. Everything but a toothbrush and U.S. citizenship.
To remedy what their parents, a same-sex married couple, view as an injustice, Ethan Dvash-Banks became a plaintiff at the tender age of 16 months in a federal lawsuit against the U.S. State Department that seeks the same rights his brother has as an American citizen.
Each boy was conceived with donor eggs and the sperm from a different father — one an American, the other an Israeli citizen — but born by the same surrogate mother minutes apart.
"What we're trying to do is pursue justice for Ethan," said Elad Dvash-Banks, Ethan's biological dad, "and correct a wrong that the State Department is continuing to pursue that might affect other couples."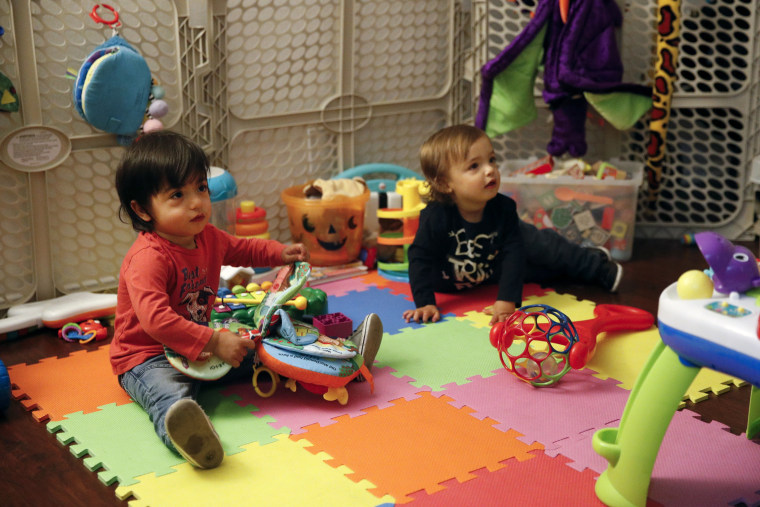 The lawsuit was one of two filed Monday by an LGBTQ immigrant rights group that said the State Department is discriminating against same-sex binational couples by denying their children citizenship at birth. The cases, filed in Los Angeles and Washington, by Immigration Equality said the children of a U.S. citizen who marries abroad are entitled to U.S. citizenship at birth no matter where they are born and even if the other parent is a foreigner.
"The agency's policy unconstitutionally disregards the dignity and sanctity of same-sex marriages by refusing to recognize the birthright citizenship of the children of married same-sex couples," the Dvash-Banks lawsuit states. "The State Department's policy is arbitrary, capricious and serves no rational, legitimate, or substantial government interest."
"What we're trying to do is pursue justice for Ethan ... and correct a wrong that the State Department is continuing to pursue that might affect other couples."
Elad Dvash-Banks
The State Department said it does not comment on pending litigation but pointed to guidance on its website that says "a child born abroad must be biologically related to a U.S. citizen parent" in order to acquire U.S. citizenship at birth.
Aaron Morris, executive director of Immigration Equality, said the State Department is applying the wrong policy for children born to married same-sex couples. Act 309 of the Immigration and Nationality Act, which he said is being applied to both families involved in the lawsuits, is specifically for "children born out of wedlock." The correct policy, he said, would be Act 301, which — unlike Act 309 — does not mention the necessity of a "blood relationship" between the child and the parent who is a U.S. citizen.
"When a man and a woman walk into a consulate of the U.S. with a marriage certificate and a birth certificate, no one asks them any questions about biology," Morris said. "Any time a same-sex couple walks into a consulate, they will always be questioned by the State Department" about biology.
"They are not giving these parents the marital presumption, so at best they are treating their marriage as lesser than an opposite-sex marriage," Morris added. "You only get to [Act] 309 if you've already decided the marriage doesn't count."
The other case filed Monday by Immigration Equality involves two women — Allison Blixt and Stefania Zaccari — one from the U.S., and one from Italy, who met in New York, wed in London and each gave birth to a son. The State Department didn't recognize the couple's marriage, the lawsuit said, and only granted citizenship to the boy whose biological mother was born and raised in the U.S.
"The fact that the State Department's policy has led children identified by their birth certificates as boys with the same parents to have different nationalities listed on their passports crystallizes both the indignity and absurdity of the policy's effect," their lawsuit states.
Citizenship issues frequently arise with births overseas — even for heterosexual U.S. citizens — and particularly with the use of artificial insemination and surrogacy, said immigration lawyer Ally Bolour, who is not involved in the lawsuit. The Supreme Court's rejection in 2013 of the Defense of Marriage Act (DOMA), which had barred the federal government from recognizing same-sex marriages, opened the door to the potentially groundbreaking challenges now being brought, he said.
"This is an absolutely fascinating, cutting edge area of law that stems from (DOMA) being overturned," Bolour said. "It was just a matter of time for this issue to be decided by the courts."
Andrew Dvash-Banks was studying in Israel when he met Elad, an Israeli citizen. Because they couldn't marry at the time in the U.S. or in Israel, they moved to Canada, where they wed in 2010. The children were born by a surrogate in September 2016.
Everything seemed fine until the couple brought their infants to the American consulate in Toronto a few months later to apply for citizenship and the woman at the counter began asking probing questions they found shocking and humiliating.
The consular official told them she had discretion to require a DNA test to show who the biological father was of each boy and without those tests neither son would get citizenship. The men knew that Andrew was Aiden's biological father and Elad was Ethan's, but they had kept it a secret and hadn't planned on telling anyone.
"I started crying," Andrew Dvash-Banks said. "These are twins, how can you differentiate between them? They were born minutes apart."
After submitting the DNA test results that proved who fathered each boy, the couple received a large and small envelope from the U.S. on March 2. The big one included Aiden's passport. The other was a letter notifying Andrew that Ethan's application had been denied.
The family has since moved to Los Angeles to be closer to Andrew Dvash-Banks' family. Ethan came on a tourist visa that expired last month.
"He doesn't have legal status," Andrew Dvash-Banks said. He hopes the lawsuit he and his family have brought will change that and help other families in a similar situation.
"Maybe it's a very small change, but it will help a lot of other people," Elad Dvash-Banks said. "I think what we're doing right now fixes something that is not fair and fighting for what's right."