Oscar-winning screenwriter Dustin Lance Black and his husband, British Olympic diver Tom Daley, announced on Valentine's Day that they're expecting their first child. But while there are more options than ever for same-sex couples looking to expand their families, it's not a simple — or affordable — endeavor for many.
Whether it be through surrogacy, artificial insemination or adoption, gay couples in the U.S. face a series of hurdles — some more complicated and expensive than others — in order to have kids. Along with the challenges, however, there are a number of resources available to help them along their journey.
SURROGACY: ERIK AND ADAM
Los Angeles couple Erik and Adam McEwen sat anxiously in a hospital waiting area this past November. In a nearby room, Erik's sister-in-law, Corrin, was giving birth to the men's twin daughters. Corrin volunteered to be their surrogate and was impregnated through in vitro fertilization (IVF). A female friend of the couple had donated her eggs, which were fertilized with their sperm.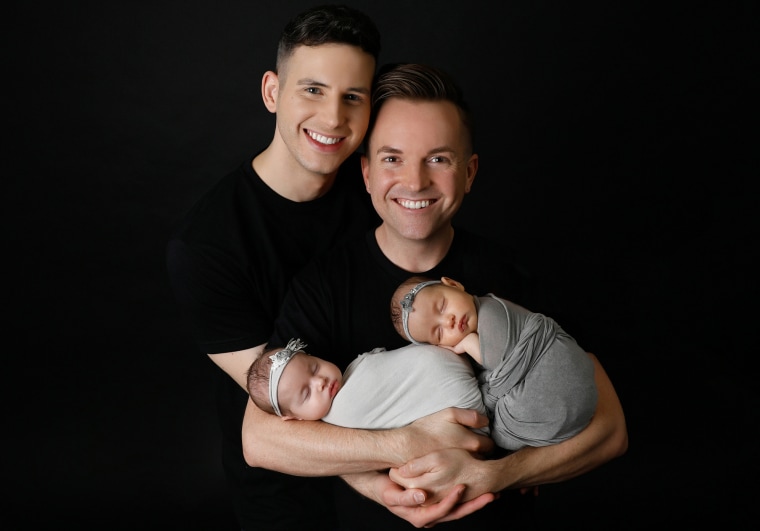 The couple could not be present for the birth of their daughters, Erik said, because hospital rules only permitted one person in the delivery room. Erik said he and Adam wanted Corrin's husband, Erik's brother, to be by her side to support her.
Not being able to see the birth of their daughters was disappointing, the couple said. But their disappointment quickly dissipated once the newborns were in their arms.
"It got the best of me," Erik recalled, saying he burst into tears upon holding his daughters. "I was a blubbering idiot."
Erik, a hairstylist, and Adam, a musician, said their dream family likely would not have become a reality had their female friend and Erik's sister-in-law not volunteered to help them.
"I don't think we could have done it otherwise, mainly because it costs so much money," Erik said. "That's just something that would not have been possible."
Erik said the process cost him and Adam upwards of $65,000. Corrin's insurance covered OB-GYN-related care, but Erik and Adam paid for fertility treatments (including IVF), legal fees related to the surrogacy process and their daughters' hospital care immediately following their birth.
"We go into the nursery area, and there is a woman there basically with a credit card machine and paperwork for us to give them money immediately, and so it kind of took away from that first moment with your baby," Erik explained.
While the cost of childbirth can vary greatly, even for heterosexual couples, hospital deliveries in the U.S. cost on average $3,800 per stay, according to a 2011 report from the Agency for Healthcare Research.
Most couples who go through surrogacy do not have the luxury of both a volunteer surrogate and egg donor, according to Amanda Hopping-Winn, chief program officer for the Family Equality Council, an advocacy organization for LGBTQ families. When a paid surrogate and egg donor are involved, she said the cost easily exceeds $100,000.
Hopping-Winn also noted there are many legal hurdles involved with surrogacy, and she advised couples pursuing this route to work with a lawyer and enter into a contract with a surrogate to ensure they are recognized as legal parents before they even begin the process.
Surrogacy laws vary widely from state to state, and Hopping-Winn said it is crucial to be aware of this national patchwork of laws.
"There are some states like, let's say New York, where surrogacy agreements throughout the state are void and unenforceable, and if they find out that you do have a surrogacy contract, you are subject to fines," she explained.
If a couple lives in a state that does not permit surrogacy or enforce surrogacy contracts, Hopping-Winn said they should use a surrogacy agency in a state that does. Most surrogacy agencies, she added, are connected with legal groups that can assist couples through the process.
ARTIFICIAL INSEMINATION: DAKERRI & SONDRA
Pregnancy is usually less complicated for lesbian couples, Hopping-Winn said, but it can still be costly. Many lesbian couples get pregnant through artificial insemination with donated sperm, which can cost several thousand dollars and require additional legal steps not necessary for heterosexual parents.
If two women choose to have a baby using reciprocal in vitro fertilization, where one partner is impregnated with the fertilized egg of the other partner, the process can be more costly. On average, the cost of a basic IVF cycle in the U.S. is between $12,000 and $15,000, according Internet Health Resources.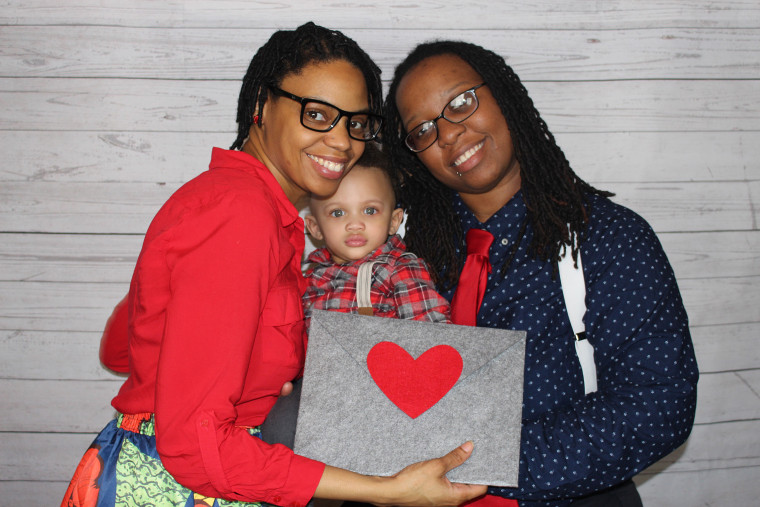 Dakerri and Sondra Barber-Rhone, a married lesbian couple living in Nashville, said they spent about $6,000 out-of-pocket on their pregnancy. Dakerri, who carried the baby, said her insurance covered only a portion of the costs.
"Financially, it was pretty difficult," Dakerri said. She and her wife used artificial insemination with donor sperm to get pregnant but did not do IVF. She said it took four attempts to get pregnant, which added to the price tag.
The cost, she said, was well worth the outcome. After 14 hours of labor in the spring of 2016, she gave birth to a healthy baby boy.
"It was incredible," Dakerri said. "As soon as I saw him," she added, "it was just an instant connection."
ADOPTION: JAMIE & BO
Same-sex partners that want to have children solely through adoption may also face unique challenges. While there are no states that explicitly prohibit same-sex adoption, seven states permit state-licensed child welfare agencies to refuse to place children with LGBTQ families if doing so directly conflicts with their religious beliefs, according to the Movement Advancement Project, an LGBTQ think tank.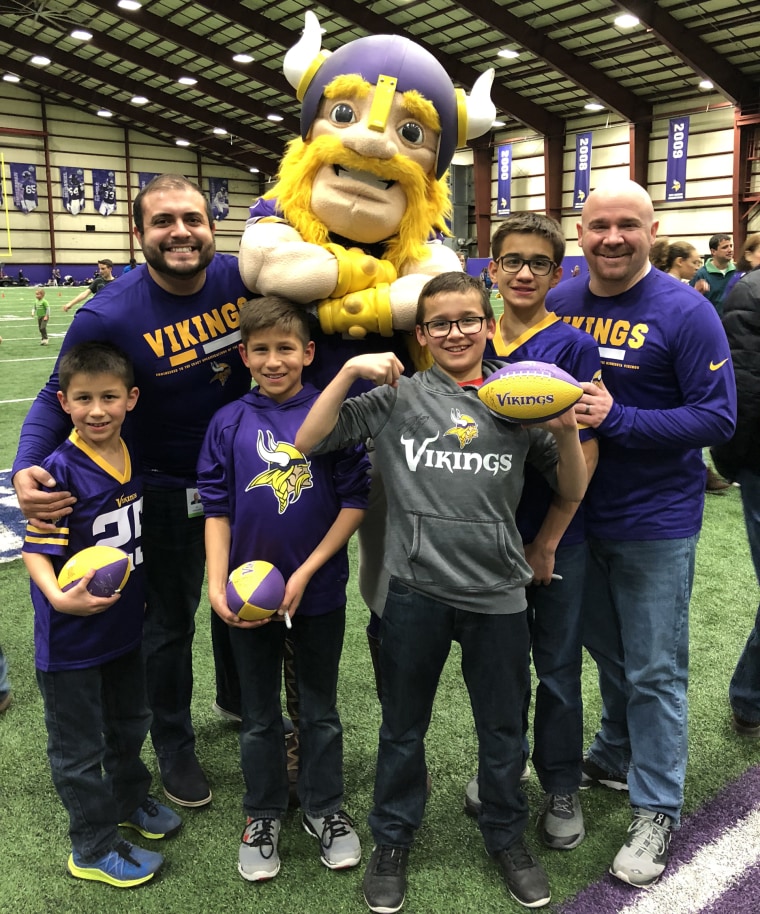 Luckily for Jamie and Bo Nabozny, their state is not one of those seven. The Minneapolis couple was able to adopt four brothers, ages 9, 10, 12 and 13, through Minnesota's foster care system. Jamie said they found an LGBTQ-affirming adoption agency in the state in 2015 that guided them through the process.
"Picking the right agency is the number one thing that's going to make a difference in the success and … ease [of] the adoption," Jamie said. He and his husband adopted their children through a free state program called Minnesota's Waiting Children.
While Jamie and Bo are the boys' legal parents, they said they worry about what might happen when traveling outside of Minnesota. Whenever they travel, Jamie said they bring their sons' birth certificates and adoption papers so they can prove they are their legal guardians.
"I don't think most families think about bringing birth certificates along," Jamie said. "That's something that we have to think about and worry about, because we don't want to run in to an issue where people question who we are or our relationship to the children."
ADOPTION WITH SURROGACY & ARTIFICIAL INSEMINATION
Even when a married same-sex couple has children through pregnancy — either via a surrogate or using donated sperm — experts recommend that the parent who does not have a biological connection to the child pursue adoption. Hopping-Winn said doing so protects the rights of the non-biological parent if the biological parent dies, if the couple gets divorced or when the family travels, among other circumstances.
"More and more states are allowing two moms or two dads to be on the birth certificate, but at the end of the day, a birth certificate is more a birth announcement," Hopping-Winn added. "It doesn't establish parentage — it generally is not as relevant in a court of law if there are issues."
Parental rights for same-sex couples are determined by state laws, which vary widely, according to Beth Littrell, an attorney for the LGBTQ nonprofit Lambda Legal. She said same-sex couples face certain challenges that heterosexual couples do not.
In cases where anonymous sperm is donated to a lesbian couple, for instance, courts may decide the sperm donor has parental rights that have to be extinguished before a legal adoption can take place, Littrell explained.
"[The laws] were really written before reproductive technology became as advanced as it is," she explained. "So the laws recognize biology and privilege a biological relationship in a pretty strong way."
Even though Dakerri's wife is listed on her son's birth certificate, she is making plans to adopt him as a step-parent. The couple has concerns about what might happen if Dakerri dies or if they travel to a place where Sondra's parentage may come under question.
"It feels like it's a lot of extra steps that we shouldn't have to take that a lot of other families don't have to take," said Dakerri, who said it's "annoying" and "insulting" that her wife has to adopt their son.
Erik and Adam are both listed as parents on their daughters' birth certificates, but they said that won't be enough to ensure their parental rights. Sperm from each man was used to fertilize two eggs, they explained, which means they will each have to adopt the child they are not biologically related to.
"It just doesn't feel like it ends," Adam said. "I just want to enjoy my family and my children, but then there's still things we have to think about and do to solidify everything."
RESOURCES FOR LGBTQ FAMILIES
Resources for LGBTQ families and family planning are becoming more common, whether they're through nonprofit advocacy groups or through other families documenting their journeys on social media.
Dakerri and Sondra said organizations like the Family Equality Council were great resources for them when they decided to start a family. They now have their own YouTube channel, "Two Mom Diaries," where they document life raising their son.
"We realized that we could make a bigger impact, because through our journey we could help people deal with things that we were going through," Dakerri said.
Erik said blogs like Gays With Kids, a popular site for gay dads, is a great resource, and he also noted there are many Facebook groups that are helpful for connecting with other same-sex families.
"I'm so happy that I was able to get so much information," Erik said. "It helped me cope with everything a little more. It helped me feel prepared."
Erik and Adam also have a YouTube channel, "McHusbands," which follows their fatherhood journey. Erik said their channel, which has nearly 90,000 followers, helps them connect with other same-sex parents.
All three couples had the same overarching advice for same-sex couples who are considering expanding their family: Do your research. Talking to same-sex parents, researching adoption agencies in one's state and knowing state laws regarding surrogacy, artificial insemination and adoption were among their specific tips.
In a 2015 report, the Williams Institute at UCLA estimated 122,000 same-sex couples in the U.S. were raising children under age 18. The report, which was based on data from the U.S. Census Bureau's 2013 American Community Survey, found nearly 27,000 of these same-sex couples were raising an estimated 58,000 adopted and foster children.