When Brian Rosenberg and Ferd van Gameren started dating back in 1993, they did not think parenthood could be a reality for them.
"Gay fatherhood was virtually unheard of," van Gameren said. "All the conversations back then were about HIV, not fatherhood."
As their relationship progressed and they started to build a home, the New York-based couple started to think more seriously about becoming parents.
"Having to leave a party or not going out to dinner because we wanted to take care of our dog ... it felt good, so it was then that we said, 'Maybe this would be better if we became dads to a person'" van Gameren added.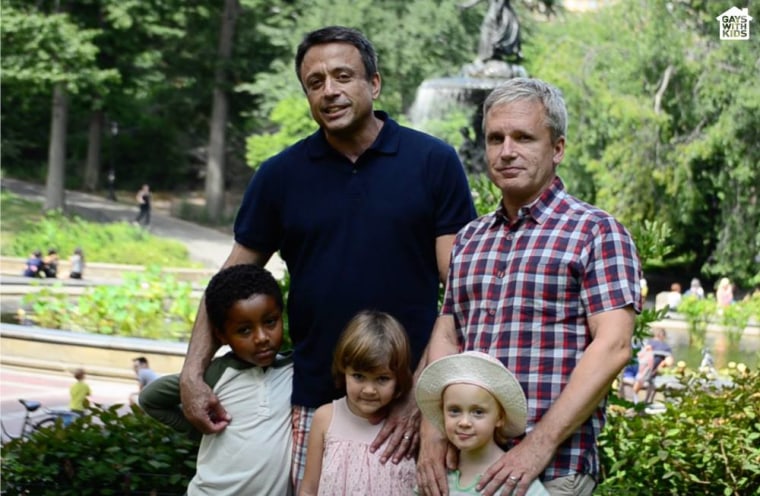 The couple initially tried to adopt, but they were only left with false hope: "We had a bit of a painful experience where we thought we had a 6-month-old, but the birth mother changed her mind" van Gameren said.
After processing this emotional experience, Rosenberg and van Gameren decided to explore surrogacy. They eventually found an egg donor, a surrogate and a Cambridge, Massachusetts-based lab that specializes in helping HIV-positive men have biological offspring (Brian, who would be the biological father, is HIV-positive). However, three days after signing the surrogacy contract, the phone rang.
"We get a call from the adoption agency. A baby boy is born in Brooklyn. They want to know if we want him," Rosenbergsaid. Two days later the couple would bring home their first child.
"So we said, 'Okay we have this baby and a contract signed with a surrogacy agency. What do we do?'" Rosenbergadded. The couple decided to continue to pursue the surrogacy option, even though they had already adopted a baby boy.
Today, their beautiful family consists of a 7-year-old boy, who was adopted, and 5-year-old twin girls born from a surrogate.
Rosenberg and van Gameren are part of a growing number of same-sex male couples who are raising children. Nearly 11 percent of male couples are raising kids, according to a 2013 report from the Williams Institute at UCLA Law School, and this number has nearly doubled since 1990, according to Dr. Gary Gates, the report's author.
However, it is important to keep in mind there are many different shades of gay fathers - including some who started families while in heterosexual marriages.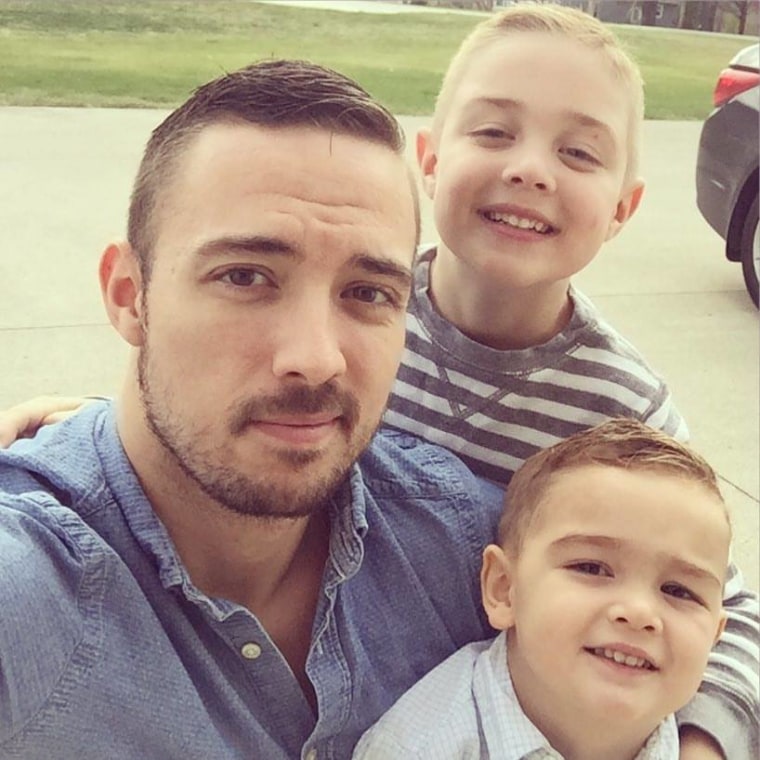 Dustin Brown met his ex-wife in New Castle, a small town in Indiana, when he was just 14. "We did everything the American dream way," Brown said. That included eventually having children.
"When I had my oldest son, it was a feeling I can't describe. It was something that brought me and [my wife] so much closer and seemed perfect."
It wasn't long after they got pregnant with their second child, however, that Brown felt he could no longer deny his true self. "I knew I was kind of feeling different, and it was getting stronger, and I didn't know how to fix it or what to say."
Though Brown and his ex-wife eventually divorced, they have remained close. They now co-parent their two young boys in their close-knit Indiana community - where they live just 15 doors down from each other.
"When people outside of the gay community see gay ... and lesbian families, they see we are exactly the same - we go to the same school, we go to the meetings after school, we take our kids to sports or play dates."
While Brown's family structure is different from that of Rosenberg and van Gameren's, the men all brought up a similar sentiment: Gay parents help grow acceptance for the community.
"When people outside of the gay community see gay ... and lesbian families, they see we are exactly the same - we go to the same school, we go to the meetings after school, we take our kids to sports or play dates," Rosenberg explained.
"[Heterosexual parents] look at you with your kid and immediately think, 'I get that,'" van Gameren added.
"It's life to grow up and want to have kids and pass on your morals and knowledge," Brown said. "It's one common goal. These other couples see you doing the exact same thing as them."
So what advice do these gay fathers have for other gay men who are starting families or would like to one day?
"I only have one piece of advice: If you really want kids, do it," Brown said. "I think as society continues to grow, there are going to be more and more options, and it will be easier for gay people to have children."
Rosenberg and van Gameren stressed the importance of community: "It doesn't matter what resources you have or where you live, it's really important for the children to know there are other families that are like theirs," van Gamerensaid. "The kids have to come out too - they have to come out as having gay dads, and the parents may not be aware of it because kids try to protect their parents."
In order to help foster this sense of community, Rosenberg and van Gameren started GaysWithKids.com, an online community that helps gay men navigate fatherhood.
"It really does take a village," Rosenberg concluded.