A Detroit man has been charged in an attempted robbery and shooting that left one gay man dead and another critically injured. The incident is the latest in a string of attacks against gay men targeted through a popular LGBTQ dating app.
Demetris Nelson allegedly shot and killed Brian Anderson, 31, and shot Malcolm Drake, 26, on July 6. Prosecutors allege the victims were targeted due to their sexual orientation and that Nelson, 26, used Grindr to "locate the victims," according to the Wayne County Prosecutor's Office.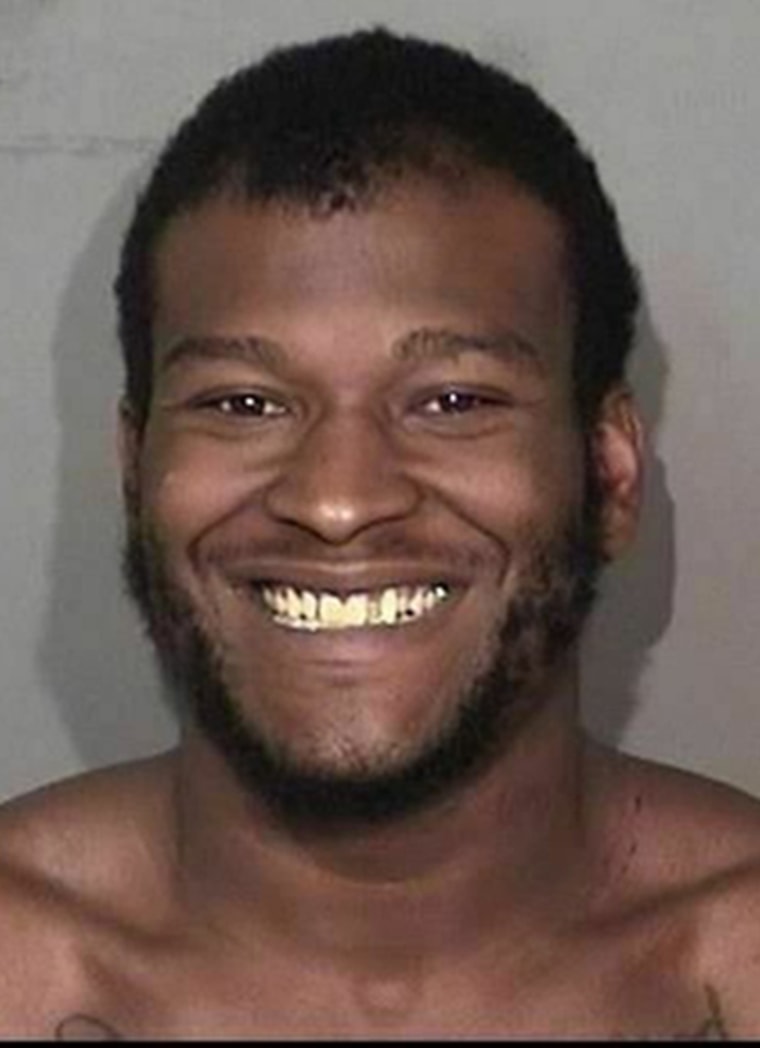 Nelson was arraigned Friday on charges of first-degree murder, felony murder, assault and using a firearm during a felony. He was remanded to jail pending a July 26 probable cause conference.
"The allegations are that social media contacts were used to target, contact, rob, fatally shoot one gay man and seriously wound another gay man," Wayne County Prosecutor Kym Worthy said in a statement. "To some, this will be just another hateful and violent act in America. They will read about this case and continue to go about their day. To me, that is quite tragic."
In a statement shared with NBC News, a Grindr spokesperson said the company is "deeply saddened and disturbed by the violence perpetrated" upon the victims and added that the company is "committed to creating a safe online environment for all of our users."
"We take a number of measures to protect our community: from providing safety information to assist users when interacting with others online, banning user accounts that violate our Community Guidelines, redesigning our in-app reporting process, to obscuring geo-hashing data in countries where it is unsafe for the LGBTQ+ community," the spokesperson continued. "We also listen to and engage with our community through many channels, encouraging them to report suspicious activities, and investigating and addressing issues that are brought to our attention."
Gay men are routinely targeted on dating apps like Grindr, where privacy and safety concerns abound. In May of this year, two Dallas men were charged by a federal grand jury with "conspiracy to commit hate crimes, kidnapping and carjacking" after luring nine gay men through the popular app to an apartment complex and subsequently kidnapping, sexually assaulting and robbing them. Daniel Jenkins, 20, and Daryl Henry, 22, threatened the victims with guns, and one of their conspirators reportedly urinated and wiped human feces on at least one victim, according to the Justice Department.
"The indictment further alleges that Jenkins and Henry caused bodily injury to four victims because of their actual and perceived sexual orientation," a Justice Department statement reads.
Last year, following a similar incident, authorities charged four men with federal hate crimes for a series of North Texas assaults and robberies after they posed as gay and manipulated victims into divulging their home addresses via the app in 2017. The men, whose ages ranged from 19 to 21, were sentenced to between 10 and 20 years in prison for breaking into victims' homes, tying them up with tape, physically assaulting them and yelling gay slurs at them.
"This case highlights the danger of the internet and specifically, online apps," U.S. Attorney Joseph D. Brown for the Eastern District of Texas said in a statement last April after two of the men were sentenced. "In this case, the defendants misused the internet for sinister purposes in order to target an innocent man based on his sexual orientation, causing him bodily harm and damage to his property."
In Oklahoma, a man was arrested last September after police said he kidnapped and robbed several men at gunpoint after luring them via Grindr to an Oklahoma City location. One of the victims, who said he went to the location under the pretext of sex, told a local newspaper that he was ordered to empty his pockets, hand over his personal property and give the suspect his bank card pin number.
Perhaps one of the most well-known gay dating-app predators is Stephen Port — a man dubbed "The Grindr Killer" — who was sentenced to life in prison in 2016 for drugging, raping and killing four men he met through the app. Port, 43, was found to have spiked his victims with lethal doses of the date-rape drug gamma-hydroxybutyric acid (GHB), also known as liquid ecstasy, and dumped their bodies in a churchyard near his London apartment between June 2014 and September 2015.
Anti-LGBTQ hate crimes rose 3 percent nationally in 2017, according to the FBI's latest annual Hate Crime Statistics report. Since 2014, the total number of bias incidents targeting individuals for their sexual orientation or gender identity has increased each year.
Though breakout numbers for hate crimes against LGBTQ people facilitated by dating apps are unavailable, experts say there's been an exponential increase of dating app use among queer individuals, which makes safety precautions all the more necessary and urgent. Grindr alone boasts more than 3 million daily users across 200 countries.
Lack of protections can enable "mission-oriented perpetrators," Liz Coston, an assistant professor in the department of gender, sexuality and women's studies at the Virginia Commonwealth University, told NBC News.
"This is why we see a rise in hate crimes during Pride Month and increases of hate crimes in 'gay-friendly' neighborhoods," Coston said. "They know where to find the people they want to attack, and they can turn to these apps to do so."
Coston added that as a result, it's important for dating apps to educate users about how their data — including their location — is being used and to integrate safety features within their designs. This can be particularly important outside of relatively accepting countries, like the United States and nations in Western Europe.
"There are people impersonating romantic partners and friends in countries where being gay is illegal, then threatening to out the user," said Ian Holloway, an assistant professor of social welfare in the University of California, Los Angeles, Luskin School of Public Affairs.
In 2018, there were widespread reports of Egyptian authorities and residents who used gay dating apps to entrap and persecute gay men.
Earlier this year, Kunlun, the Chinese mobile company that owns Grindr, reached an agreement with the Committee on Foreign Investment in the United States (CFIUS) to sell Grindr by June 2020 after the agency raised concerns about national security related to its ownership. Grindr collects highly sensitive personal information, including HIV status and sexual orientation, which could threaten the safety of users if publicized.
The Anti-Violence Project, a New York-based organization that works toward preventing violence against the LGBTQ community, urges dating-app users to make a safety plan, meet dates in public and share information about matches.
But despite a variety of safety concerns — and the need to be cautious when using dating apps — experts stress that there is a major positive aspect of LGBTQ dating platforms.
"Parts of the U.S. can be incredibly isolating for LGBTQ people, which is where the apps come in," Holloway said. "For people living in these areas or in countries where homosexuality is criminalized, apps can be a way to build community."
"For LGBTQ people, there can be very few avenues to meet people, and the apps present one way to connect," he added.