TALLAHASSEE, Fla.— The leading Democrats running for Florida governor met with gay and lesbian party members Saturday in an event that at times was touching and personal, and served as a reminder that Florida is a place where people can still be discriminated against because of who they love.
Perhaps the most chilling moment was when Orlando-area businessman Chris King described his brother as a brilliant, handsome man who would light up a room as soon as he walked in. But his brother was gay, and Florida wasn't a tolerant place when they were growing up in the 1970s and 1980s. He struggled with depression.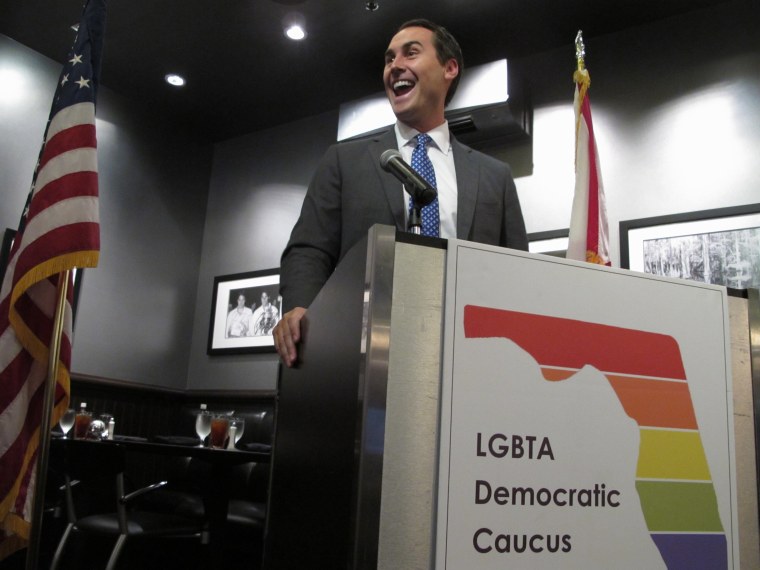 "Growing up was incredibly hard and he dealt with tremendous insecurity based on who he was," King said, before describing a call he got from his parents during his freshman year in college.
His brother killed himself.
There was an audible gasp in the room as he shared the story, and painful looks on the faces of those listening at the LGBTA Democrats' annual conference. And while King's story tugged at hearts, he wasn't the only candidate who explained why they feel Florida must do more to protect gay, lesbian, bisexual and transgender residents.
Tallahassee Mayor Andrew Gillum said he too has a gay brother, and growing up in Florida in a religious family wasn't easy.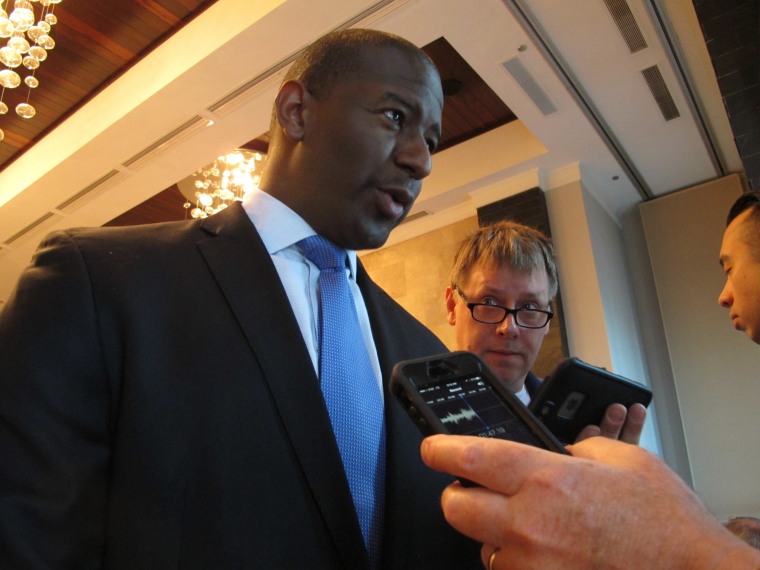 "He probably heard some terms and words that struck at his core, feeling at different times not all the way comfortable," Gillum said. "The first thing that he did when he had the opportunity was get on the first bus that he could afford, to go all the way across the country to California, with not so much as a job or a house, just so that he could be himself."
Gillum paused.
"It was intense," he said. "It tore me up, because he was the closest thing to me."
Former U.S. Rep. Gwen Graham chastised Republicans, including Gov. Rick Scott, for not taking steps to ensure equal rights for gays and lesbians. She said that in the aftermath of the Pulse gay nightclub shootings that killed 49, Scott and other Republicans made false promises to protect the LGBTQ community.
"After the cameras went away, they went back to their old politics," she said. "In the year since Pulse, they have not lifted a finger to protect the LGBTQ community or prevent another tragedy. It's heartbreaking."
Related: Teen Suicide Attempts Fell as Same-Sex Marriage Became Legal
All three candidates said it will be their priority to pass a law to give gays and lesbians civil rights protections in housing and employment. A bill to do so has been filed for years and gone nowhere in a Legislature dominated by the Republican party, which has controlled the governor's mansion since 1999.
Terry Fleming, the president of the LGBTA Democrats (the A is for Allies), also said that Florida's government has done little for the gay and lesbian community.
"Legislation here hasn't been gay friendly," he said. "There's definitely some challenges in Florida."
Because the LGBTQ community is concerned about discrimination under President Donald Trump's administration, it's even more important that Florida protect them, he said.
"I am so angry at what's happening in Washington that I want to work doubly hard to make sure that we get protections in place in Florida, by electing Democratic candidates that support LGBT equality," he said.