States and cities are adopting sweeping bills on a number of major hot-button issues, from gay rights to minimum wage increases — broad and controversial actions that are at times creating heightened tensions between different localities.
After North Carolina and Mississippi adopted new laws that deny some legal protections to people who are gay, lesbian and transgender, Democratic mayors and governors in Vermont, Washington, D.C., Seattle, and New York announced bans on non-essential, government-funded travel to those conservative-leaning states.
Republicans in North Carolina were acting in part to preempt a law adopted by the Democratically-controlled city council of Charlotte that allows transgender people to use restrooms that correspond with the gender they identify with, as opposed to the one on their birth certificates.
Related: North Carolina Gov. Pat McCrory Calls LGBT Criticism 'Political Theater'
The provisions adopted by state legislatures, cities and governors over the last month illustrate that the core divide between blue states and red states remains firmly entrenched, even as the unusual, insurgent candidacies of Bernie Sanders and Donald Trump have reshuffled political coalitions at the national level. Blue states are strongly pushing moves aimed at boosting pay and benefits for low and middle-class workers, while red states continue to back limits on abortion and gay rights.
The legislation also illustrates also how states, not the federal government, are increasingly the place where major policy initiatives are being adopted, because of the divide between President Obama and congressional Republicans in Washington. Officials in local government are already executing some of the ideas that candidates like Sanders, Trump and Hillary Clinton are promising if elected president.
"It is all an example of the kind of expressive politics that is so prevalent. The purpose of all of this isn't policy — or even a good business decision — but to make a statement," said Bill Bishop, whose 2008 book "The Big Sort" argues Americans are increasingly moving to areas where their neighbors are politically aligned with them.
"In a world where identity construction is a primary consideration of everything, more and more politics and neighborhood choice is about expressing who you are," he added.
Related: California, N.Y. Minimum Wage Hikes a Win for Populist Movement
The Democratic governors of California and New York, two states where more than one-sixth of Americans live, adopted laws last Monday raising the minimum wage in their states to $15, more than double the federal $7.25. New York Gov. Andrew Cuomo also signed a provision that requires businesses to provide 12 weeks of paid leave for individuals after the birth of a child or to care for an ailing relative, one of the longest leave provisions in the country.
The city of San Francisco last week enacted the first paid leave program in the country that guarantees workers 100 percent of their salaries.
Most paid leave programs provide some percentage of a worker's pay. The state of New York will offer workers 67 percent of their pay in the new leave system. (Federal law is much less generous. Most American workers are entitled to 12 weeks of unpaid leave after the birth of a child.)
Both Democratic presidential contenders, Clinton and Sanders, have proposed higher minimum wages, expanded protections for gay and transgender people and mandatory paid leave programs. Obama has embraced these ideas as well. All three hailed the provisions in New York and California, with Clinton attending a rally with Cuomo after the signing of the minimum wage bill.
And Democrats, both in their words and their boycotts, are forcefully denouncing those in red states who aren't fully embracing gay and transgender rights.
"They make absolutely no sense," Vice President Biden told NBC News Thursday about the new laws in North Carolina and Mississippi, as he held events in Las Vegas as part of his campaign to reduce sexual assaults on college campuses.
"And I think you're going to see those states have to rethink it, because American business is getting much more sophisticated and much more open, and I think it's going to hurt the citizens in the states," Biden added, alluding to companies like PayPal suggesting they will no longer do business in states that pass laws that are viewed as being discriminatory to gay or transgender Americans.
But these pushes for much higher minimum wages and broad paid leave programs are almost exclusively in blue states, with conservatives actively opposing such policies. The minimum wage and paid leave policies in New York are now much different than its border state New Jersey, which is run by Republican Gov. Chris Christie.
The minimum wage in New Jersey is $8.38 an hour and the state offers roughly 67 percent of employee pay for six weeks of leave.
In contrast, red states are acting on the cultural issues that Republicans in Congress, the Supreme Court and even candidates like Trump appear to be either retreating from or downplaying.
A new law in Indiana bans abortions if they are sought because of the race, gender, or medical diagnoses of the fetus, meaning that a woman could not have an abortion because her baby were likely to have an illness like Down syndrome. A new law in Utah requires women who are having abortions after 20 weeks of their pregnancies to use anesthesia, as lawmakers in the state argued the potential baby is being injured during the abortion process and therefore should receive some kind of relief.
The LGBT provisions adopted in Mississippi and North Carolina show that cultural conservatives in those states will not be cowed by the growing acceptance, in more liberal areas of the country, of people who are gay or transgender.
The U.S. Supreme Court's sweeping ruling last year outlawing gay marriage bans, authored by conservative-leaning justice Anthony Kennedy, appeared to be putting the country on a path where the rights of LBGT people would be continually expanded, as had been for women and blacks in early generations.
Many businesses, particularly in liberal Silicon Valley, warned both North Carolina and Mississippi that they would refuse to travel to or add jobs in those states if bills were adopted.
The states ignored these threats.
Related: Mississippi Governor Signs 'Religious Freedom' Bill Into Law
Mississippi's new law list professionals, such as photographers and those who make floral arrangements, who should be protected from any kind of legal action if they refuse to participate in same-sex marriages. The law includes a preamble that says Mississippi is extending legal protections to those who believe "marriage is between one man and one woman," and "sexual relations are properly reserved to such a marriage."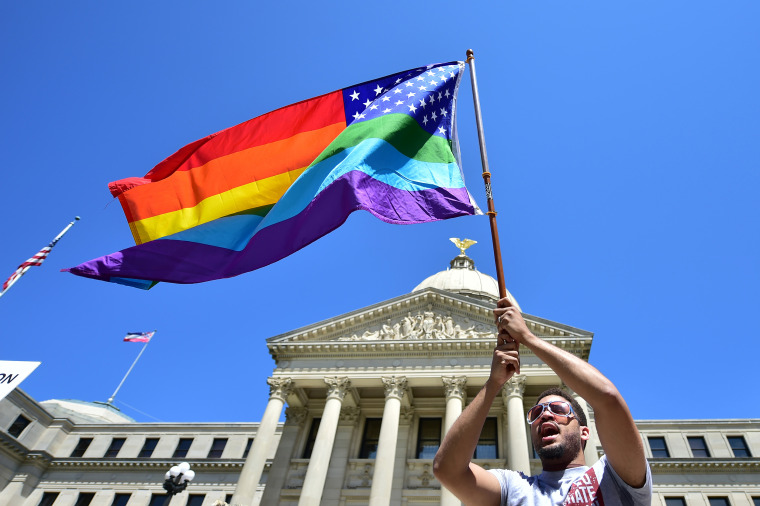 North Carolina's law bars cities from adopting new protections for gay and transgender people, and requires students in schools to use the bathroom of whatever gender is on their birth certificates.
"If our action in keeping men out of women's bathrooms and showers protected the life of just one child or one woman from being molested or assaulted, then it was worth it," said North Carolina Lt. Gov. Dan Forest.
Related: North Carolina Starts to See Economic Damage From Anti-Bias Law
Mississippi Gov. Phil Bryant said he embraced his state's bill to "protect sincerely held religious beliefs and moral convictions."
Some more moderate Republicans have suggested that these laws may be misguided.
"I don't want to force people to violate their deeply-held religious convictions, but we'd have to see what that's all about. I wouldn't have signed that law, from everything I know," Ohio Gov. and 2016 GOP candidate John Kasich told CBS News this weekend.
The North Carolina law, in a less-noticed provision, also prevents cities in the state from raising their minimum wages above the state's $7.25 rate. North Carolina conservatives, by adopting that policy, will stop more liberal cities like Charlotte or Chapel Hill from following New York and California in hiking the minimum wage.
"You have cities and regions that are mismatched," says Bishop. "Chapel Hill, Durham and Asheville in North Carolina. The Central Valley and Orange County in California."
These state actions and their resulting divides are likely to continue. A number of states in the South are considering measures to defend religious freedom in ways that allow religious organizations and individual believers not to offer services or hire people who are gay, lesbian or transgender. Other conservative-leaning states are proposing bills to push back against what they view as a growing secularization of American society, with Tennessee Republicans proposing a bill to make the Bible the state's official book.
Liberals meanwhile are trying for minimum wage increases on conservative turf. "Fight for 15," the labor union-backed group pushing to raise the minimum wage to $15 across the country, is planning campaigns in Florida, Illinois and Ohio, three states run by GOP governors.