Christmas is Robert Brewster's favorite time of year, but it's also the hardest. The 80-year-old HIV survivor doesn't have many friends left to share it with.
"I just think it's a time you have to reflect because Christmas is about family and with my nephew not here, my son not here, I don't have a significant other," Brewster told NBC Out. The gay senior has lived alone in his Manhattan apartment for 20 years. The furniture is old but looks brand new. Framed photographs of loved ones sit atop his piano. It's an instrument the former opera singer referred to as "his life."
"Oh, I wouldn't even dare try to say," Brewster said, when asked how many friends he lost to AIDS. He took a deep breath and looked up as his eyes welled. "If I put a number to it, it was many, many, many, many, and most of the people I knew, they're all gone now. There's not hardly anyone that's still alive."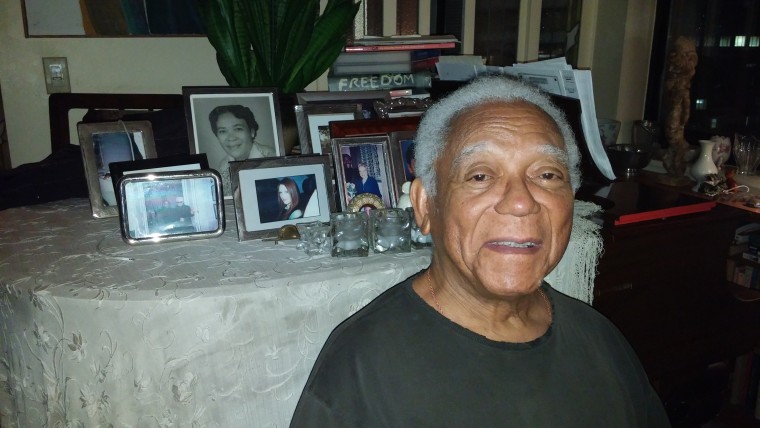 Christmas is always difficult for Brewster, who was diagnosed with HIV just two days before the holiday. That was in the early 90s, the height of the epidemic, he said.
"I had gotten a tree, and I had no energy to get the ornaments out of the storage. And"—he took a deep breath — "I was just getting tired. And two days before Christmas I went into the hospital," he said.
Brewster spent a grueling six weeks at the now closed Cabrini Medical Center in New York City, where many with "The Virus," as he called it, died. He had a 105-degree fever that refused to break. He can't remember the year exactly, 1991 or 1992, but he remembers how long the doctors gave him to live: six weeks.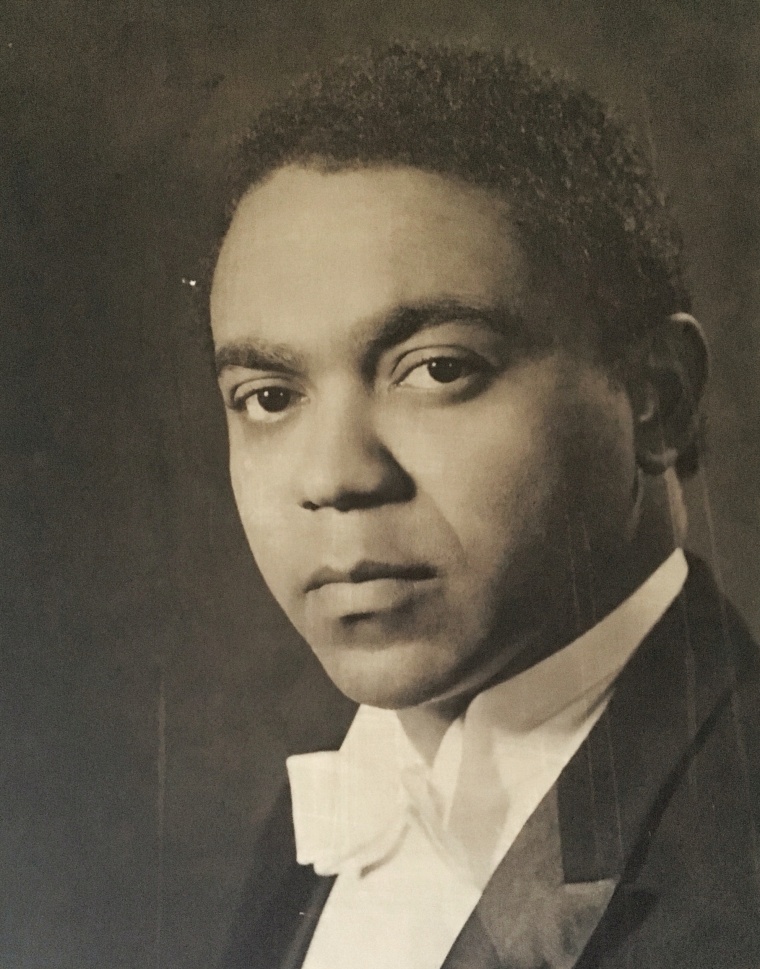 But just as Brewster had beaten racism his whole life — growing up in Alabama during Jim Crow, graduating second in his class from Wheaton College (where students told him a "n—g can't make honor roll"), becoming the first black man to obtain a doctorate in musicology from Washington University, and even receiving a prestigious Fulbright scholarship — Brewster would also beat AIDS. He left the hospital emaciated but still alive. Some 25 years later, the virus is undetectable in his blood. He takes a cocktail of 20 pills a day to stay healthy.
"I never had the sense that I would not live," he said. "I always had the feeling that I would be up and ready to roll."
Brewster is not the only long-term HIV survivor still rolling. Half of people with HIV in the U.S. are aged 50 or older, according to Michael Adams, CEO of Services and Advocacy for Gay, Lesbian, Bisexual and Transgender Elders (SAGE). Adams called it the "graying of the HIV epidemic."
"This is part of the isolation experience of many of our elders, especially the men, have," Adams told NBC Out during a phone interview. "If you work with older people, there are always those who live the longest and therefore outlive their peers. That's an inevitable social reality, but we have the added reality of the decimation of an entire generation of gay men by AIDS."
Gay elders with HIV are not the only ones who suffer loneliness, according to Adams, who said "social isolation and thin support networks are serious challenges faced by many LGBT older adults."
"Those challenges are often exacerbated by higher rates of poverty, especially among certain sub-populations of LGBT elder adults," Adams said. "I'm talking particularly about high levels of poverty among older lesbians, among LGBT elders of color and among transgender elders."
RELATED: Organizations Provide Holiday Assistance for At-Risk LGBTQ Youth
Loneliness is a common problem during the holidays for LGBTQ elders, according to Adams. He said they are less likely to be partnered or have children, more likely to be estranged from their families, and have the added stress of dealing with health issues related to aging. They often do not seek help because they are afraid they will be discriminated against, he added.
"Many of our elders avoid services and avoid care because of fear of discrimination and mistreatment," Adams said. "And then the kind of twin social reality we see is for LGBT elders who do access care and services, we often see them make a decision to go back into the closet because they feel vulnerable."
Brewster has some friends and family, but not a lot. He has a son in Virginia and a nephew who visit him from time to time. He also occasionally talks with his ex-wife, who he divorced decades ago after he fell in love with another man.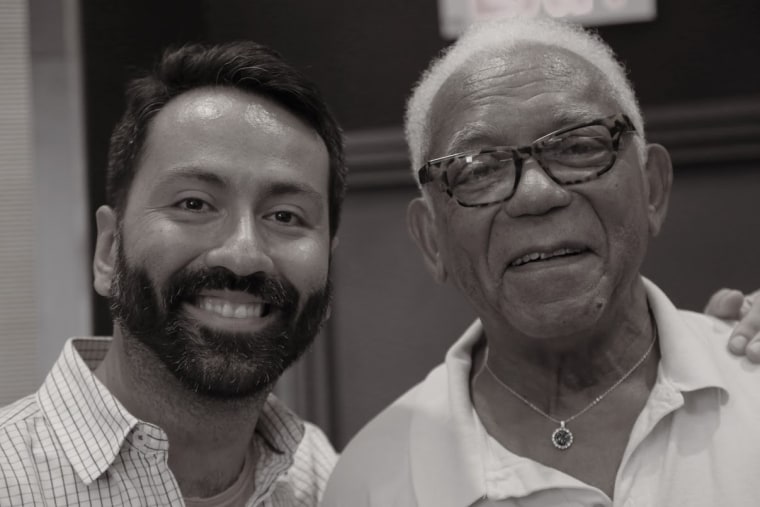 But it's Brewster's good friend Jaime Davila who comes around the most. Brewster met the 34-year-old through SAGE's Friendly Visitor Program, which pairs LGBTQ elders with younger members of the community who visit them in their homes. The program creates friendships for seniors in 10 cities and towns across the country and helps about 100 seniors specifically in New York City. The friendship is special for both men.
"Two years ago I called him, and he invited me over to the building's Christmas party," said Davila, who stopped by Brewster's home for wine and cheese on a cold December night. Davila works in finance technology and volunteers for SAGE in his spare time. "So I came and we met and we instantly became friends and that's been it ever since. So I come about once a week. And we'll…"
"We'll do whatever we decide to do," Brewster chimed in with a smile. "We are compatible. We both are Cancers, and we like a lot of the same kinds of things. And I just think it's a good match."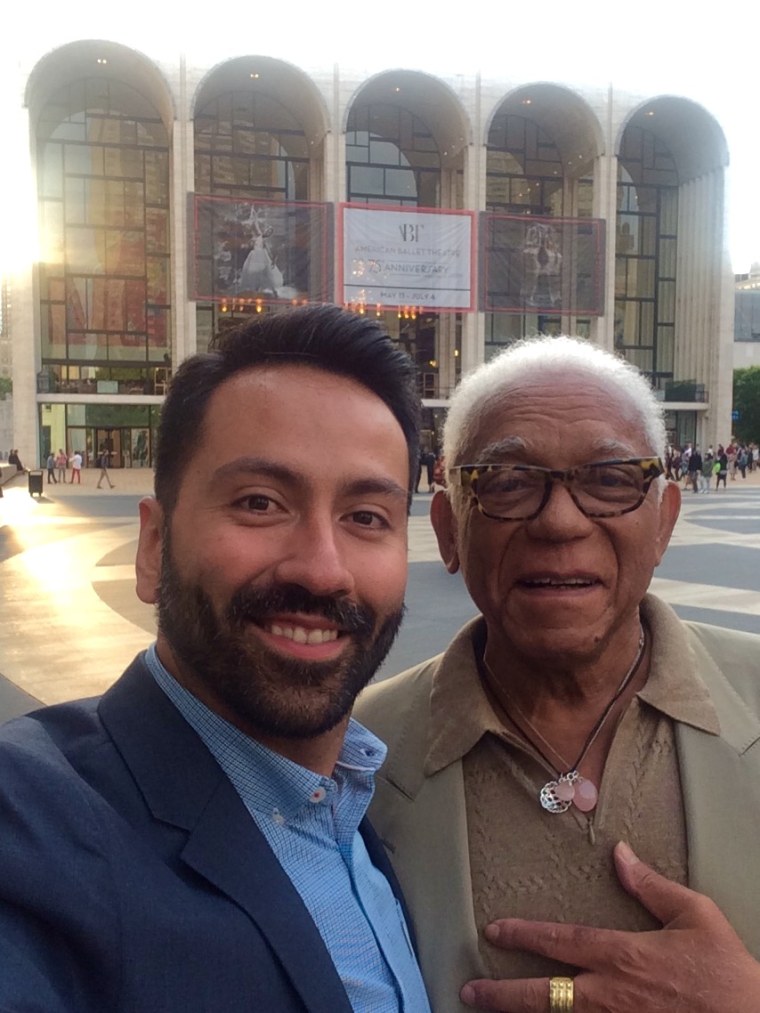 Davila said Brewster is like a father to him. He brings boyfriends over to meet him. They go to the movies and opera together, but mostly, they hang out in Brewster's home.
"I think it would be absolutely ridiculous if I didn't have him, and I say that quite honestly. He's just been a joy in my life," Brewster acknowledged.
"I love to listen to his stories, and I love learning from him, but at the same time he learns from me, too," Davila said. "I help him out with his Facebook and with everything with the computer."
Brewster has a lot of stories he loves to share with Davila—stories about how he sang and played piano on his own radio show when he was just nine years old. Stories about how he sang opera in Europe for almost 20 years in places like the famed Vienna Volksoper Opera House. And the story about how he once started a choir for HIV-positive seniors. But there are stories Brewster isn't so fond of telling, like the death of his first love, Eberhard, a German man with whom he shared 18 years of his life. He, too, had "The Virus" but did not survive.
"That was the most tragic, because that was my lover for so long, and then he wasn't my lover anymore, but he was my family," Brewster said.
Despite all he has lost, Brewster feels his life is "blessed in so many ways."
"The few friends that I've had, and I've never had a lot of friends—I've had a lot of people who knew me—for me, to have a few friends, and even if they're not my biological family, I'm just very blessed for that and I'm very grateful for it," he said.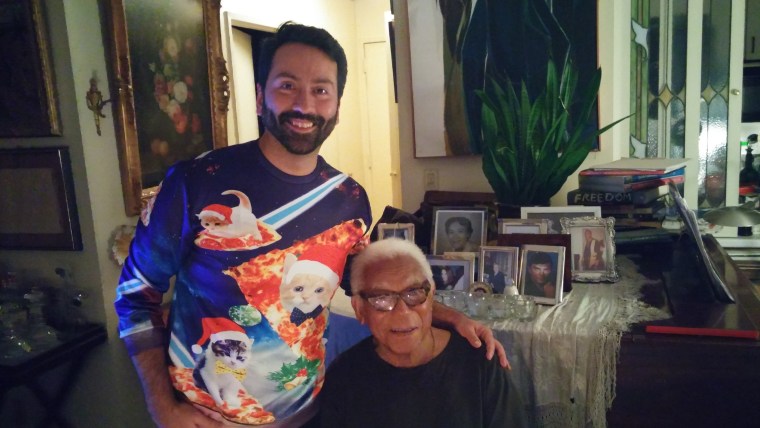 Toward the end of the evening, Davila announced that he needed to leave. The younger man said he was headed downtown for an "ugly sweater" Christmas party. His own sweater featured cats in Santa Clause hats riding slices of pizza through outer space. He said he bought it on Amazon.
"I like this little mouse here," Brewster said, pointing to one of the cats.
"It's a cat!" Davila said, laughing.
The two men hugged. Before leaving, Davila reminded Brewster he will see him again soon and will also visit him on Christmas Eve.
"Goodbye, and have fun!" Brewster said, closing the door.
Outside, on his way to the subway, Davila said he always had a great sense that he would be alone. Raised in Colombia, his parents instilled in him an expectation that he must marry a woman and have children to be happy. But he no longer has that outlook, thanks to Brewster.
"He helped me get over my fear of getting old and dying," Davila said. "Especially as a gay man."
(SAGE recently launched an LGBTQ elders hotline in time for the holidays that provides peer counseling, information and local resources: 1-888-234-SAGE and SAGE@GLBThotline.org. You can learn more about SAGE volunteer programs here.)