When 17-year-old *Alyssa F. first joined her California high school's Gay Straight Alliance (GSA) group, she didn't know anyone. But the more meetings she attended and the more events she talked herself into going to, little by little she began to open up. The group, she says, became her family.
Monika Ujkic is a mathematics teacher at Shadow Hills High School in Indio, Calif. She's also the current advisor of the GSA group that Alyssa belongs to.
"Overall, our group provides support and visibility," she said. "But we could do more in the activism piece on campus I think. We do participate in the Spirit Day, National Coming Out Day and National Day of Silence. [Shadow Hill] so far has been supportive and encouraging of our activities."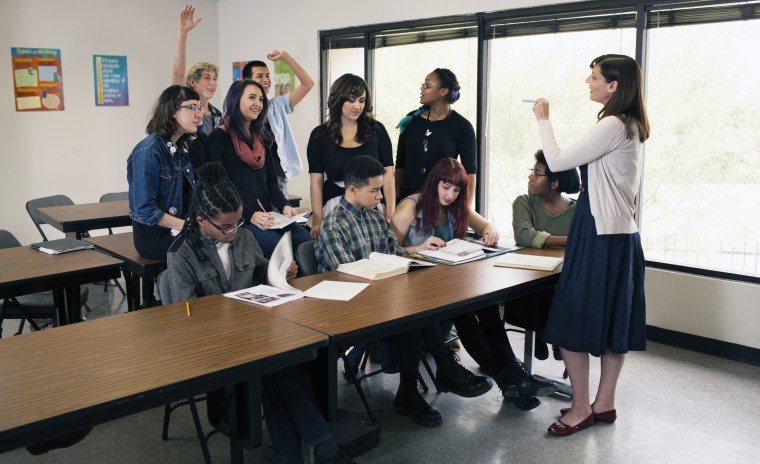 According to a National School Climate survey conducted by the Gay Lesbian Straight Education Network (GLSEN), LGBTQ students reporting that their school had a GSA increased from just 20 percent in 2001 to 60 percent in 2015. However, a separate survey from the Centers for Disease Control and Prevention (CDC) in 2014 found only 38 percent of high schools nationwide had an active GSA. The statistics prove that more schools are adding GSA's over time, but that the overall number is still far too low.
"Having a GSA on campus lets students know that there is a safe place, and that there are students/teachers on campus who are accepting," Ujkic added.
Emily Greytak, director of research for GLSEN, agrees. She says research has shown that LGBTQ students who do not have a GSA in their school experience a higher level of anti-LGBTQ language and feel less safe. Without a GSA or student group to provide support and visibility, students are often left feeling alone and isolated.
"There's been an uptick in anti-LGBT bias since the 2016 election cycle," Greytak explained. "We are concerned as to what may be happening is schools, and that GSAs have the resources to deal with it and empower students to speak out against any bias."
"Having a GSA on campus lets students know that there is a safe place, and that there are students/teachers on campus who are accepting."
Alyssa says anti-gay stickers were posted around Shadow Hill last year, including Ujkic's classroom. "It was a huge deal for all of us, because we felt attacked and suddenly unsafe, but that didn't stop us from being who we are. I think our GSA club is bigger and stronger than ever."
Unfortunately, there are students like Alyssa and others who face discrimination and don't have a GSA to turn to. Greytak suggests looking into community organizations for support or connecting with other likeminded individuals online as another option.
*Emma B., 20, attends Southern Illinois University, Edwardsville (SIUE). She identifies as bisexual and didn't have a GSA while she was in high school. So, when she got to college, she decided to join. But she says she never fully felt part of the group. Instead, she relied mainly on online connections and friends for support.
"I met a group of people online that were fans of a theater company. As a ragtag gang of diverse teens, there were a lot of us that weren't straight/cis, and we all were incredibly welcoming to each other, especially those whose actual home lives weren't accepting. I actually came out to them before I came out to anyone else."
On January 11, GLSEN again released state-level data from its biennial National Climate Survey. The overall consensus is that U.S. secondary schools are slowly improving but remain hostile environments for many LGBTQ students. Greytak believes that adding more GSAs in high schools around the country would certainly help improve high school social climates going forward.
"One of the key benefits of a GSA is that it can provide a link between straight and non-straight peers," she said. "We have found that having a GSA in school is directly related to students being more accepting of LGBT people, less anti-LGBT language [being heard] and increased student safety — particularly for LGBTQ students."
"Having clubs like GSA are especially important for kids who are still learning how to express themselves and might not fit into the societal norms," said Christina Della, a 20-year-old college student in Buffalo, New York. Della graduated from high school in 2014 and helped her GSA become recognized as an actual club. She says the friends and connections she made helped make a difference.
"High school can be really tough, knowing that I had people who were going through the same struggles that I was, gay or not, really helped me get through it."
*Last name protected for anonymity