After trying unsuccessfully to take a male date to his homecoming dance in Memphis, Tennessee, a former student is suing his Catholic high school under Title IX, arguing it had unlawfully discriminated against him on the basis of his sexual orientation.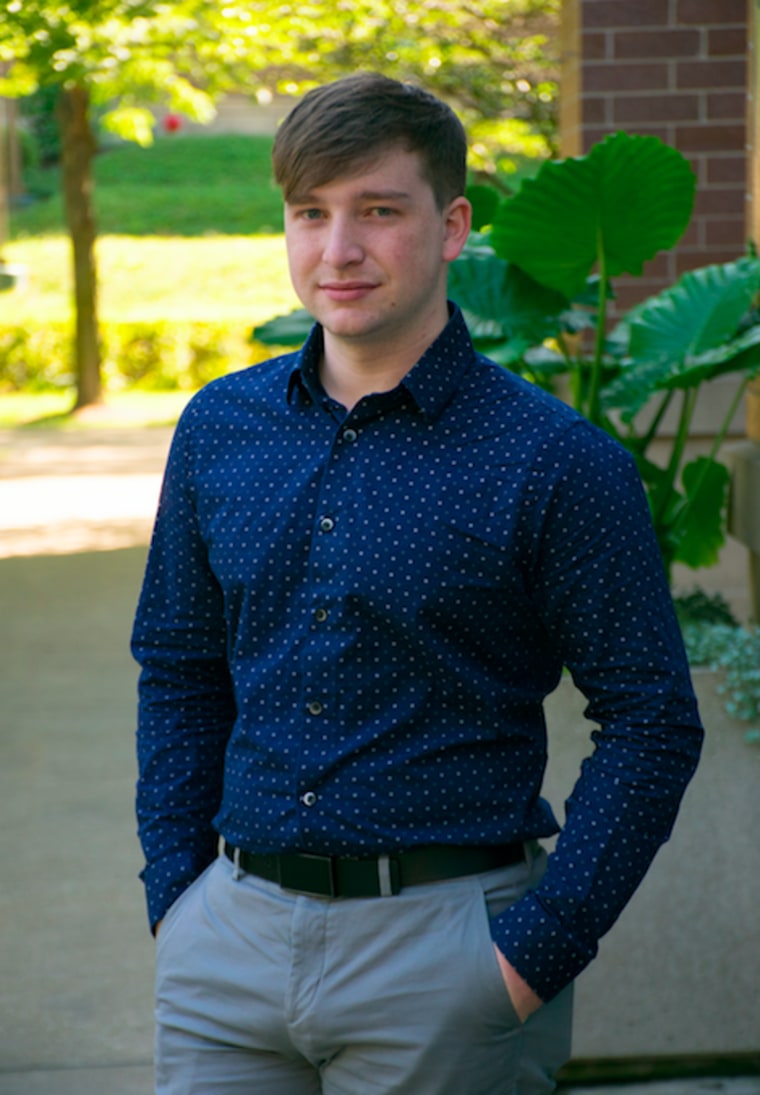 Lance Sanderson, 19, made national headlines last year when he tried to take a boy to the homecoming dance at Christian Brothers High School (CBHS), an all-boys private school.
His effort garnered tens of thousands of supporters via a change.org petition but was ultimately defeated. He ended up skipping the dance and was sent home from school days later. When he returned, he said he was called derogatory names by other students.
Feeling unwelcome, Sanderson decided to finish his senior year at home, completing his coursework online and missing out on his graduation ceremony.
"I was very active at school," Sanderson told NBC News. "It was a big part of my life, and it was all of a sudden gone. I was alone 24/7."
With his lawsuit, filed Tuesday in Circuit Court, Sanderson is seeking up to $1 million from CBHS on several state and federal claims -- including breach of contract, intentional infliction of emotional distress, negligent training and a violation under Title IX of the 1972 Education Amendments.
Title IX -- the landmark civil rights law that prohibits sex discrimination in federally funded education programs and activities -- does not explicitly bar such discrimination based on sexual orientation or gender identity. However, the Obama administration in addition to a growing body of case law has made clear LGBTQ students are protected under the law as well.
"I was very active at school ... It was a big part of my life, and it was all of a sudden gone. I was alone 24/7."
Earlier this year, a federal appeals court sided with that interpretation when it ruled in favor of a transgender boy who is suing his Virginia school board for the right to use the boys' bathroom in accordance with his gender identity. A federal judge in California came to a similar conclusion, meanwhile, when he ruled last year in favor of two lesbians who sued their college, Pepperdine University, for prohibited discrimination under Title IX.
Notably, Pepperdine -- like CBHS -- is a private institution that receives additional federal funds, and Sanderson's legal team is hoping that case will serve as an important precedent for theirs.
"We have confirmation that CBHS receives federal funding and also potentially state funding for certain programs at the school," Howard Manis, one of Sanderson's lawyers, said. "That makes them responsible for following the letter of the law under Title IX."
A lawyer for CBHS did not return NBC News' request for comment.
Sanderson's troubles began at the end of his junior year when he was thinking about taking a boy to the school's homecoming dance the following fall. He asked permission -- something students who want to take female dates are not required to do -- but was told by his principal in an email that he "really struggle[d]" with allowing Sanderson to bring a boy to the dance.
Sanderson later posted the email on Twitter and was swiftly reprimanded. According to the complaint, he was told he could no longer take school photographs, even though he was never accused of violating any rules.
Related: Gay Dads Share Their Journey to Fatherhood
At the time, the school had no policy barring students from bringing male dates to dances. In fact, the school's code of conduct states, "All CBHS students should feel safe, secure and accepted regardless of color, race, background, appearance, popularity, athletic ability, intelligence, personality, sexual orientation, religion or nationality."
Days before the homecoming dance, however, the school began to broadcast daily messages over the intercom that students were not allowed to bring boys from other schools as dates.
With each announcement, the lawsuit states, Sanderson "felt bullied by both the school administration and by some of the students."
"As a private school, CBHS held itself out to be nondiscriminatory with regard to sexual orientation," Sanderson's attorney, Manis, said. "In our eyes, it seems very clear those were hollow words … They were not interested in treating [Sanderson] the same as other students."
In a last-ditch effort to bring a date of his choosing to homecoming, Sanderson created a change.org petition, which quickly attracted widespread attention. (To date, it has received nearly 28,000 supporters.) Yet the school's newly-established dating policy remained unchanged.
After the dance, the school sent Sanderson home for a "cooling off" period, according to the lawsuit. He wasn't sure when -- if ever -- he was welcome back. But when he did return about a week later, Sanderson said he felt like more of an outsider than ever.
"Everyone thought I had been expelled," Sanderson said. "It was pretty clear that I wasn't welcome on campus … I was sure it wasn't going to be good for me to be there for the rest of the year."
Sanderson and the school ultimately came to an agreement allowing him to finish his coursework online and remain at home for the rest of the school year. He received his diploma that spring but did not attend graduation.
Now a college freshman at DePaul University, Sanderson hopes his lawsuit will ensure no student ever has to go through a similar ordeal.
"I hope they don't do this to anyone else in the future," Sanderson said of CBHS, "and that other schools that try to abide by similar philosophies don't do this to their students. I really don't want anyone else to go through what I went through this year."