There are only 559 known lesbian, gay, bisexual, transgender and queer elected officials in the U.S. — just 0.1 percent of all elected officials across the country — according to a recent report by the LGBTQ Victory Institute, a nonprofit that trains and promotes political hopefuls. But this election cycle, a record number of LGBTQ Americans, who make up an estimated 4.5 percent of the U.S. population, are seeking office.
Can these candidates, who are running for positions ranging from town councilmembers to U.S. senators, help the LGBTQ community reach more proportionate representation? In a new NBC Out special series, "The 0.1 Percent," NBC News profiles a handful of the hundreds of LGBTQ Americans who are on the ballot this November.
PHILADELPHIA — The day after the mass shooting at Pulse nightclub in Orlando, Brian Sims sat in his Harrisburg, Pennsylvania, office and tried to memorize the names of the 49 women and men murdered.
"God, I cried my eyes out that morning in my office. I didn't want to f--k up anybody's name," Sims said.
After Pulse, he thought it was only right that the Pennsylvania State House's session begin by mentioning and honoring those killed in what was, at that point, the largest mass shooting in American history.
"We start our legislative sessions each day with a prayer," Sims, 40, explained. "And then we go into roughly an hour of platitudes — we recognize the Kiwanis Club, we point out Miss Cornpone Pennsylvania."
So he called the Speaker and said, 'This is the largest shooting of its kind in U.S. history. This is also the largest hate crime in U.S. history." But the Speaker wouldn't budge. "We'll probably mention it at some point," Sims recalled the Speaker saying.
"So I pretty much told them that I was going to read the names on the House floor, or I was going to read nothing but the Speaker's name aloud for the next month at press conferences."
The Speaker caved, and Sims read the names.
This combativeness is how Sims has defined his six-year tenure as representative for the 182nd District in the Pennsylvania House of Representatives. He's the first-ever openly gay legislator ever elected to the Pennsylvania legislature since its inception in 1682.
Since his 2012 election victory, Sims has made a name for himself as an outspoken, progressive legislator unafraid to highlight his agnosticism, opposition to gun rights and devotion to LGBTQ equality.
PHILADELPHIA'S 'GAYBORHOOD'
Gesturing out of the window of his 11th floor office looking across downtown Philadelphia, Sims said, "We're in the heart of Ben Franklin land."
Dr. Franklin and the Revolutionary War era left its mark on Philadelphia, and Sims' district: "We're like six blocks from the first museum, the first university, the first stock exchange, the first post office," Sims said. "I always tell people, 'When you're driving into Philadelphia, the skyline is my district.'" Today, Center City is home to Philadelphia's "Gayborhood," where Sims lives with his partner, Brandon, and his yet-unnamed Newfoundland puppy.
Sims started his career as a civil rights attorney, and first considered running for office when he was a fellow at the Center for Progressive Leadership.
"A bunch of the other instructors sat me down, who were close friends of mine, and they said I was the person they were looking for," Sims recalled.
He vacillated, for a while. "The woman that I ultimately ran against had a series of — I'll call them LGBT 'issues' that really pissed me off," Sims explained. The 182nd District's previous representative, Democrat Babette Josephs, described Republican women as "men with breasts," and accused a recently out bisexual legislator of "making it up to get votes. She essentially tried to 'in' him and said that he was lying," Sims explained.
So Sims told her he was planning to challenge her in a primary. "She told me to go f--k myself, which I even kind of liked," Sims said. ("I have a mouth like a truck driver," Sims explained.) He defeated Josephs by 233 votes.
A 'GERRYMANDERED S---HOLE'
When he arrived in Harrisburg, Sims found what he described as "the most gerrymandered s---hole in the country."
The state Supreme Court recently tossed out Pennsylvania's Republican-drawn Congressional map, saying it was hopelessly gerrymandered, and back in 2012, it nearly did the same thing with its state legislature map, but instead returned it to Republicans who, according to Sims, "dialed it back to a nine."
"It means that the most conservative place in all of Pennsylvania is the Capitol when we're in session," he added.
Sims said since then, Pennsylvania Republicans have introduced "some of the worst legislation in the country," like an extremely restrictive abortion ban and an attempt to "strip health care from trans kids."
"There's an old [James] Carville line about Philly on one side, Pittsburgh on the other, and Kentucky in the middle,' which is no longer fair to Kentucky — they have more protected classes in their human rights laws than I believe we do," Sims lamented.
EDUCATION, DISCRIMINATION, GUNS & THE CATHOLIC CHURCH
Sims said his legislative priorities have been education, nondiscrimination and gun control, three issues that place him in opposition to Harrisburg's Republicans, who slashed education spending by over a billion dollars just before Sims arrived in 2013.
"Philadelphia is the economic engine of this state … and watching every year as more of our schools are crumbling has grown beyond infuriating," Sims said. "I don't believe in conspiracies generally, but I do believe that the Republican leadership in my state is both trying to starve public education and really heavily promote private education because those are businesses that donate to them."
And even though Sims' parents were military officers, and he grew up an "Army brat" shuffling between bases, he said, "I have always been anti-gun."
"I don't believe we should have guns. I think the utility of guns in modern America is far outweighed by the cost of guns," he explained.
Some gun possession makes sense, he conceded, like for cops and the military and subsistence farmers, but, he added, "I would ban all guns tomorrow if I could, and people know it."
It's a platform that appeals to Philadelphia voters, because the city has long been plagued by gun violence. "Last year, I think there were more people killed in Philadelphia than in the entire nation of Germany. You can't tell me that Germans are less homicidal than we are — they just have less access."
His opposition to guns, Sims said, is the main source of a lot of the death threats he receives. "By and large, while they are always punctuated with, 'Hey, fag,' it's usually, 'Hey, fag, stop trying to take my guns.'"
Sims is also rare in that he does not profess any faith in God, calling himself agnostic. "I'm the only member of our legislature that doesn't swear in on a book of faith; I swear in on a copy of the Constitution," he said.
In 2013, Sims gathered stakeholders and tried to rewrite the state's nondiscrimination bill with the Chamber of Commerce and the Catholic Conference — two groups that have historically opposed expanding the measure to include sexual orientation, gender identity and gender expression. What they came up was called the Pennsylvania Fairness Act, which never made it out of committee for a floor vote. The Catholic Conference, which helped write it, then opposed it.
The Catholic Conference is a renewed target of Sims', because the group was accused by a grand jury report in August of helping to cover up widespread sexual assault and rape on the part of church clergy over the course of decades.
"It's the largest and strongest lobbying group against equality in all of Pennsylvania," Sims explained. "They spend millions making sure that priests who have admitted to or been convicted of molesting kids that nothing is going to happen to them."
Sims isn't cowed by the explosiveness of going after a major religious organization. He said he sees the church as "either complicit in thousands of molestations or as responsible for them."
"They are untaxed entity spending millions of dollars to make sure that the statutes of limitations aren't extended, because they know that if they are, they'll have more liability, and it will cost them millions of dollars," Sims said. At the same time, he added, "we're spending millions to investigate them."
Sims said that in the next legislative session, if he wins, he will reintroduce all of his progressive bills and continue to pursue the Catholic Conference. "I want to make sure that the Catholic church is paying not only for what they're costing us, but that they're paying for what they're doing."
FROM "THE LITTLE MERMAID" TO A MIDDLE FINGER
Sims is also known for his talent for producing viral social media content. Direct-from-the-source tweets, pictures and videos, like one of him lip-syncing "Part Of Your World" from "The Little Mermaid," has earned him a following outside the state. Recently, Sims made waves with a post of him extending his middle finger toward Vice President Mike Pence.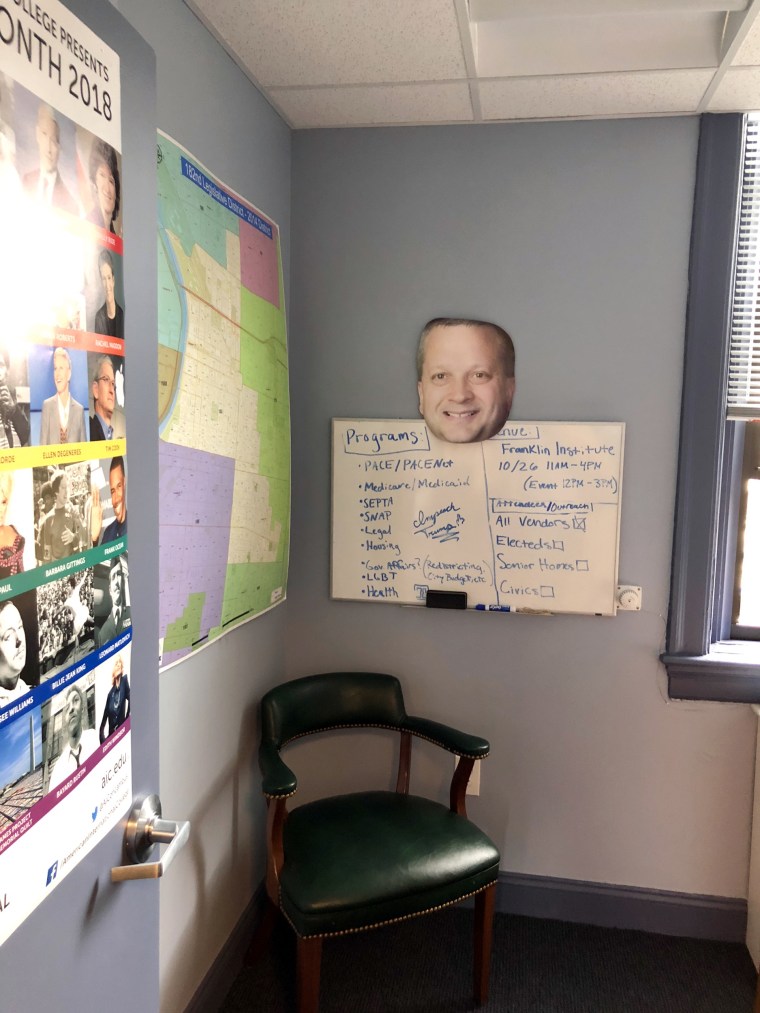 Sims' office is decorated with a range of items, including a Little Mermaid lunchbox and memorabilia from his time as captain of the Bloomsberg University football team. In a conference room across from his office is a cutout of the face of Sims' self-described "nemesis," State Representative Daryl Metcalfe, hanging over a board with some of his office's legislative goals.
"He's the most conservative member of my legislature, and he controls the committee that oversees civil rights — and I've been doing battle with him for six years," Sims said. Their rivalry is the stuff of newspaper legend: A few weeks ago, Metcalfe called Sims a "lying homosexual."
"He's the one that stopped me from speaking on the House floor in 2013 about marriage equality, because he said what I was going to say was an affront to God," Sims recounted. "He said it was a violation of God's rights. I told him when I'm violating God's rights, I do a much better job."