"Hey, ho, the NRA has got to go!"
That was what a newly formed LGBTQ gun control group, Gays Against Guns, or GAG, shouted as it marched down Fifth Avenue during the New York City Pride March on Sunday. When the shouting stopped, silence erupted as hundreds of people dropped to the ground as if dead. It was a stabbing reminder of the Pulse Nightclub massacre in Orlando.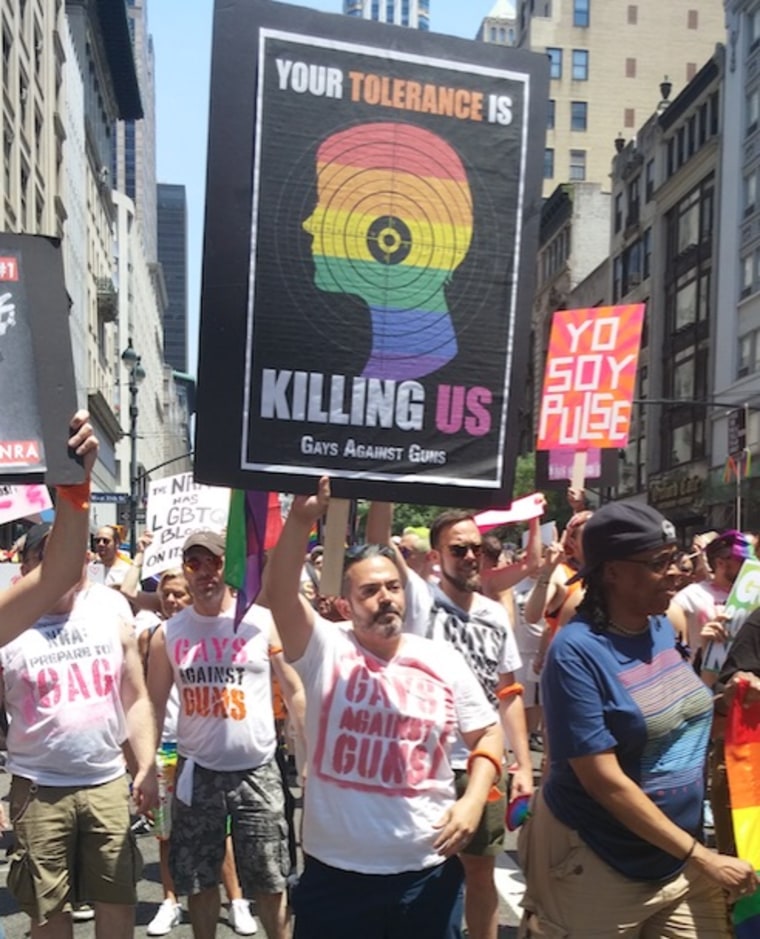 GAG organizers said they performed this type of protest known as a "die-in" over what they consider political inaction on lax gun laws. They say it was a harkening back to the LGBTQ activism of the 80s and 90s, when groups like Queer Nation and ActUp fought for justice around HIV and AIDs.
"Our stance is a gut one. We're outraged and we think something has to change. We're in agreement with the consensus of most of the gun control lobby that there's no place for civilians to have assault weapons," GAG spokesman Tim Murphy told NBC OUT.
"Orlando was such a combination of homophobia enabled by this national crisis of such easy access to assault weapons," he said.
Organizers estimate over 500 people participated. Signs that read "I Am Pulse" and "Flowers Not Guns" waved above the crowd.
A group of 49 people slowly walked behind them, dressed in white garments and veils. Each carried a sign with a picture of one of the victims of the Pulse Nightclub massacre, with the victim's name and age. None would speak a word. Their procession was a mournful reflection of those who lost their lives in the deadliest mass shooting in U.S. history, and the worst assault ever on an LGBTQ venue.
RELATED: Orlando Massacre Not a First for LGBTQ Night Clubs
The tragedy struck a nerve with openly gay New York City Council Member Corey Johnson. He donated his space in the march line-up to GAG.
"[GAG] is taking this fight to the [National Rifle Association's] front door. Our community has been fighting for gun control as part of other organizations for many years, now we're starting our own," he said in a statement.
Last week, Democratic lawmakers staged a sit-in at the House of Representatives to try to force votes on gun control measures. GAG co-founder Brian Worth said he sees a correlation between those politicians and his group.
"We're both giving calls to action. We're both saying we're done. We're tired. We're fed up and we're going to do whatever we can to make the change," he said.
RELATED: House Democrats Hold Sit-In on Gun Control
Many who marched with GAG, like Matt Sartwell, a bookstore owner from New York City, were vocal in their outrage.
"[Gun control] is an issue on which there's been a lot of inaction. We may not achieve complete change over night, but we have to develop some momentum behind it so people don't let this go to the back burner again," he said.
Kimberly Miller, a TV stage manager from New Jersey, said she's been against loose gun control for a long time, but decided to join in the march because the Orlando massacre was personal.
"They went in a gay bar, shot up our brethren, and we're not going to stand for it. We want a ban on assault weapons. We want it to not be so easy to buy a gun at a gun show. We want to feel safe in our country and in our world," she said.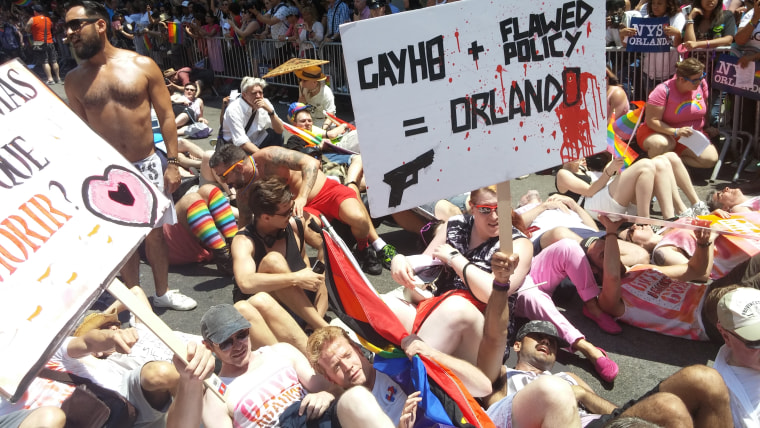 LGBTQ advocates say gun control has become an important issue for the community since the Orlando shooting. The community is the most at-risk group for hate crime victimization in the United States, according to the Federal Bureau of Investigation. But there is not much data on how gun violence specifically impacts LGBTQ communities, according to Sue Yacka, Communications Director for the New York City Anti-Violence Project.
"What we do know is that of the 24 reports of [LGBT] hate-violence-related homicides in 2015, 14 of them were gun related," she said in an email.
Kevin Hertzog, a co-founder of GAG, believes easy access to guns results in more shootings in general.
"If you look at the countries with more guns and assault weapons available, there are dramatically more shootings," he said.
But some gun rights advocates see it differently. Gwendolyn Patton, a spokesperson for the LGBTQ pro-gun rights group Pink Pistols, said firearms like the one used in Orlando don't pose more of a risk to LGBTQ people.
"It is true that any kind of weapon can increase the amount of damage done by anybody. That's what weapons are designed to do. But I don't see a specific class of rifle as being any more dangerous than any other weapon being used to hurt queer people …The generative factor is the person and their desire to do harm," she said.
But those who want tighter gun restrictions say the more guns that are easily accessible, especially assault-style weapons, the more harm people can do with them.
"There are always going to be people who somehow manage to get the gun, I understand that. But if I have 10 ants in my kitchen and I have a plate of cookies on the table, you know they're probably fine. If I have a thousand ants in my kitchen, there are probably ants in my cookies. I don't want any ants in my cookies. Let's get the number of ants down," Hertzog said.
He said the staged die-ins during the parade were an act of solidarity for those who believe in greater gun control.
"I hope that bolsters the feeling other people have that this has reached a critical mass and a turning point … We explode with grief around every shooting, and then we go back to our regular lives. I would love for that to change to whatever degree we can shift it," he said.