Kimora Conley stocks clothes at a thrift shop in Atlanta — a part-time opportunity the 31-year-old transgender employee is grateful for. Conley, who was released from prison in December, is even more grateful for her name tag, which displays her chosen name.
"They call me Kimora," Conley told NBC News. "They see me as a woman, so I'm happy about that."
After serving seven months in Wilcox State Prison for a nonviolent crime, Conley was determined to start a new life. But she didn't have a proper government ID to help her get a job.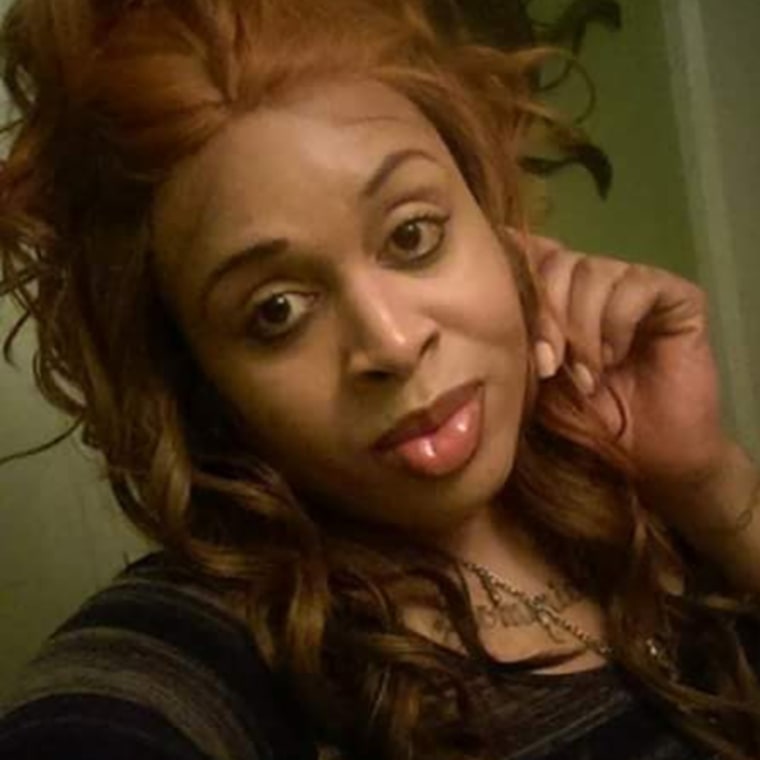 She found a place to stay with a friend, and sought help from a newly formed Atlanta nonprofit, TRANScending Barriers, a re-entry program that advocates for trans people currently and formerly imprisoned in Georgia. The program helps them obtain temporary housing, government-issued IDs and resources like food and clothing.
TRANScending Barriers surveyed 250 transgender and nonbinary people in Atlanta last year, and found 59 percent of them reported a history of incarceration. Of those who had previously been incarcerated, 95 percent reported that they received no re-entry assistance after they were released.
Zahara Green, the founder of TRANScending Barriers, said trans people who have spent time in prison need these programs. They have unique needs, she explained, and, according to the 2015 U.S. Transgender Survey, which interviewed 28,000 trans adults across the country, they are incarcerated at twice the rate of the general population.
A month after Conley's release from prison, Green, 29, guided Conley on how to get her name legally changed and her gender updated to female on her government-issued IDs. Green also went with Conley to do the paperwork so she wouldn't be alone.
"She also gave me money to get my birth certificate, get my social security card, and a copy of my driver's license," Conley said.
'CYCLE OF INCARCERATION'
Green, who is also transgender, knows what it's like to struggle after leaving prison — she said she spent time in and out of jails and prisons from the age of 17 to 25.
"Every time I got out, I never had the skills to build a resume, never had the skills of how to search for a job or how to conduct an interview or any of those things, so it was a complete cycle of incarceration for me," said Green, who is now studying pre-law at Clayton State University in Georgia.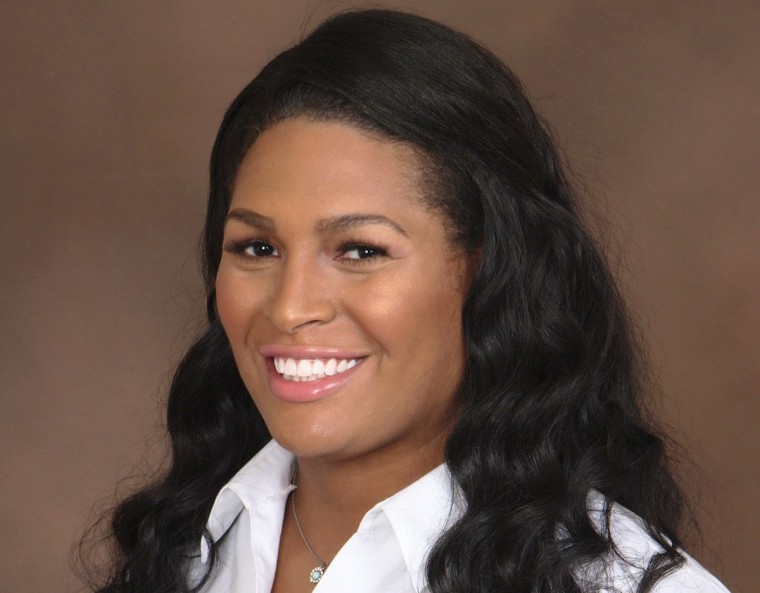 Shortly before she was released from Georgia State Prison in 2013, Green was sent to the Atlanta Transitional Center, a halfway house that prepares felons nearing the end of their incarceration to assume responsible citizenship, according to its website. There, she learned job and interview skills and how to enroll in school. The experience opened her eyes to how vital re-entry programs are, she said, especially for transgender people, in gaining the skills they need to avoid life on the streets.
Green was released in 2014. Determined to make a change, she started TRANScending Barriers with co-founder Erin Angelle Kettl three years later. She said the organization is now assisting 16 currently and formerly incarcerated trans people in Georgia.
"We started our advocacy understanding that there were so many trans people being released in the state of Georgia," Green said, "and recognizing that there was no organization providing these types of services for individuals, especially anybody that was directly impacted by the justice system."
Trans people who are leaving prison are in desperate need of re-entry programs, but only a handful exist, according to Mateo De La Torre, a racial and economic justice policy advocate at the National Center for Transgender Equality. He said many re-entry programs will help formerly incarcerated people obtain IDs, but typically lack the know-how to assist people who need their gender markers updated.
"That is something that is crucial for a transgender person who is exiting a correctional facility," De La Torre said.
Formerly imprisoned transgender people are often at the intersection of several identities that may negatively impact their chances of securing employment and housing. Incarceration aside, discrimination against trans people in employment and housing is rampant, according to the 2015 National Transgender Discrimination Survey: Nearly 20 percent of those surveyed reported losing a job within the previous year due to bias, and 23 percent reported being evicted or denied housing due to bias. De La Torre said discrimination is even fiercer for trans people of color, who can experience racism in addition to discrimination based on their gender identity.
According to a 2018 report from the American Psychological Association, the unemployment rate for black trans people is three times that of the general population, and half reported "feeling forced to participate in underground economy for survival."
A trans person leaving the prison system can struggle to obtain safe housing and employment without proper identification, De La Torre explained, leaving them vulnerable to a life on the streets. One in five transgender people have experienced homelessness at some point in their lives, a problem compounded by discrimination in housing and employment and family rejection, according to the National Center for Transgender Equality.
"A lot of people end up in survival work, which includes everything from the drug trade to the sex trade," De La Torre said. He said it's not uncommon for formerly incarcerated trans people to engage in sex work to have a place to sleep, which puts them at risk for going back to jail.
Freedom Shipman, 28, who is nonbinary, said TRANScending Barriers helped with obtaining temporary housing in a hotel after Shipman was released from Georgia's Central State Prison in 2017. The nonprofit has been helping Shipman obtain a legal name change and updated government-issued IDs, and is training Shipman on how to go on job interviews.
"It's really touching that somebody is willing to help other people that they can relate to, and that you have somebody you can relate to," said Shipman, who recently moved to New York City and hopes to attend culinary school some day.
Green said that finding temporary housing for trans people can be daunting. While Georgia is among the 28 states across the U.S. that does not have discrimination protections for LGBTQ people, an anti-discrimination ordinance in Atlanta should protect them from housing discrimination within the city, but Green said many agencies still turn them away.
"We're working with the city now to identify these agencies that are refusing to house trans people and holding them accountable," Green said.
De La Torre said anti-discrimination laws can help end the cycle of incarceration.
Earlier this month, the House of Representatives passed the Equality Act, a federal bill that would modify existing civil rights legislation to ban discrimination against LGBTQ people in employment, housing, public accommodations, jury service, education, federal programs and credit.
De La Torre said the protections in this bill, which will face an uphill battle in the Republican-controlled Senate, would help slow the cycle of homelessness and incarceration that many transgender people face.
"Those could definitely serve as a deterrent to the criminal justice system for a lot of trans people, particularly trans people of color and low-income trans people that tend to be overpoliced," he said.
'ANOTHER NOTCH IN THE BELT'
Shipman, who uses they/them pronouns and struggled to find work before going to prison, said they learned how to go on job interviews for the first time through a program at TRANSscending Barriers, which helped them get hired at major retail organization. But Shipman said the company rescinded the offer after a criminal background check revealed they had spent time behind bars.
Shipman's experience is typical, according to Andy Dugan, a lawyer with Equality Ohio, who helps formerly incarcerated LGBTQ people in the state seal nonviolent crimes from their records.
"There is a lot of different factors that transgender people have to deal with that other folks don't," Dugan said. "They already face discrimination in housing, in unemployment, public accommodations. Having a criminal record is just like another notch in the belt — it's something else against them."
Dugan said crimes related to sex work and HIV exposure, a criminal offense in 26 states, disproportionately affect trans women of color. The Centers for Disease Control and Prevention reports that 44 percent of black trans women are HIV-positive.
"They are more affected by some of these laws than obviously the general public, and specifically in prisons, given the increased risk of sexual assault," are more vulnerable to contracting HIV, he said.
A FOOT IN THE DOOR
Before Conley went to prison, she struggled to obtain stable employment and occasionally engaged in sex work to get by. But she said her new ID helped her quickly get the thrift store job in Atlanta. She walked in, saw the "Help Wanted" sign, completed the application with her updated ID, and handed her application to the woman behind the counter, she said.
"I gave it to her," Conley recalled, "and she was like, 'Can you start tomorrow?'"
Conley said re-entry has provided a pathway to a brighter future.
She has plans to go to college and dreams of becoming a social worker. In the meantime, her goal is to make enough money to get her own apartment by July.
"I just want to really get my foot in the door and get started," Conley said, "because once I get started, I know how to keep going and going and keep myself out of trouble."