The First Amendment Defense Act, commonly known as FADA, has been reintroduced in Congress by Senator Mike Lee of Utah and 21 other Republicans — despite being called "harmful," "discriminatory" and the "vilest anti-LGBT religious freedom bill of our time" by gay rights advocates.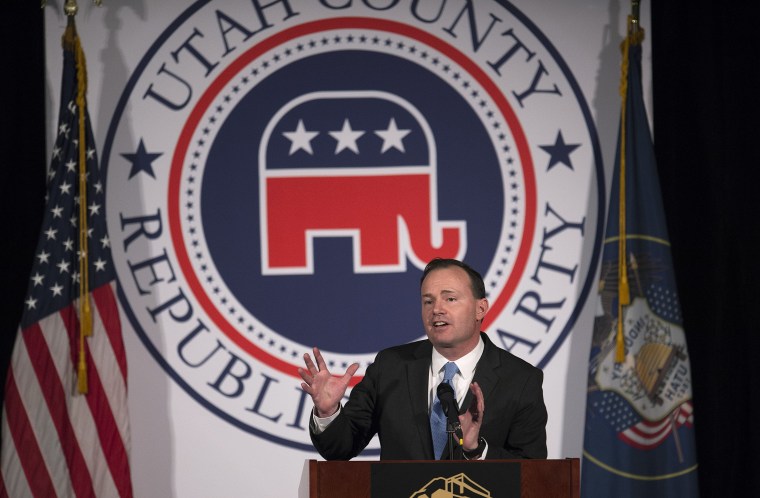 The bill, Lee said, is "designed to prevent the federal government from discriminating against individuals or institutions based on their beliefs about marriage."
"What an individual or organization believes about the traditional definition of marriage is not — and should never be — a part of the government's decision-making process when distributing licenses, accreditations or grants," Lee said in a statement. "The First Amendment Defense Act simply ensures that this will always be true in America — that federal bureaucrats will never have the authority to require those who believe in the traditional definition of marriage to choose between their living in accordance with those beliefs and maintaining their occupation or their tax status."
The bill was last introduced in the House and Senate in 2015 but did not make it out of committee. Jeff Sessions, now attorney general and then a senator from Alabama, was one of FADA's original sponsors, and in December 2016, President-elect Donald Trump said he would support the legislation.
Donald Haider-Markel, a political science professor at the University of Kansas, said the reintroduction of FADA may be more of a political calculation by Republicans than a real attempt at getting the bill passed.
"It gets them on the record in favor, and they get a 'no' vote to pin on those Democrats in the general election," Haider-Markel said, adding that "it's just as important for some Republicans to get a 'yes' vote on the record" to enhance their conservative credentials to stave off primary challengers from the right.
"There are plenty of analysts who are saying this is now Trump's party, but there is still a divide in the party between hard-core (social) conservatives, and those that are more moderate, and the conservatives seem to mostly be behind Trump," Haider-Markel said. "Their only chance to show their conservative chops on social issues is to get votes on social issues even if they won't ultimately be successful."
Gregory T. Angelo, president of the Log Cabin Republicans, a national gay conservative group, said his organization opposes the legislation.
"This is legislation that the evangelical lobbyists have prioritized," Angelo said. "Outside of evangelical lobbyists, you're not hearing a clarion call for action on FADA from rank-and-file voters."
The current bill makes two notable changes compared with an earlier version. It excludes from the bill's protections publicly traded for-profit entities, federal employees, federal contractors and certain health care providers. The bill also expands its scope to protect those whose religious beliefs put them in opposition to same-sex marriage or any marriage recognized under federal law. The new bill retains text, however, which frames the bill as responding to "conflicts between same-sex marriage and religious liberty."
LGBTQ advocates say the legislation is not substantively different from previous versions and would roll back anti-discrimination protections for the community.
"The First Amendment Defense Act is harmful legislation that would legalize state-sanctioned discrimination and undermine key civil rights protections for LGBTQ people," said David Stacy, government affairs director for the national LGBTQ advocacy group Human Rights Campaign (HRC). "Supporters of this legislation are using religious liberty as a sword to hurt LGBTQ families rather than staying true to our long tradition of it serving as a shield to protect religious expression from government overreach."
According to HRC, FADA would, among other things, permit individuals, nonprofits and many businesses using taxpayer funds to refuse service to same-sex couples; allow nonprofits and some businesses to deny gay and lesbian employees time off to care for a sick spouse; and permit government-funded shelters from housing same-sex couples.
Ian Thompson, a legislative representative with the American Civil Liberties Union, raised similar objections, saying FADA "opens the door to a wide range of taxpayer-funded discrimination."
"It would let private companies and nonprofit government contractors — which includes a significant portion of social services providers — refuse to provide a service or benefit to people because they do not fit their definition of family, from same-sex married couples and their children, a single parent and their child, or an unmarried couple who are living together," Thompson said in a statement. "Whatever the sponsors of this shameful legislation may say, this is a blatant example of using religion as a justification to discriminate."
While Haider-Markel said the updated FADA bill could gain some traction in the House, he said it would likely fail in the Senate. Plus, he added, the expanded scope of the revised bill would make it nearly impossible to enforce.
"The language in this version seems so incredibly vague and very unlikely to stand up in any way, shape or form," he added. "The whole thing just seems like a performance."