When Dylan Toften and his fiancé, Tom Hurd, went to the town clerk's office in Root, New York, to apply for a marriage license, they were turned away for not having an appointment — but not before the clerk told them she would not personally grant them a license because of her religious convictions.
"Town of Root clerk is a bigot!!!! Refused to do our marriage license," Toften shared in a Facebook post earlier this week. "She said make an appointment to have her deputy do it... do your job"
"She took an oath to uphold to the NYS constitution not her beliefs," Toften added.
Toften and Hurd, who are scheduled to marry on August 18, traveled more than 13 miles south to Cobleskill, New York, where they were immediately granted a marriage license.
Laurel "Sherrie" Eriksen, the Root town clerk and spouse of the town judge, Thomas Eriksen, was unable to be reached for comment. Calls to her supervisor, Gary Kamp, and Judge Eriksen went unanswered, as did repeated calls to the town's attorney, Robert Subik.
New York Governor Andrew Cuomo released a statement on Wednesday calling the incident "an unconscionable act of discrimination."
"Personally I cannot believe that this could happen anywhere in this country, let alone in the State of New York," Cuomo stated. "On behalf of all New Yorkers, I would like to congratulate Dylan Toften and his future husband on their marriage. I invite them to come to Albany, and I would be happy to offer my services as an officiant at their wedding."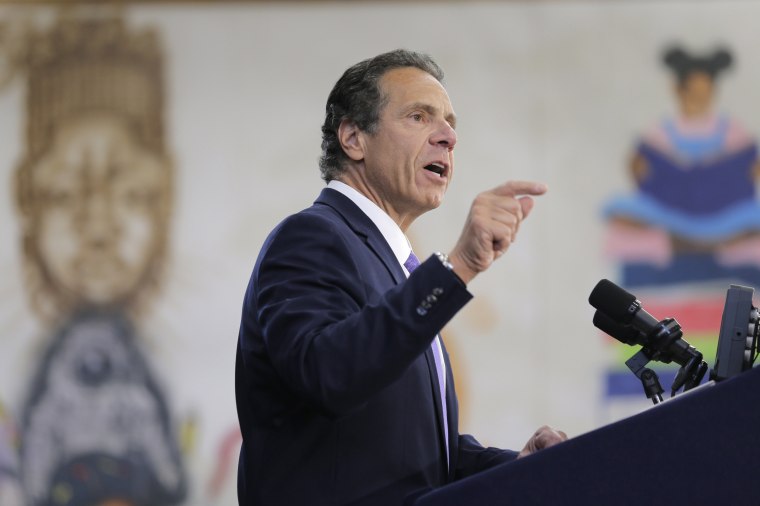 A senior member of the Cuomo administration confirmed to NBC News on Thursday that the governor had spoken to at least one of the two men, but it is unclear whether they will take him up on his offer to officiate their wedding.
Same-sex marriage has been legal in New York since 2011 — four years before it was legalized across the U.S. The state's Marriage Equality Act was signed into law by Governor Cuomo.
Cuomo referred Toften's case to the New York Division of Human Rights, which confirmed it is investigating the matter.
"We have full enforcement powers; we have the power to subpoena witnesses," Rachelle Dickerson, a spokesperson for the division, told NBC News. "Our investigation would be comprehensive."
Dickerson did not give an indication as to how long the investigation would take.
Lauren Eriksen is not the first town clerk to make headlines for refusing to issue a marriage license to a same-sex couple. The most well-known, perhaps, is Kim Davis of Kentucky. Davis spent five days in jail for refusing to follow court orders to issue marriage licenses to same-sex couples and was met with praise from religious and social conservatives across the country.