Giaura Fenris, a transgender woman, was on the dating app Grindr looking for people to chat with and meet when a user whose profile picture was of a cute nurse messaged her. After some pleasantries, however, Fenris realized the hunky health professional wasn't there for a hookup.
She said he asked her "a couple of questions, nothing too invasive" and then revealed he was an employee at a nearby health clinic in Brooklyn, where she lives. He then offered her a sexually transmitted infection testing appointment and help getting health insurance.
"I was like, 'Oh, that's great. Please sign me up right away,'" Fenris told NBC News.
Wyckoff Heights Medical Center is thought to be the first health center in New York City — and perhaps beyond — to incorporate gay dating apps such as Grindr, Jack'd and Scruff into its sexual health efforts. The center's method differs from the usual sexual health advertisements one can see on the apps. Staffers interact with other users with their own account like a regular user would — except they offer sexual health services. The center says the innovative approach is working: Since its launch in 2016, the program has attracted more than 300 clients to the facility.
Most of these clients are black and Hispanic gay men and trans women, groups that are disproportionately affected by HIV. Gay and bisexual men comprised 70 percent of the new HIV diagnoses in the U.S. in 2017, and of those gay and bisexual men diagnosed with HIV, 37 percent were black and 29 percent were Hispanic, according to the Centers for Disease Control and Prevention.
The program's launch
The program was started by Antón Castellanos-Usigli, who had just finished his master's degree in public health at Columbia University when in 2015 he was recruited by Wyckoff Heights Medical Center.
"The center hired me precisely because they wanted to increase the number of gay and bisexual Hispanic clients," Castellanos-Usigli, who had migrated from Mexico in 2013, said. This client population, he added, "is one of the populations who needed these services the most."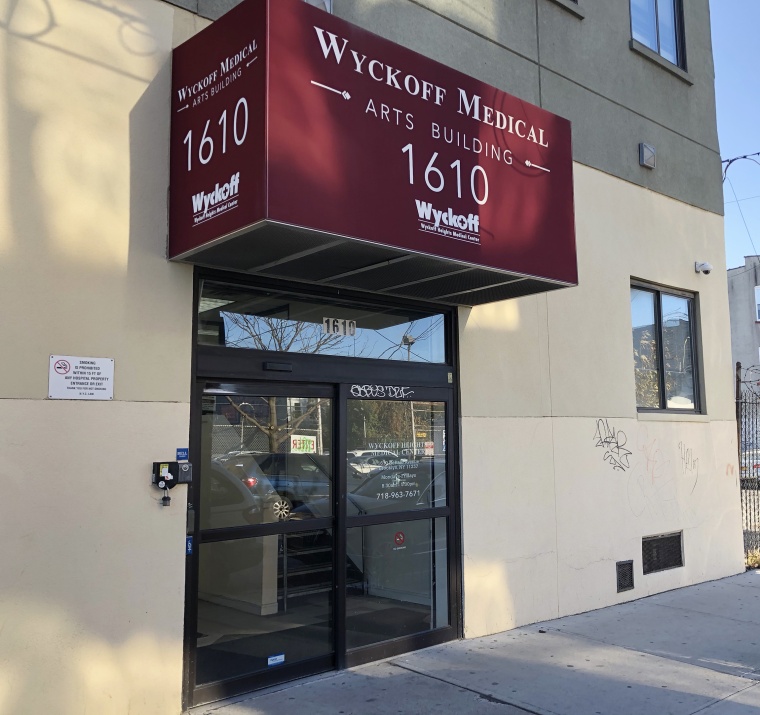 The center is located in the Bushwick section of Brooklyn, which is 56 percent Hispanic and 19 percent black, according to city data. While Hispanics and African Americans make up 18 percent and 13 percent of the U.S. population, respectively, in 2017 they represented 26 percent and 43 percent of new HIV diagnoses nationwide.
Shortly after being hired, Castellanos-Usigli recalls thinking to himself, "You are young, you're Hispanic yourself, where do you talk to other gay guys about sex? Grindr!"
So in February 2016, he created a profile with the image of a good-looking nurse in medical clothing and started to chat with people on Grindr. After opening up with pleasantries, he shifted the conversation to offering sexual health services.
Andrew Gonzalez, a program manager at the center, said responses vary from those "who are very grateful" for getting health information and a clinic appointment through the app to those who are disappointed the cute nurse isn't a potential date.
"Sometimes people aren't quite ready to receive the information and pursue testing services," Gonzalez said.
However, Gonzalez said, oftentimes those who are successfully contacted through gay dating apps go on to tell their friends about the center's services.
"So, essentially, we're providing these people the tools … to educate and inform other community members about services," Gonzalez said.
'We have to treat the whole person'
Through Grindr and other gay dating apps, the center brings clients into its Status Neutral program, which aims to keep HIV-positive patients at an untransmittable viral load and protect HIV-negative patients against infection through condoms, regular testing and PrEP or preexposure prophylaxis.
Since its launch, the center has standardized the practice and tracked its results. Between 2016 to 2018, the strategy attracted 233 new clients — 67 percent of them Hispanic, 17 percent black and over half uninsured, according to Castellanos-Usigli. He said a higher-than-average percentage (5 percent) of these new clients were diagnosed with HIV, and they were connected with medical care. More than 60 percent of the 233 new clients, he added, were referred to PrEP for HIV prevention. Twenty-nine patients received personalized cognitive counseling, an evidence-based intervention to reduce risks for gay and bisexual men who have casual sex without condoms.
"A lot of times, people come in for testing, and they have greater needs than testing," Laurel Young, the program's interim director, said. "If we treat a person … we have to treat the whole person, not just the symptoms."
Young said the facility's Status Neutral program combines traditional medical care with help in navigating health insurance, employment, job access, housing and legal support. That way, she added, patients can address other factors such as poverty, immigration status or homelessness that have an impact on their health.
When Fenris, now 30, first walked into the center in February 2017, she was burdened by several issues that were negatively affecting her physical and mental health. She moved to New York the year prior to escape a living situation in another state that she said was stifling her transgender identity, and she had just had an incident with a hookup that led her to start post-exposure prophylaxis (PEP), a one-month treatment to resist HIV infection right after potential exposure. She also had a history of depression for which she had stopped taking medication, and she was about to lose her insurance.
During her first visit to Wyckoff Heights Medical Center, staffers tested Fenris for HIV, started her on HIV-prevention medication, helped her find new insurance and referred her to mental health services. The center also helped her create a plan to secure financial stability and manage her increased rent payments.
'Cultural competency and humility'
Wyckoff Heights Medical Center serves a diverse and at-risk population, and because of this, staffers say hiring and training decisions are crucial.
"Having staff members that identify with populations we serve accompanied with cultural competency and humility trainings help best serve the population to decrease stigma," Gonzalez said.
This was part of the reason the center hired Castellanos-Usigli back in 2015 — and Fenris last year. Fenris, a trans Latinx, was hired by the center in May 2018 as a consultant and peer educator. She works within the clinic's Substance Abuse and Mental Health Services program and its Status Neutral program, ensuring patients are getting the care they need.
"Today, I made sure that a trans patient had a gender-affirming procedure, that they were referred to with their pronouns, that they go to their appointments and helped setting up transportation," Fenris said recently.
Trans people in particular face barriers in health care: A 2016 study on the barriers to transgender health care in New York found 48 percent of trans respondents "felt that the organizations that provided the care they needed were not transgender sensitive."
Wyckoff's commitment to being accessible, culturally sensitive and having a diverse staff representing the community it serves addresses those barriers head on.
Since Wyckoff Heights Medical Center launched its innovative program in early 2016, at least one other community health clinic has launched a similar program. CAMBA, in Brooklyn, has seen similar success using gay dating apps to reach individuals at high-risk of HIV infection: From 2017 to 2018, 65 percent of its clients linked to PrEP or PEP services were reached through apps apps like Grindr.
Castellanos-Usigli believes his data "speaks to the power that this strategy has" and he hopes to convince other agencies to adopt it.