Chelsea Manning made national headlines this month when she announced she would run for the U.S. Senate in Maryland. But attracting far less attention is a growing cohort of LGBTQ candidates who are seeking local, state and national office this year.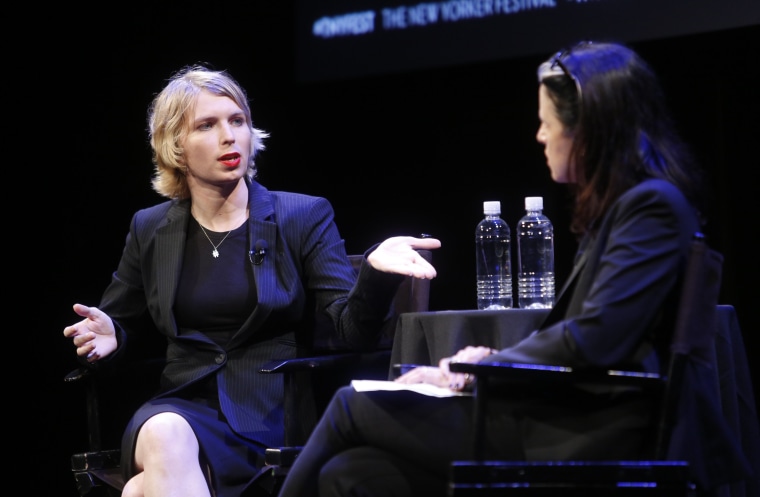 "The 2018 election cycle is shaping up to be a historic one for our community — with more openly LGBTQ people running for office in more places," Annise Parker, CEO of the Victory Fund, an LGBTQ political action committee, told NBC News. "We have the opportunity to dramatically increase LGBTQ representation in local governments, state legislatures and the U.S. Congress."
While Victory Fund has already endorsed 45 openly LGBTQ candidates so far this year, the organization expects to endorse more than 150 LGBTQ candidates this cycle, making it the biggest endorsement slate in the organization's 26-year history. And that number does not exhaust the total number of lesbian, gay, bisexual, transgender and queer candidates who will be on ballots this year.
NATIONAL RACES
There are currently seven openly LGBTQ members of Congress — one in the Senate and six in the House.
Donald Haider-Markel, a political science professor at the University of Kansas and author of "Out and Running: Gay and Lesbian Candidates, Elections and Policy Representation," said that the number of LGBTQ candidates vying for nation office has increased over the past three decades, but that the number this year is "exceptional."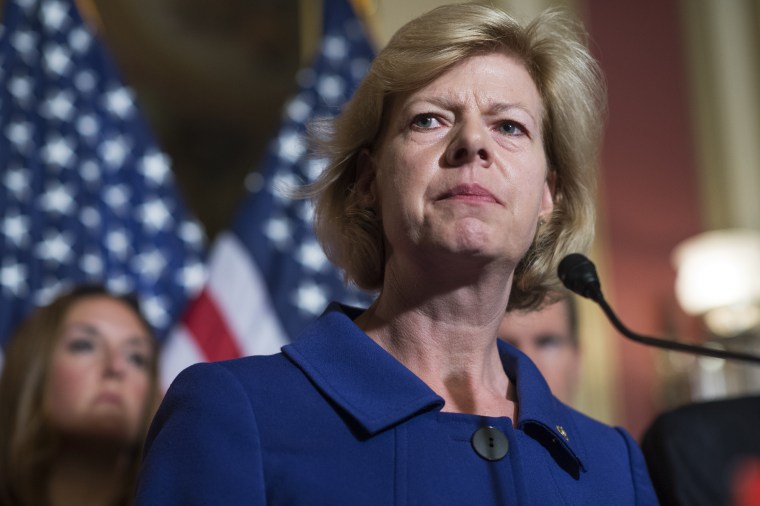 Sen. Tammy Baldwin, D-Wis., the first openly gay member of the Senate, is running for re-election, and her race is a priority for LGBTQ advocates. "We are all in to make sure she stays there," Parker, of the Victory Fund, said of Baldwin.
Baldwin is facing two Republican challengers, state Sen. Leah Vukmir and Kevin Nicholson, a businessman and Marine veteran. Despite Baldwin's advantage as an incumbent, Haider-Markel pointed out that Wisconsin favored Trump in 2016, and Gov. Scott Walker, a Republican, is also up for re-election, which could draw GOP votes in the Senate race.
Rep. Kyrsten Sinema, D-Ariz., in her third term, is running for the Senate, along with several Arizona Republicans — including former Sheriff Joe Arpaio, who was pardoned of criminal contempt charges by President Donald Trump last year — in an attempt to fill the seat being vacated by Sen. Jeff Flake, a Republican who is not seeking re-election.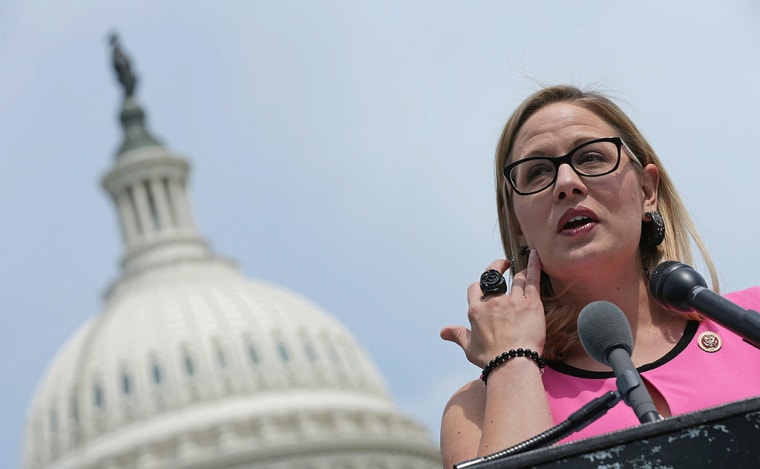 If Sinema wins, she will be the first openly bisexual woman to serve in the Senate and Arizona's first female senator. "It would be nice to send a woman to the Senate that desperately needs more women," Parker said.
Haider-Markel acknowledged that the "LGBTQ representation profile is still male heavy," but said lesbians, bisexual women and transgender women have been doing increasingly well in their races.
The Victory Fund crunched the numbers on more than 1,000 of its endorsements and found that LGBTQ women won their races just over 70 percent of the time, compared with just under 61 percent for LGBTQ men.
While women historically run for office far less frequently than men, 2018 is shaping up to be a huge year for female candidates with "more women running at all levels," Haider-Markel said.
One of these women is Gina Ortiz Jones, a Democrat from San Antonio, who joins eight other LGBTQ candidates from Texas making bids for Congress.
Jones identifies herself as "a member of the LGBTQ community, a woman, veteran and first-generation American." She said she was motivated to run in part because of the Trump administration's policies, which she said run "contrary to national security" and are "flawed." These policies, she said, have "affected many of the communities of which I am a part."
Jones is aiming to unseat Rep. Will Hurd, a Republican seeking his fourth term, and she likes her chances. "This is a purple district," she said. "Hillary won the district by 3 points, and Will Hurd won by 1 point."
If Jones wins, she would be the first openly LGBTQ person elected to Congress from Texas and only the second openly LGBTQ person of color to be elected to the House.
"I would be honored to be the first out member of Congress for Texas," she said, "but it's more important that I'm not the last."
In Massachusetts, Alexandra Chandler joins two other LGBTQ Democrats — Rufus Gifford and Steve Kerrigan — vying to replace Niki Tsongas in Massachusetts' 3rd Congressional district. If Chandler wins, she would be the first openly transgender person elected to the House. In fact, no openly transgender person has ever been elected to national office.
Haider-Markel stressed that LGBTQ candidates "have to be strategic about when and where they choose to run." In general, they have been, he said, but he thinks Manning, the transgender former Army intelligence analyst who was convicted of leaking classified documents, may be aiming too high by taking on an incumbent senator, Ben Cardin, in the Democratic primary.
"If she had run for a lower level office first, it could be a different story," Haider-Markel said, "but running for the U.S. Senate right out of the gate seems like a very unlikely path to be successful."
There are at least a dozen other nonincumbent, openly LGBTQ candidates running for Congress. They include Angie Craig, a Minnesota Democrat; Jim Gray, a Kentucky Democrat; and Jenna Marie Bourgeois, a Missouri Republican.
RACES FOR GOVERNOR
Gov. Kate Brown of Oregon made history in 2016 when she won a special election to become the first openly LGBTQ governor in the country. This year, Brown is running for a full term, and a number of other LGBTQ candidates are looking to follow in her footsteps.
Rep. Jared Polis, D-Colo., has been serving in the House for nearly a decade, and in June, he announced he would enter the state's crowded governor's race.
"I'm in public service to make a difference, and on the issues I care about — environment, education — really all the progress to be made is going to be made at the state level," Polis said in an interview last month. "I have a plan to move our state to 100 percent renewable energy by 2040 … [and] I'm running on bringing preschool and kindergarten to every child in our state."
Richard Madaleno, a Democrat who is the first openly gay lawmaker elected to Maryland state's Senate, is running for governor. In 2014, he ran against Dana Beyer, a transgender activist and retired physician who is running for Madaleno's vacated seat. If Beyer wins, she would be the first trans person elected to a state Senate seat.
In Texas, two openly LGBTQ candidates have thrown their cowboy hats in the governor's race.
Businessman Jeffrey Payne, owner of a popular gay bar in Dallas, announced his candidacy in July, saying "Texas needs a governor who believes in real Texas values, like integrity, honesty, freedom and independence."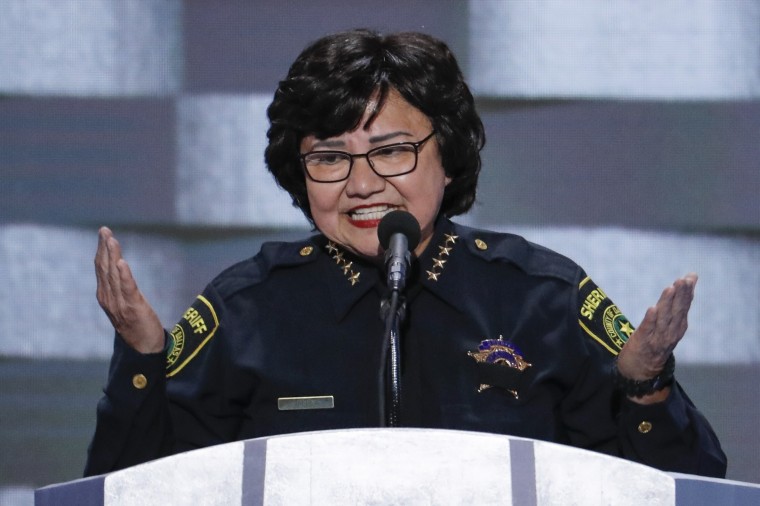 The other candidate is Dallas County Sheriff Lupe Valdez, the first Hispanic female sheriff in state history.
"I'm stepping up, for Texas, for everyone's fair shot to get ahead," Valdez said during a December news conference announcing her candidacy. "I've dedicated my life to defending Texas, and I'm not done yet."
LOCAL RACES
Despite the visibility of candidates in federal and gubernatorial races, Parker, who served six years as the first openly gay mayor of Houston, said the "vast majority" of the candidates her organization will endorse this cycle are on the local level. "We really believe in putting people into the pipeline and helping them move up," she said.
The local candidates being backed by the Victory Fund are running in more than a dozen states and in every geographical region of the country. One is Tippi McCullough, an Arkansas teacher who was inspired to be a public advocate for LGBTQ rights following her termination in 2013 after marrying her same-sex partner. If she wins her race, McCullough will be the only openly LGBTQ member of the Arkansas state legislature.
According to Haider-Markel, Southern states have yet to see as much LGBTQ representation, even at the local level. "That is a barrier that has been difficult," he said.
However, the emergence of LGBTQ representation in some red states, like Utah, may be cause for optimism among LGBTQ advocates, he said.
"Utah has had significant LGBT representation at the local level and in state legislatures that could be replicated elsewhere, including some of these deep Southern states," Haider-Markel said.
For example, Jackie Biskupski, the mayor of Salt Lake City, was the first openly gay elected official in Utah when she was elected to the statehouse in 1998.
Hayden Mora, chairman of the Trans United Fund, a PAC that advocates trans equality, said his organization is tracking 26 transgender candidates and is in the process of endorsing 14. Most are running in local races.
"Elections for us are about the opportunity to build power and make change," Mora said.
The relatively young political action committee endorsed four local candidates last cycle, and three of them won, including Danica Roem, who became the first transgender person to be elected to Virginia's state legislature.
"I feel tremendously optimistic about 2018," Mora said. "Last year we doubled the number of trans candidates in elected office. This year we are very confident that we are going to continue to increase those numbers."
'BIG BLUE WAVE'
With some exceptions, the majority of LGBTQ candidates run as Democrats. For that reason, Haider-Markel said, "when Democrats do well, so do LGBT candidates."
That's one reason he and Parker both speculated that 2018 will be a relatively good year for Democrats.
"It's not clear Republicans are really motivated in 2018, and Democrats certainly appear to be," Haider-Markel said.
Parker said, "Women, people of color and nontraditional candidates should all do very well, because people see how rapidly the gains we have made across the country can be undone."
While Parker said she's hoping for a "big blue wave" this year, her organization is not depending on one.
"If a big progressive wave sweeps the country, that will increase the margin of victory [for LGBTQ candidates]," she said. "But we want to be prepared for a big red wave."