The nation's $1.5 trillion student debt crisis is taking a toll on lesbian, gay, bisexual, transgender and queer students, who experts say are less likely to receive financial support from family. But scholarship opportunities are increasingly filling the void.
University of Southern California film student Kerri Cecil, who is transgender, depends on scholarships to help pay for college. She received two scholarships from the Point Foundation, the nation's largest scholarship granting organization for LGBTQ students.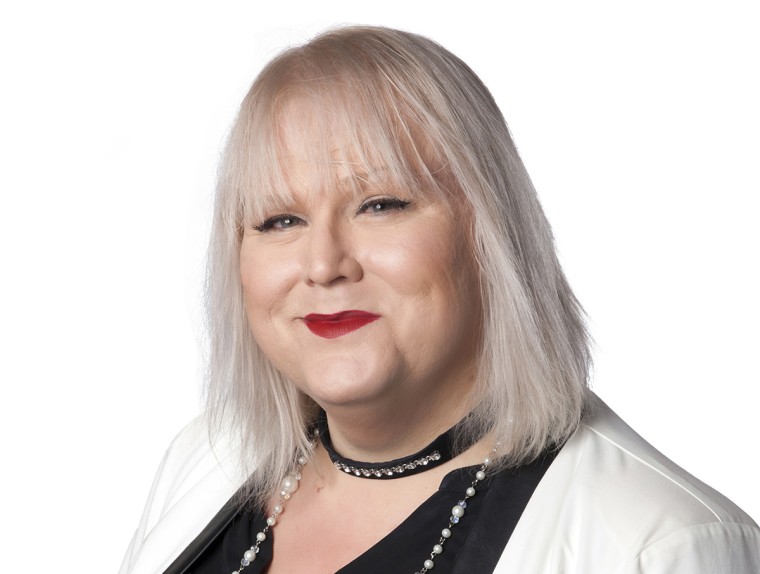 "I actually applied for the Point scholarship at the same time that I applied for my application to the USC for their film program, but I knew if I got one and I didn't get the other there was no way I was going to be able to go to USC, [because] it's just super expensive," Cecil told NBC News.
Cecil, 44, lives in Los Angeles. She said she became homeless as a teenager after her mother threw her out because she is trans. After overcoming years of hardship, she applied for a community college scholarship through the Point Foundation to attend Los Angeles City College. She earned her associate's degree and received a second scholarship to attend USC's School of Cinematic Arts.
The achievement was a dream come true for Cecil, who said she wanted to be a filmmaker "ever since I was a little girl."
"THE NEED IS OBVIOUS"
While the exact number of LGBTQ-inclusive scholarships available to students isn't known, experts say they are growing in number and desperately needed.
The Point Foundation, for example, has seen its number of applicants increase to more than 2,000, but it can only support 73 scholars at present.
"The need is obvious," Point Foundation CEO Jorge Valencia told NBC News. "When you have 2,000 people apply, the need is there."
"Some parents say, 'You know what, we're not going to provide you with any money to go to college unless you either change your ways or you don't come out or you go back into the closet or you seek some sort of psychological help.'"
Jorge Valencia
According to a recent Point Foundation survey, 83 percent of LGBTQ students pay for school themselves compared to 53 percent of their non-LGBTQ peers. Valencia said some parents simply don't have the funds to help, while others may withhold assistance from their children when they discover they are LGBTQ.
"Some parents say, 'You know what, we're not going to provide you with any money to go to college unless you either change your ways or you don't come out or you go back into the closet or you seek some sort of psychological help,'" Valencia said.
Then there are students like Cecil, whose parents throw them out because of their sexuality or gender identity, Valencia added. He said approximately eight of the foundation's current class of scholars have experienced homelessness, and a growing percentage — about 43 percent — are transgender or gender non-conforming.
"They're the ones having a really difficult time getting money or getting the familial support they need, and I think that's why I see them coming to Point Foundation," Valencia explained.
The scholarships have been life-changing for Cecil. When she was homeless, she had to turn to sex work just to eat, she said. Now she is studying to be a director. Her goal, she said, is to bring more positive representation to the transgender community through film. Most recently, she directed a short film about a super hero who is trans.
"These are the kinds of films that I want to make — that shows how incredibly talented and beautiful and creative trans people are," Cecil said.
EXPANDING OPPORTUNITIES
Opportunities are also growing for LGBTQ scholars pursuing costly MBA degrees. The Reaching Out MBA (ROMBA) fellowship program, which connects LGBTQ students with MBA scholarships, has seen a steady uptick in recipients, according to Executive Director Matt Kidd.
When the program first started in 2015, it had a class of 25 students, said Kidd. Now the number is at 57. He said part of the increase is due to the fact that universities and employers, which use MBA programs as recruitment tools, are seeking more diverse student bodies and workforces.
Currently, 36 business schools are offering the scholarships, he said, up from 17 when ROMBA began three years ago.
"Ultimately, it becomes a pretty big deal, especially when you consider that on average these students are getting about $22,000 a year (in scholarship money), which comes out to — depending on the MBA program — somewhere between about a third to a half of what it would cost them per year," he said.
Kidd said his organization's MBA scholars are also increasingly female, transgender, gender non-conforming and people of color, a change that can eventually lead to a more diverse workforce as these graduates enter management positions.
"The interesting piece is that a few years ago, when you said 'LGBT' to one of these schools, they'd think gay male," he said. "Now, I think they're thinking outside that box."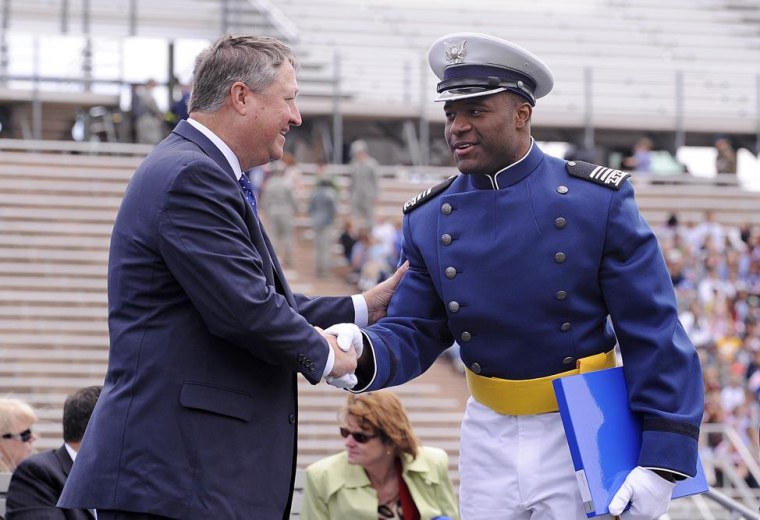 U.S. Air Force Academy graduate Mark Mosby, 29, received a scholarship through ROMBA to attend Columbia University's business school, one of the most prestigious and expensive in the country. He said he plans to use his MBA degree to pursue a career in investment banking.
"It's been instrumental for me being able to afford this entire experience," Mosby said.
SCHOLARS GIVE BACK
Both the Point Foundation and ROMBA programs encourage scholars to give back to the LGBTQ community during their studies and after graduation.
When Brown University graduate Alex Morse, 29, applied for a Point scholarship his freshman year, his goal was to become the first openly gay mayor of Holyoke, Massachusetts, the town where he grew up. After graduation, Morse launched his mayoral campaign and was elected at the age of 22. He has served four terms since 2011.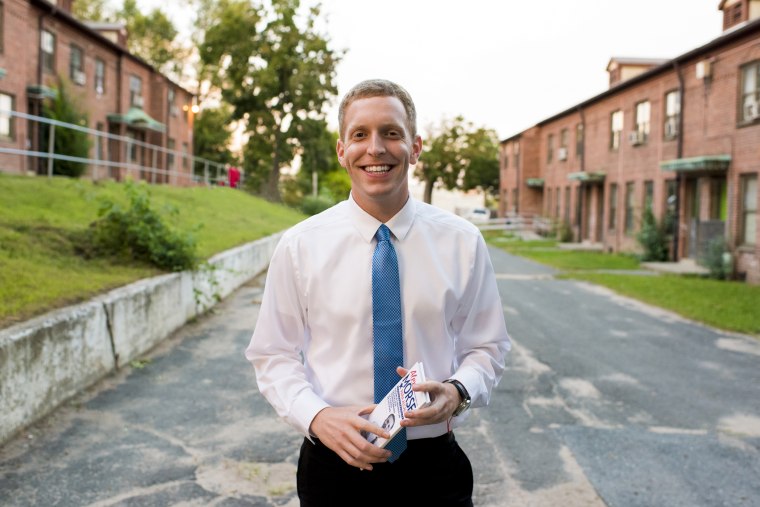 As mayor, Morse is working to uplift the gay community. He started Holyoke's first annual gay pride event, and he works with local groups to make the city a more accepting place for LGBTQ residents. He said the town's capitol building proudly flies the rainbow flag.
"I remember we had some LGBT staff members here that have worked for the city, some out, some not out, over so many years that had come to the office and said, 'Never would I think that Holyoke City Hall would have the rainbow flag,'" Morse recalled.
Mosby, who lives in New York City, enrolled in Columbia's business program in 2017. He started an annual fundraiser that raises money for the Ali Forney Center, an LGBTQ youth organization. He said giving back to the community is something he plans to continue after he graduates.
"It made me realize how much I enjoy giving back and serving the LGBTQ community, and so I will definitely be taking advantage of opportunities to do that in the future, especially when I graduate," Mosby added.
Cecil is also giving back. She organized her university's first Transgender Day of Remembrance, an annual event that memorializes the countless trans people who have been murdered and brutalized.
The filmmaker wants to inspire others who, like her, experienced hardship and want to get a degree. She said she once thought herself unworthy of college but now realizes anything is possible.
"Believe in yourself," Cecil advised. "Believe that you are worthy to get these scholarships."