Hallmark announced Wednesday that the chief executive of its subsidiary overseeing the Hallmark Channel is stepping down, a month after the network was at the center of backlash over its decision to pull a same-sex marriage advertisement.
Bill Abbott, chief executive of Crown Media Family Networks, is leaving the company with a replacement yet to be announced, Hallmark Cards Inc. said in a statement. The news comes after the Hallmark Channel was caught up in controversy after pulling a Zola commercial featuring a lesbian couple's wedding amid conservative pressure.
Mike Perry, president and chief executive of Hallmark Cards, said in a statement that it was "more important than ever that we find relevant new ways to grow our business," but he did not give a reason for Abbott's exit.
"I want to thank Bill for his many years of success and contributions to Crown Media and wish him continued success," Perry said.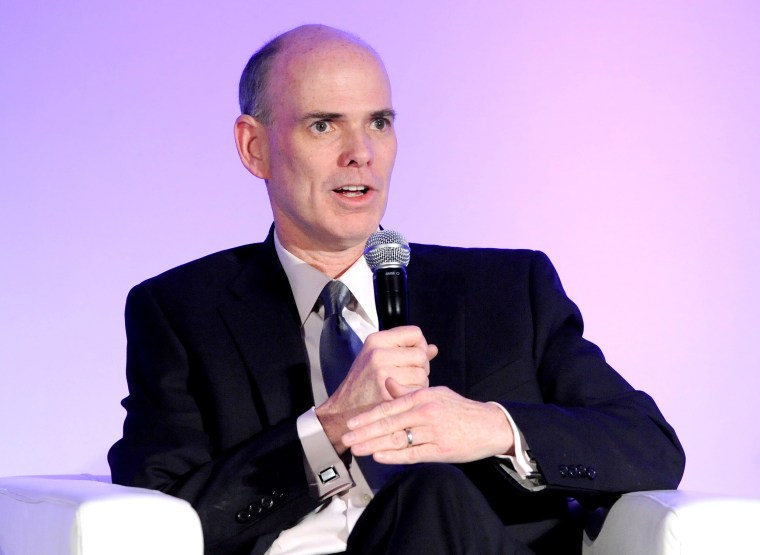 Alphonso David, president of the nonprofit Human Rights Campaign, said in a statement Wednesday that companies and their leaders "must continue to provide visibility to LGBTQ people."
"Bill Abbott's departure from Hallmark just months after the disastrous and wrongheaded decision to censor an ad on their network featuring a loving, same-sex couple continues to make clear: opposing equality isn't just wrong, it's bad for business," David said.
The Hallmark Channel first removed the wedding company's pro-LGBTQ ad after it was mentioned in a blog post by One Million Moms, which bills itself as a group of parents working to stop the "exploitation of children" by entertainment media.
"Shame on Hallmark for airing commercials with same-sex couples and even considering movies with LGBT content and lead characters," One Million Moms said.
Hallmark became the target of online petitions from One Million Moms and LifeSiteNews, a conservative Catholic news organization.
But the channel was also hit by criticism for pulling the Zola ad, getting called out on social media by celebrities such as Ellen DeGeneres. Perry said in a statement Dec. 15 that the company never meant to "be divisive or generate controversy."
"The Crown Media team has been agonizing over this decision as we've seen the hurt it has unintentionally caused," Perry said. "Said simply, they believe this was the wrong decision."
The company also promised to work with an LGBTQ advocacy group, GLAAD, to better represent and include the community.
The Hallmark Channel, which pioneered the holiday movie category now replicated by others, including Netflix, has seen explosive growth even as other traditional TV channels have seen declines.
In total viewers, the network ranks as the sixth most popular cable channel behind Fox News, MSNBC, ESPN, HGTV and USA Network, according to Nielsen ratings.
The company's parent, however, has been looking to cut costs and was in the process of laying off a number of its staff. Hallmark Cards Inc. announced last year that it would reduce staff by 400 people, most of them at its head office in Kansas City, Missouri.