When Rob Sanders followed news coverage the day the U.S. Supreme Court issued its 2015 landmark decision legalizing same-sex marriage nationwide, he was struck by one symbol that seemed ever-present throughout the day.
"It seemed like the entire world was suddenly a rainbow," the teacher and writer told NBC News. "Niagara Falls had rainbow lights shining on it, the White House had rainbow lights shining on it, and it dawned on me that this was a story that kids needed to know. They didn't know the origin of the pride flag or its importance to our community, and I wanted to tell that story."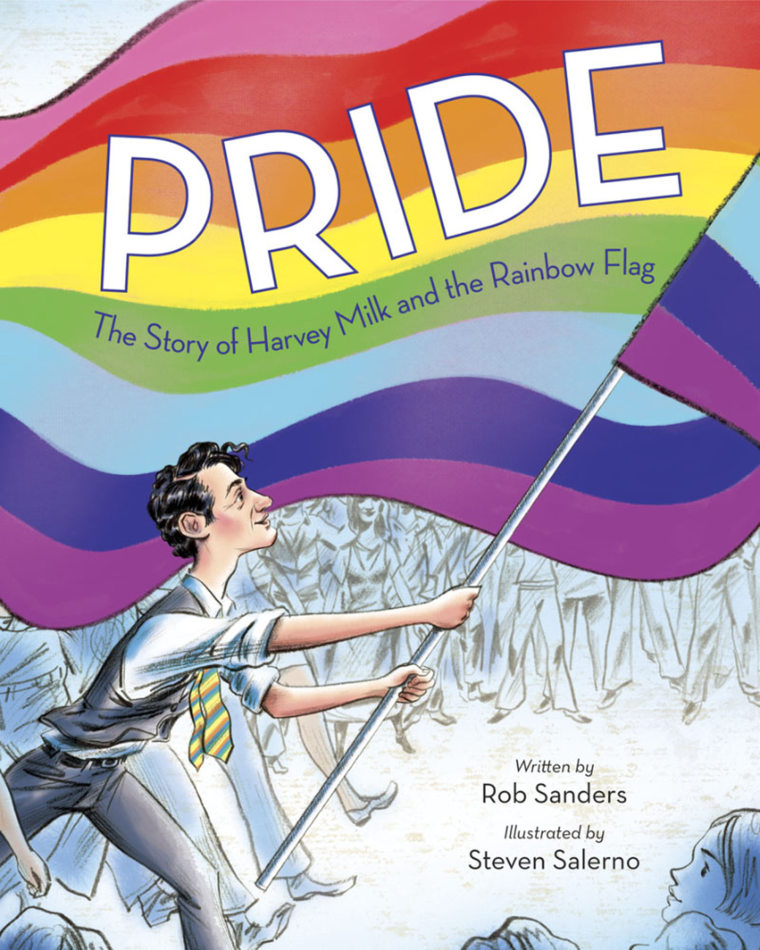 The result is a new children's book, "Pride: The Story of Harvey Milk and the Rainbow Flag," written by Sanders and illustrated by Steven Salerno. The picture book tells the story of famed social activist Harvey Milk and his collaboration with Gilbert Baker, the man who in 1978 designed what has become one of the most iconic symbols for the LGBTQ community: the rainbow pride flag.
The book starts with the story of Harvey Milk — described as "an ordinary man" with "an extraordinary dream" — and his path to becoming in 1977 one of the first openly gay people elected to public office in the U.S. The story then goes on to describe Milk's collaboration with Baker in the creation of the rainbow pride flag, which debuted on June 25, 1978, at San Francisco's gay pride march.
Sanders, who has been writing picture books for children since 2012, said he relied on history books, news footage, documentaries and podcasts in order to conduct research for his book. Through this research, he learned that it took many volunteers from the community to bring Baker's iconic design to life.
"Volunteers came, dyed the fabric by hand, cut and stitched it together," Sanders explained, saying the flag didn't just suddenly appear. "A group of people had their hand on it, [and it] symbolizes the way the community is today. That it really does take different parts to form the whole."
Sanders stressed that it is important to share the stories of historical figures like Harvey Milk, who was assassinated in November 1978, and Gilbert Baker, who died just last year, to a new generation to ensure the impact of such individuals isn't lost or forgotten.
"I think it's important for kids to learn about history in general, and that our history as the LGBTQ community is part of that history, and this needs to be recognized," Sanders said. "History is history, and we need to know and be informed about it."
Jean-Marie Navetta, director of learning and inclusion at PFLAG, one of the nation's largest organizations for LGBTQ people and their families, said representation matters when it comes to telling stories and helping all children grow up to be confident and strong.
"Teaching inclusive history isn't just important — it's critical work," Navetta told NBC News. "On the most basic level, a complete story of what happened is the story we should be telling each time, and that means including the real stories of the people who made history, many of whom are LGBTQ-identified, although often​ that part of their story is left out."
Navetta noted that California is the only state that mandates the inclusion of LGBTQ people in history and social science curricula in schools. Like all topics, she said it is important LGBTQ history lessons be approached in a way that is age appropriate.
"Be sure to present these stories like you would any other story, noting that this is another person who made history, and their life had lots of aspects, including the one about their sexual orientation and gender identity, which is a part of their story, but not the whole story," Navetta said.
Stuart Milk, co-founder of the Harvey Milk Foundation and nephew of the organization's namesake, said he is glad his uncle's story will be introduced to a new generation of young people and believes the core message of his uncle's life was one of authenticity and visibility.
"Uncle Harvey had a dream for our community, which was to be widely accepted, an acceptance that he was able to envision, but we, those who have come after him, have actually made it a reality in many parts of the world," Stuart Milk said.
He said he hopes this new children's book will allow young people to be inspired by the legacy of his uncle and Gilbert Baker.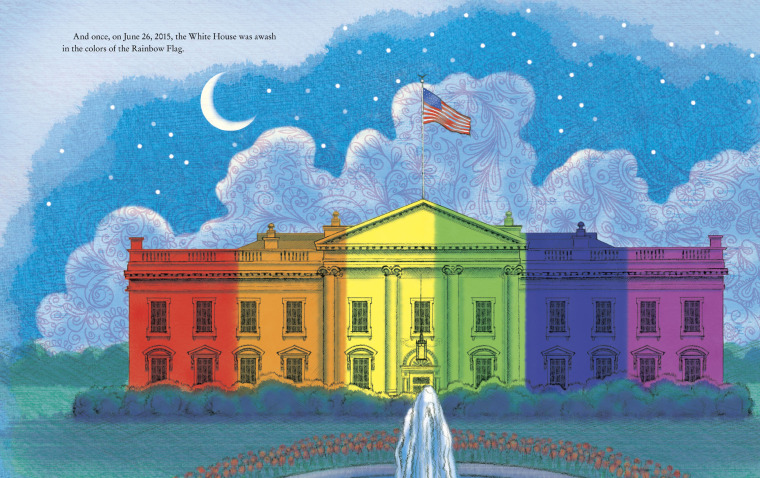 "As a children's book, it presents both an inspiring, age appropriate overview of Uncle Harvey, his dream for us all and the power of collaboration," he added. "In terms of basic understanding, it has the ability for young children, not just LGBT kids but those who may just feel different, to be hopeful."
It is a feeling of hope that the author of "Pride: The Story of Harvey Milk and the Rainbow Flag" wants children to take away from reading the book.
"There are four words repeated throughout this book: equality, pride, hope and love," Sanders said. "That's a message I would like for kids to grab a hold of, that those four words are what Harvey and Gilbert and the flag are about, and that's what we as a community are still striving to have."