This year's election season has been, by many measures, negative and divisive. But it's moments like Greg Goodwin's proposal to his now-fiancé, Kyle Rush, at a Clinton campaign rally that brighten the often dark tone of the season.
"Kyle has been working on the [Clinton] campaign for so long. We actually made the decision that he would join the campaign together, knowing that it would be a 24/7 job," Goodwin said.
Rush works as a deputy chief technology officer for the Clinton campaign. "He was so affected by the 2012 election, which he also worked on. We felt like he would be missing out if he didn't join in 2016. Obviously, that side of our lives is wrapping up, and proposing was a nice way to bookend this experience."
Goodwin contacted some of Rush's colleagues, whom he had become close with, about making his vision for a proposal a reality. Goodwin told NBC OUT he originally thought of proposing on Election Day, but there were doubts as to whether Rush would have enough free time. So the decision was made to propose at Hillary Clinton's rally in Philadelphia this past Saturday, where Katy Perry performed.
"It was such a whirlwind. I'm glad there's some video of it, because I feel like I honestly blacked out for a bit," Rush said. "He told me that he was going to be in New York City hanging out with some friends from out of town, and when I saw him at the rally, I thought, 'Oh, the surprise is that we get to watch the concert together!' Then when I hugged him, he grabbed my jacket and didn't let go, so I knew something was up. And I definitely knew something was up once he pulled the ring out."
Rush told NBC OUT that he was taken by surprise -- especially since he was thinking of proposing to Goodwin once Election Day had passed.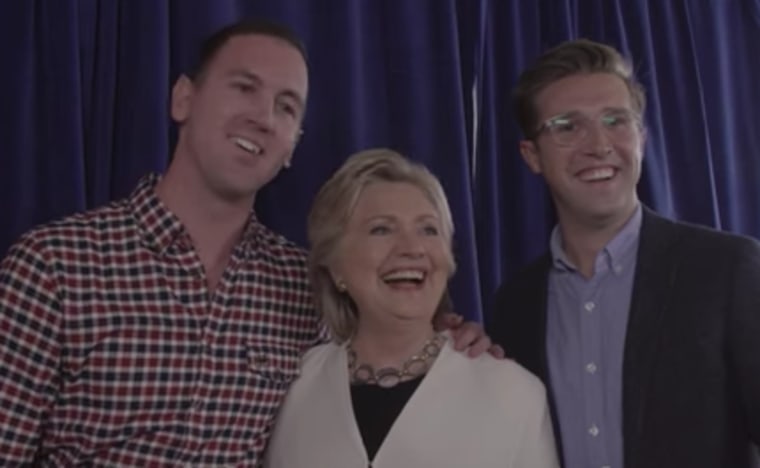 After Goodwin popped the question, the two were then introduced to Democratic presidential nominee Hillary Clinton, as well as former Secretary of State Madeleine Albright and "Will & Grace" star Debra Messing.
"To tell you the truth, Debra Messing was probably the person I was freaking out about the most, just because I wasn't expecting to meet her! She was actually one of the first to congratulate us," Goodwin said.
"[Clinton] was super happy and super smiley. I think my favorite part was when we told her that our rings had 'Stronger Together' inscribed on the inside. She thought it was so cute. It was just like telling your grandmother -- you could tell she was genuinely happy for us," Rush said.
And now, their proposal has been turned into a campaign video for Clinton's presidency.
"I've been with the campaign for a long time now, and it's actually kind of perfect that our proposal became part of the campaign, because it's been such a big part of our lives," Rush said.
The two have already begun discussing wedding plans. Rush told NBC OUT that they're aiming for fall of next year.
"We've briefly discussed who we would have in our wedding party and where we would have it. But we're just excited to have a celebration with all of our friends and family," Goodwin said.