LGBTQ activists in Iceland are protesting the planned deportation of a transgender teen and his family who fled Iran last February, warning he could face imminent harm if he is forced to leave his new home in the progressive Nordic nation.
"He would die," Atla Hrafney, an associate with advocacy group Trans Iceland, told NBC News. "The rights of children should be respected. It is not only the morally right thing, but also it is the legally right thing to do."
Iran is one of approximately 70 countries around the world that criminalize homosexuality and one of 12 where the death penalty is a possibility for same-sex sexual activity, according to the United Kingdom-based human rights group Human Dignity Trust. While Iran is reportedly more tolerant of transgender people than of gays, gender minorities still face widespread harassment, abuse and discrimination.
"Being a teenager is hard enough … Being a trans teenager is even harder, and being a trans teenager fearing for your life is something that I can't even begin to imagine."
Vally Hirst Baldurs
Maní, 17, was scheduled to be deported to Portugal on Sunday along with his family members. Officials have denied their application for asylum under a nonbinding international agreement known as the Dublin Regulation. That rule, passed by the United Nations nearly two decades ago, gives member countries the option to send asylum applicants to their "previous point of departure," as the Reykjavik Grapevine magazine has previously reported.
Before coming to Iceland, the family applied for asylum in Portugal. However, they were forced to leave the country after just two days, according to Hrafney, who said they were being hunted by the Iran's Revolutionary Guard, which allegedly sought to arrest them and force them to go back to Iran.
Because the family already applied for asylum in Portugal, the case has been virtually ignored by Icelandic authorities, Hrafney said.
"They're just enacting optional rules so they can send people back," she added.
"Because the Revolutionary Guard is actively looking for them, the trans child is in active danger. If he goes back to Portugal, he would be brought back to Iran."
Immigration authorities in Iceland temporarily delayed Maní's deportation, however, after he fell ill over the weekend. He has been permitted to temporarily remain in the country until his condition improves.
Activists seized on that opportunity by delivering a petition to Iceland's ministry of justice Tuesday calling on it to reconsider Maní's case. At the time of publication, it had more than 8,000 people signatures, which is about 2 percent of the small island nation's entire population.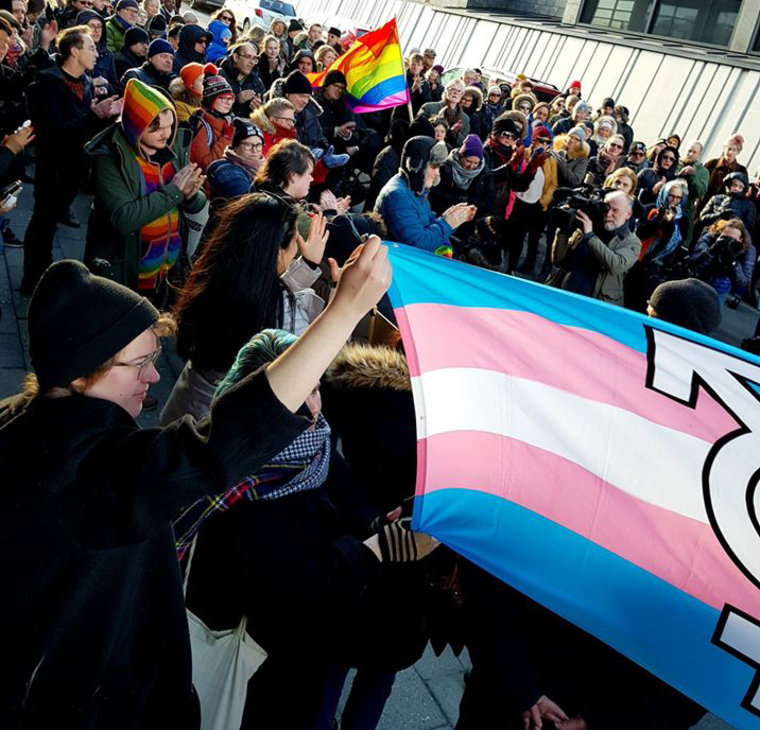 The action ended with about 50 protesters marching from the justice ministry to the Hverfisgata quarter in downtown Reykjavik, where they blocked traffic. There have not been reports of any arrests. The protests, which included a separate action Sunday, have been organized by LGBTQ groups such as Trans Iceland and Samtökin '78, as well as No Borders Iceland.
Elínborg Harpa Önundardóttir, an activist with No Borders Iceland and a friend of the family, said one of the most troubling aspects of the teen's case is that he wasn't even permitted to discuss his asylum claim with immigration authorities.
"He was never asked about his situation by the immigration office, nor the appeals court, which they are legally bound to do," Önundardóttir said. "In Iceland, the authorities have a general tendency to look at children that come [to the country] accompanied by their parents as the luggage of their parents. They don't really count as human beings."
Hrafney echoed Önundardóttir, saying that denying Maní the right to testify on his own behalf is an "abuse of law" under Iceland's immigration standards. "He has the right to express himself, and the fact that he was not allowed to before the final decision was made is actually a breach of law," she said. "This whole thing is riddled with legal violations."
Immigration authorities have permitted Mani's legal team — which declined NBC News' interview request — an extension to submit additional documents related to his case. The deadline is Feb. 24.
But despite the extension, Önundardóttir said Maní's deportation has been in no way delayed. If he is declared fit to travel, he and his family would be immediately sent to Portugal, which would further jeopardize their legal case for asylum, according to Önundardóttir. She said the Icelandic government has "decided never, ever to reopen a case after the person is deported."
"The government has done this quite a few times — to deport a person without the case being totally closed," Önundardóttir added. "It's going to be really, really hard to get him back. We have tried to with many people."
As LGBTQ advocates race against the clock, many say the case has devastated the local queer and trans community — especially given Iceland's long-standing reputation for being one of the most socially progressive nations in the world. The country was the first to elect an openly LGBTQ head of state, former Prime Minister Jóhanna Sigurðardóttir, and has had an inclusive, nationwide nondiscrimination law in place since 1996.
Vally Hirst Baldurs, chairperson of the queer student association Q, said it feels in many ways "as if the people in charge are turning their backs on [LGBTQ people] as a community."
"We are a family," Baldurs said, "and [Maní] is a part of our family and our community."
For Baldurs, Maní's story feels intensely personal: Baldurs, who is trans and nonbinary, came out at 17, which is how old Maní is now. The thing that separates the two of them is that Baldurs was born in Iceland, and Maní was not.
"Being a teenager is hard enough," Baldurs said. "Being a trans teenager is even harder, and being a trans teenager fearing for your life is something that I can't even begin to imagine. Just because we were born here in the middle of the ocean, why do we have more rights to feel safe than him? It doesn't make sense."