Hillary Clinton slammed President Donald Trump's administration for what she said were moves against LGBT rights during a fundraiser for an LGBT community center in New York City on Thursday.
"Each time this administration elevates an outspoken opponent of LGBT equality — sometimes in particularly cruel ways like replacing the first openly gay Secretary of the Army with someone who called being transgender a 'disease' — I picture all of the joyful, beaming couples that I've met across our country … who are so excited to get married, start a family, and begin their lives together," Clinton said, referring to Trump's pick of Mark Green for the post.
Arianna Huffington introduced the former Secretary of State, presenting her with the LGBT Center's Trailblazer award at an event at Cipriani on Wall Street — the same upscale restaurant where Clinton controversially referred to Trump supporters as "a basket of deplorables" in September.
Clinton did not hold back this time, either, in her criticism of Trump and his cabinet picks, and for what she called his administration's insufficient action following reports of the arrests and torture of suspected gay men in Chechnya.
"It's not just here in our country that we're seeing clouds gathering on the horizon," Clinton said. "The US government — yes, this government — must demand an end to the persecution of gay men in Russia," she said.
Clinton said that while some changes of the new administration may seem small, they matter to those affected. "Others carry historic significance, like the future of the Supreme Court," Clinton said.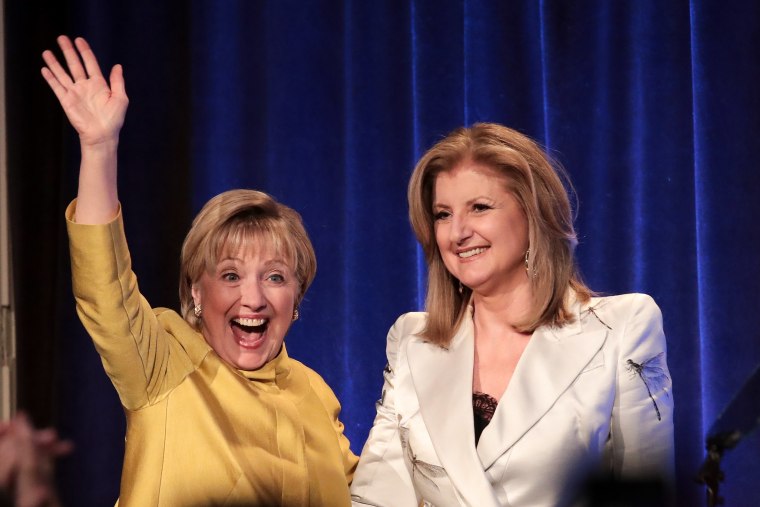 Three others were honored Thursday night for their contributions to LGBT equality: Fashion designer Marc Jacobs, ADP Chief Financial Officer Jan Siegmund, and New York City Commission on Human Rights Chair Carmelyn P. Malalis.
Jacobs was introduced by "Matrix" and "Sense8" co-creator Lana Wachowski in a rare appearance. Wachowski described coming out as transgender in Hollywood and painful early experiences that were softened by the support of a schoolteacher, in a speech that brought Jacobs to tears on stage.
Clinton also addressed transgender youth, blasting the Trump administration for withdrawing Obama-era school guidance aimed at protecting trans kids: "My heart broke for all the parents who are advocating so fiercely for their child's right to live, learn and go to school just like anybody else," she said.
Glennda Testone, executive director of the LGBT Center, told the crowd that the election struck fear into the hearts of LGBT Americans. The center saw a 30 percent increase in demands for services after November, she said.
The star-studded crowd — which included Victoria's Secret Angel Sara Sampiao, Barneys creative director Simon Doonan, and Congressman Sean Patrick Maloney among others — responded to the call to action with an outpouring of donations to keep New York's LGBT Center in business.
The event raised $1.75 million in donations, Testone said.