An interactive online HIV prevention program has reduced the sexually transmitted infection rates of gonorrhea and chlamydia by 40 percent among young gay and bisexual men, the first such approach to show an impact on sexual health, a new study found.
The program, "Keep It Up!," challenges traditional sexual education models and seeks to "keep up" HIV negative test results and educate racially and ethnically diverse at-risk gay and bisexual youth through soap operas, interactive games and real-world simulations.
The program targets men 18 to 29 who have sex with men, a group that is disproportionately affected by HIV infections in the U.S. While this group represents only 2 percent of all young people, it accounts for 70 percent of HIV diagnoses according to the Centers for Disease Control and Prevention.
"Keep It Up!" is made up of different modules involving interactive games, exercises, a simulation at a bar and a soap opera.
"We start the program by hearing from other gay and bisexual men, talking about their connections to family, community, dating and sexual health," said Brian Mustanski, lead author of the study and director of the Institute for Sexual and Gender Minority Health and Wellbeing at Northwestern University. "So we start by this realization that we're not just talking about HIV, we're talking about your lives."
The study, conducted by the institute, was published last week in the American Journal of Preventive Medicine.
When the HIV prevention program was developed, researchers compared its style of education to more traditional HIV education models made up of powerpoint slides and instructional videos.
Mustanski said he was alarmed by the reality of sexual education in the U.S.
"We assume all young people are getting sex education in school. But the reality is for young gay and bisexual men they don't get that much education that is relevant to them," he said. "They learn about preventing pregnancy, for example. I've even had young gay men tell me, 'I don't need to use a condom, I can't get pregnant.' I was really impacted by that."
Kathryn Macapagal, a research assistant professor at Northwestern, conducted a study of gay and bisexual teens using geosocial networking apps (like Grindr, Jack'd or Scruff), where users reported using condoms only 25 percent of the time with partners they met from the apps.
Macapagal believes there's a need for HIV prevention programs designed with teens in mind.
"Programs like this could show teens how to keep themselves safe when using geosocial networking apps, what warning signs to look out for and how to navigate meeting someone in person safely," she said. "And the online aspect can make it much more accessible to teens who aren't out to their families or out at school."
"Keep It Up!" has expanded to several medical facilities across the U.S. where it has been received positively among young gay and bisexual men.
Jill Dispenza, director of HIV/AIDS and STD services at Center on Halsted, a LGBTQ community center in Chicago, collaborated with Mustanski and the Chicago Department of Public Health on a multi-year grant to provide the HIV prevention program as a service to their testing clients.
"Clients enjoyed the various games and videos, felt the program spoke to their needs as gay or bisexual young men, and reported that they learned skills to advocate for themselves with partners related to safer sex options and condom conversation tips."
Jackson Medical Mall Foundation in Jackson, Mississippi, a former mall that is now a medical and retail facility, recently integrated "Keep It Up!" into its HIV testing and education program known as The Spot (Safe Place Over Time).
"Providing services to young gay and bisexual men of color are important in reducing the rates of HIV and stigma," said Juanita Davis, director of CARE4ME Services at the foundation. "Having programs that were created for them like 'Keep It Up!' and The Spot help them to better understand their worth. In this work, I realize the strength of feeling one's self-worth and value as immeasurable."
African-Americans account for 54 percent of infections attributed to male-to-male sexual contact compared to 16 percent for whites, according to the CDC.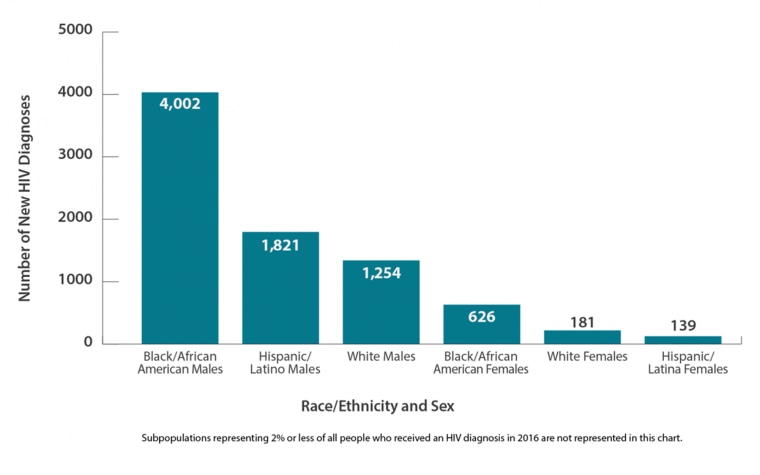 Mustanski said educating black gay and bisexual youth was a priority for the program.
"When we did the study, about two-thirds or 63 percent of the participants were racial or ethnic minorities, so we had great representation for those in the research study," he said.
"We really wanted to hear diverse voices. We're doing it in partnership, co-creating it with the community."