A nonbinary senior in a conservative California school district walked away from homecoming with the queen's crown this month.
It wasn't the first time Trevor Meyer, a senior at Clovis East High School in Clovis, California, had vied for a spot on the homecoming court. Meyer, who has been public about his gender nonconformity for about two years, ran for homecoming prince in his freshman, sophomore and junior years, but didn't win.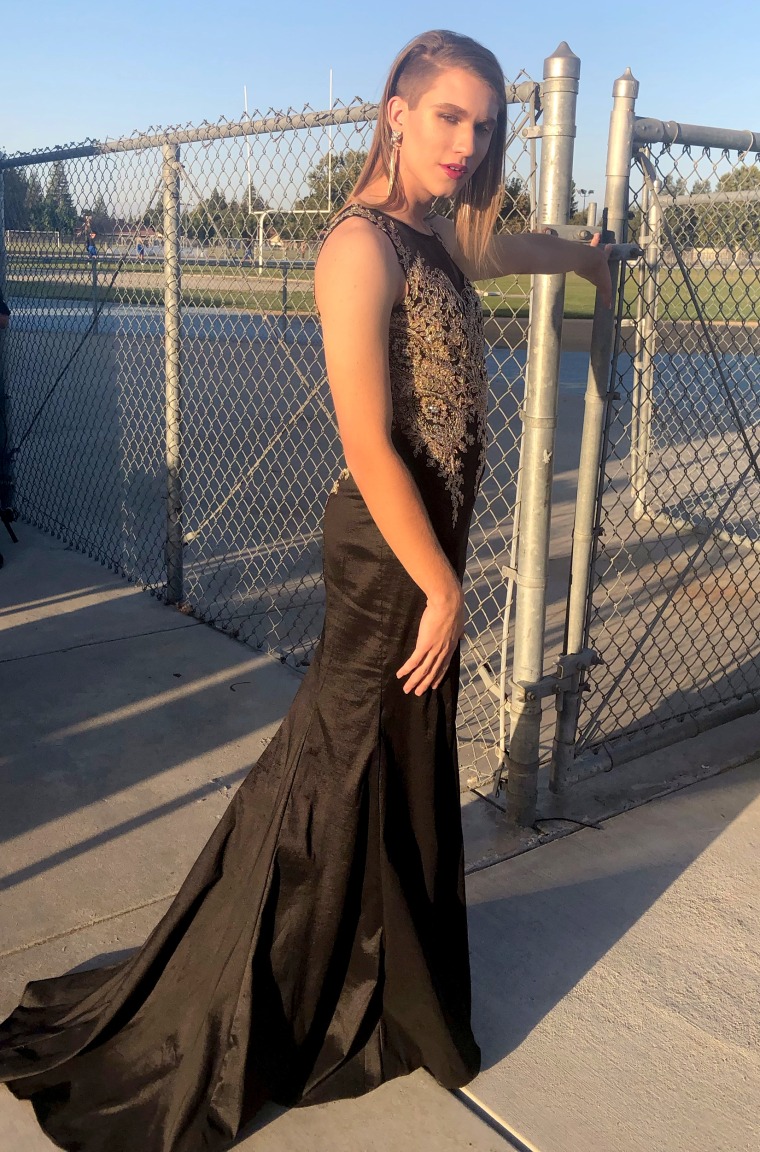 For his senior year, Meyer, who said he has no pronoun preference, decided to take a different approach, floating the idea of running for queen among his friends, who then nominated and voted for him. Of the 24 students who were nominated for the crown, only four were chosen to stand before the student body on Oct. 4 for a final vote.
"Leading up to the announcement, my heart was racing, and I was on a roller coaster of emotions," Meyer told NBC News. "I just think it's important for everyone to step up and be themselves."
The 16-year-old stood tall in a black and gold gown and six-inch heels as he received his tiara to the cheers of family and friends.
"The crowd was chanting his name so loudly, everything was buzzing," Meyer's sister, Shelbey Weidemann, told NBC News. "Of course I had nervous doubts if he didn't win, but from the minute they announced him, you couldn't even hear anything other than the crowd's cheers."
After the event, Meyer shared a celebratory pizza with his friends, who teased him about whether he'd be allowed to keep the crown permanently.
While the outpouring of support from his peers was evident, not everyone was supportive of Meyer's win. A number of people in the conservative California school district expressed their views on the Facebook page of The Fresno Bee, which covered the story.
"Some of these comments are everything just short of people wanting him to die, thinking his gender expression is 'disgusting,'" Weidemann said.
Meyer said he is not dwelling on the negative comments. Instead, he views them as an opportunity to foster dialogue and educate others about gender identity.
"Honestly, I love it when they talk about me, because it opens the conversation about identity that will lead to acceptance one day."
Progress is being made. In addition to Meyer's historic win as the first nonbinary homecoming queen at Clovis East, the homecoming king crown was awarded to a student in the school's special education program.
"Both of the winners are so meaningful and shows how kind and supportive the student body is," Weidemann said. "One parent of Trevor's graduating class called it 'The Homecoming of Change.'"
Kelly Avants, director of communications for the Clovis Unified School District, noted that this year's historic wins exemplify the school's legacy of recognizing students from a variety of backgrounds on the homecoming court.
"For Clovis East High School, our student body is very inclusive and accepting," she said. "There is a long tradition at that school to be a school that welcomes everyone."
When asked about what the win means in terms of LGBTQ representation, Meyer said it marks a milestone.
"There's obviously more that we need to do as a community, but this is the first of many steps," he added. "Throughout the rest of this year, I'm going to try my best to make sure I use this platform to talk about how important representation is."