In a newly resurfaced television interview from 2005, U.S. senate candidate Roy Moore, Republican of Alabama, compared gay sex to bestiality and said "homosexual conduct should be illegal."
The interview features Moore, who is currently running to fill the senate seat vacated by U.S. Attorney General Jeff Sessions, answering questions on CSPAN-2's "After Words" program from host Bill Press.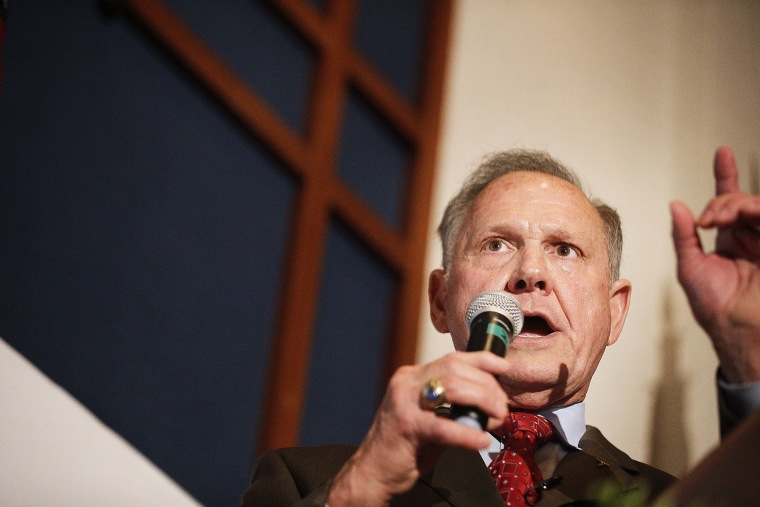 "Do you think that homosexual — homosexuality, or homosexual conduct should be illegal today?," Press asked in the video, which was unearthed by GLAAD and first reported on by CNN.
"Homosexual conduct should be illegal, yes," Moore said. "It is immoral, it is defined by the law as detestable, it was against the law in most states until the Supreme Court … said that it wasn't."
In a 2003 landmark decision, Lawrence v. Texas, the Supreme Court declared state laws banning sodomy were unconstitutional.
Later in the interview, when Press asks about why the government should ban private activity between two consenting adults, Moore said, "Just because it's done behind closed doors, it can still be prohibited by state law. Do you know that bestiality, the relationship between man and beast is prohibited in every state?"
"Did I ask you about having sex with a cow? ... Or a horse, or a dog?" Press responded.
"It's the same thing," Moore replied.
NBC News reached out to the Moore campaign for comment but did not receive a response.
History of Anti-LGBTQ Sentiment
LGBTQ leaders in Alabama said Moore's comments in the video add to the candidate's history of statements and actions attacking the lesbian, gay, bisexual, transgender and queer community.
"It's not surprising that this came from Roy Moore. He's shown he will put his personal belief before the law," Alex Smith, executive director of LGBTQ advocacy group Equality Alabama, told NBC News. "It is alarming that anybody who is asking for a vote would say something like this."
Related: Michigan Sued After Gay Couples Rejected for Adoption
Moore, the former chief justice of the Alabama State Supreme Court, was twice elected and twice removed from his post since first ascending to the court in 2001. In 2016, he was suspended after instructing probate judges to continue enforcing the state's ban on same-sex marriage, in defiance of Obergefell v. Hodges, the landmark Supreme Court case that legalized the practice nationwide.
"Roy Moore has made a career in Alabama out of attacking the LGBTQ community, and it's one of the many reasons he is unfit for office," Eva Kendrick, Alabama state director for the Human Rights Campaign, said. "His statements have been dangerous and bigoted for years."
In a 2002 child-custody case involving a lesbian mother, for example, Moore wrote that homosexuality is "an inherent evil against which children must be protected." The Alabama Supreme Court ruled in favor of the father, and Moore authored a concurring opinion saying there was a presumption the mother was unfit because she was in a relationship with a woman.
"It absolutely boggles my mind how the citizens of Alabama can keep re-electing someone who is so blatantly biased, has no understanding of separation of church and state, and who has proven over and over that he is simply unfit for the job," Dawn Larson, the mother in the case, told the Associated Press.
Related: Judge Rejects Business Owners' Argument for Rejecting Gay Customers
In a 2015 interview posted to YouTube by Lone Star Q, Moore reiterated his 2005 assertion that "homosexuality should be illegal" and would not answer a question as to whether it should be punished by death.
And he recently told the Guardian that the U.S. promotes "a lot of bad things," citing "same-sex marriage" as an example. When it was pointed out to him that his arguments on gay rights were similar to those of Russian President Vladimir Putin, Moore said, "Well, maybe Putin is right ... Maybe he's more akin to me than I know."
"Lesser of Two Evils"
Luther Strange, who was chosen to temporarily fill Sessions' empty Senate seat, is running against Moore in a runoff contest for the Republican nomination.
"It really comes down to the question, 'Which is the lesser of two evils?," said James Robinson, CEO of Free2Be, an Alabama nonprofit that fights violence against LGBTQ people. "It's not hard for me to say Luther Strange, although they're both embarrassments to the state."
Moore and Strange will run against each other on Sept. 26. The winner will face off against Democratic nominee Doug Jones on Dec. 12.