In honor of National Coming Out Day on Oct. 11, Facebook unveiled a new update Wednesday to its "Major Life Event" product. Now, Facebook users can select "Came Out" and share their own story.
"For the LGBTQ community, Facebook is a way for you to come out, celebrate your pride and find support," Tudor Havriliuc, a vice president at Facebook, told NBC News via email. "Visibility is so important because it changes hearts and minds about being LGBTQ when friends and family see us living our true lives."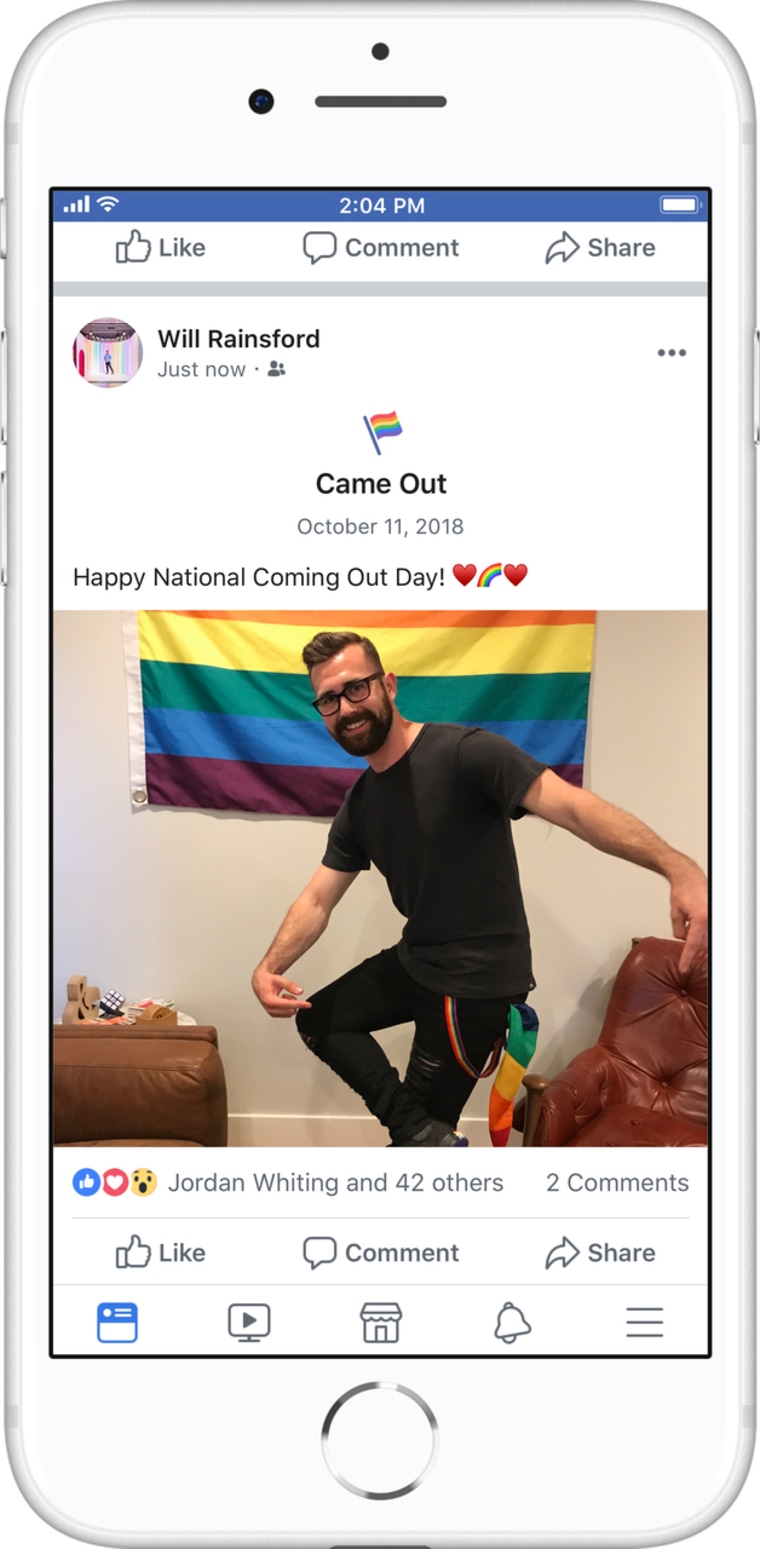 To add "Came Out" as a major life event on Facebook, users can tap "Life Event" in the composer window on their timeline. Then, choose "Family & Relationships" in the drop-down menu (or just "Relationships" if you're on a mobile phone), and then select "Came Out" in the list of life events.
"We're excited to give more people the opportunity to 'come out' on Facebook," Havriliuc said. "For National Coming Out Day, we hope people will share their coming out story and use the hashtag #ComingOutToShare to follow along with the wider community."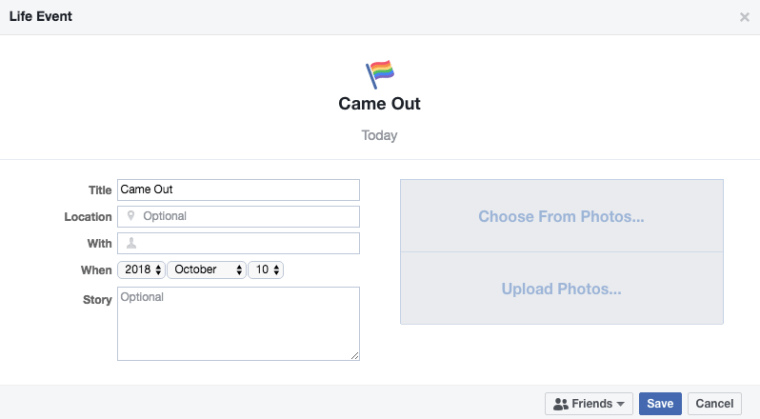 While the addition of coming out as a major life event may be new on Facebook, LGBTQ people have been coming out on the social media platform since its launch in 2004.
Sam, who identifies as "trans-fem nonbinary" and asked only to be identified by their first name, is one of them. Sam came out Monday on Facebook — two years after coming out to family and close friends.
"I wanted to be visible and talk about my experience; I didn't know how to do that without coming out publicly," Sam told NBC News. "Coming out on Facebook felt like taking back my public voice."
Sam, who uses gender-neutral pronouns like "they" and "them," said they especially wanted to share their unique experience as a nonbinary person.
"Being socialized as a man and then transitioning to a feminine presentation and experiencing the deep reality of sexism feels important to share in this moment," Sam explained.
After coming out publicly on Facebook, Sam said they received an outpouring of support.
"I'm lucky to have a very supportive community," Sam said. "I received nothing other than supportive comments and had lots of people reach out directly to share their support. That isn't everyone's experience — particularly for trans people."