On a balmy Saturday night in October, a group of perspiring revelers were crowded into The Eagle NYC to watch the annual Mr. Eagle competition. The popular gay leather bar boasted a diverse group of patrons: men of all ages, a couple of women, people of color, body types that spanned the gamut, guys in leather harnesses and some men simply wearing jeans and a T-shirt.
While The Eagle NYC is not a franchise, it is one of dozens of gay bars across the U.S. — and internationally — with the word "Eagle" in its name. It's part of a tradition that goes back decades.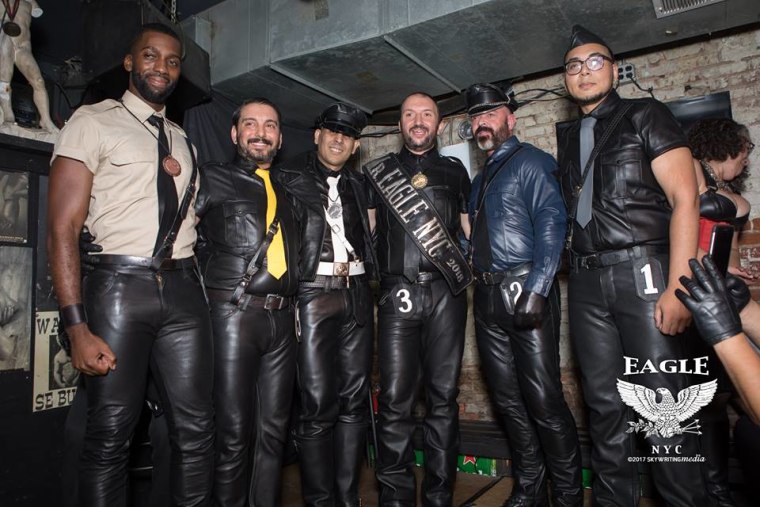 The History of 'The Eagle'
In 1970, the first gay Eagle bar was started after an old longshoreman's pub in New York City, Eagle Open Kitchen, closed down. The pub had been in operation for almost 40 years, but after the 1969 Stonewall Riots, the new owners of the Manhattan space decided to change course. They painted the walls black and converted the old pub into The Eagle's Nest bar. The spot quickly became a popular spot for traditionally masculine-presenting gay men and hosted meetings for biker groups and sports clubs.
Amid the homophobia that was not uncommon in the '70s, gay men found a respite and place of comfort at The Eagle's Nest — it was a safe space before the term "safe space" was in the vernacular. And when patrons of The Eagle's Nest left New York, they took that sense of community with them, and The Eagle's Nest served as inspiration for other Eagle-named bars that popped up in cities like San Francisco, Baltimore, Philadelphia, Washington, D.C. and even as far as London and cities in Canada.
These new locations — like The D.C. Eagle, 501 Eagle in Indianapolis and Eagle 562 in Long Beach, California — were not franchises of the original. According to owners and patrons of these establishments, each is a separate business, but they all share a commonality: an appreciation for traditional ideas of masculinity and strong ties to the "leather" and "kink" communities. In their heyday, there were more than 50 Eagle-named bars. Today, there are more than 30 locations spread across the U.S. and in international cities like Amsterdam, London and Vienna.
An 'Eye-Opening' Experience
Back in 2007, while on a business trip, Joe Whitaker entered his first Eagle establishment. The Pittsburgh Eagle, which is now closed, was recommended by an online friend and came up in a few Google searches.
"I had never really heard of it before," Whitaker, who was closeted, married and living in Alabama at the time, told NBC News.
"That first experience was quite eye-opening. When I saw what was going on there and everyone seemed to be pretty open about their sexuality and what they were doing, it was quite an experience."
The experience, according to Whitaker, helped him come to terms with his own sexuality.
"One thing that it helped me realize was 'No, I'm not straight, I'm not messed up. There are all of these men out in the world that have the same kind of thoughts and attractions that I do,'" Whitaker said of his experience at The Pittsburgh Eagle.
"At the time, I didn't understand that there were men like me that had very masculine traits but were gay," Whitaker added.
Now, 10 years later, Whitaker is out, proud and fully immersed in the "Eagle community." He even hosts regular leather and kink-themed events at Eagle bars in New York, D.C., Baltimore and Seattle.
Expanding the Audience for Survival
In their earlier days, Eagle bars were not as diverse and accepting as they are now. Some bars, for example, enforced strict dress codes that would require patrons to wear a piece of leather gear, like a harness or vest. Others would prohibit people from entering if they had on cologne or perfume. And not everyone who got past the door, according to some Eagle patrons, felt accepted once they were inside — especially if they didn't fit the traditional masculine, white aesthetic.
But over the years, due to both societal changes and business realities, Eagle bars have evolved.
"Back in the '70s and '80s, you could just open a gay bar with black walls and hang a sign out the door, and it would be packed, because it was a place gay people could go and feel comfortable," Chuck King, who bought and reopened the 10,000-square-foot Baltimore Eagle in February, told NBC News. "Today's market, you have to really diversify, especially with a large building."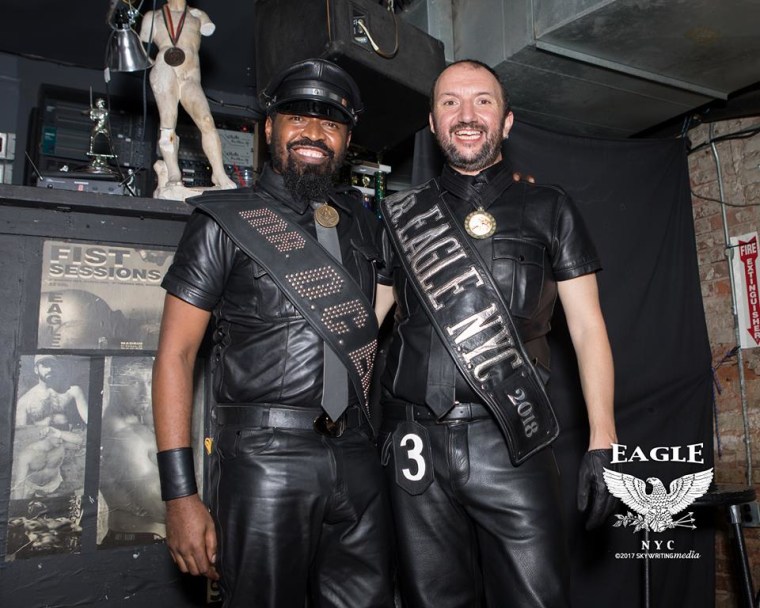 In its attempt to diversify and expand its clientele, The Baltimore Eagle hosts not only traditional leather-community events rife with performative machismo, it also boasts a sports bar, a restaurant with an award-winning chef, a dance floor and drag events. The goal, according to King, is to be inclusive of the entire LGBTQ community while also respecting the history of the Eagle brand.
The DC Eagle, which Whitaker said is likely the largest Eagle bar in the world, is also trying to diversify and expand its clientele and event offerings.
"We do a mixture of everything, and that's what I love about it," Grey Owl, Mr. DC Eagle 2017, said of his hometown Eagle bar. "Yes, it's a leather bar, but we also involve the greater community as well; we don't leave anybody out."
And as more and more gay bars reportedly close across the U.S. and beyond, appealing to a broader swath of the LGBTQ community is a strategy many others may take.