The fate of transgender Americans may now be in the hands of the U.S. Supreme Court, as it decides whether to hear the case of trans student Gavin Grimm, who is suing his school district in order to use the boys' bathroom. Those who would deny individuals like Grimm their civil rights, however, hope to block not just their right to pee — but to be.
RELATED: Supreme Court Blocks Transgender Bathroom Ruling
The focus of many in the anti-trans movement is to erase what it means to be trans, as evidenced by the position statement issued recently by the American College of Pediatricians, not to be confused with the American Academy of Pediatricians. The so-called College denies some children are transgender and benefit from being respected in those identities.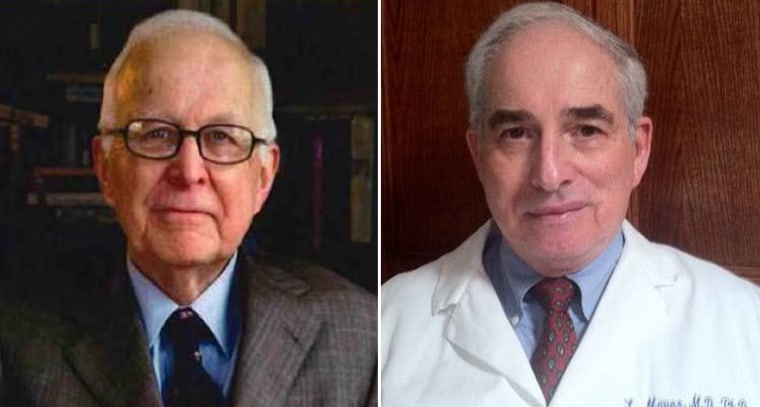 The movement's latest effort is a controversial 143-page report that LGBTQ advocates consider an early Christmas gift to religious conservatives. Its authors are Dr. Paul McHugh and Dr. Lawrence Mayer of Johns Hopkins University's Bloomberg School of Public Health and School of Medicine in Baltimore, Md., who between them have never conducted independent research on LGBTQ Americans.
McHugh, a retired professor at Johns Hopkins and a psychiatrist who considers being trans a "mental disorder," collaborated with Mayer to change what people think about sexuality and gender through science. This is an opponent of transgender rights who made a name for himself by declaring homosexuality a choice, lending his expertise to legal efforts to block same-sex marriage in California. The self-described cultural conservative and strict Catholic once compared the practice of administering hormone therapy to children as akin to performing "liposuction on an anorexic child."
Mayer, a biostatistician and epidemiologist, recently served as a $400-an-hour expert witness in North Carolina Gov. Pat McCrory's defense of House Bill 2, the Republican-sponsored state law that restricts transgender people to bathrooms matching their birth certificates.
Their report is titled "Sexuality and Gender: Findings From the Biological, Psychological and Social Sciences" and is billed as "a careful summary and an up-to-date explanation of research — from the biological, psychological, and social sciences — related to sexual orientation and gender identity."
Among the report's claims:
LGBTQ people are not "born this way," yet biological sex is innate.
Gender identity is an "elusive concept," and so transgender people do not exist.
It is harmful to so-called "confused" children to offer them transgender treatment and societal accommodations. Instead, they need non-surgical intervention.
Who's Behind the Report?
The paper was published in The New Atlantis, which is not a peer-reviewed medical journal, where reports by members of the Johns Hopkins team might normally be found. Instead, it's the product of the Ethics and Public Policy Center (EPPC), a Christian-focused conservative think tank "dedicated to applying the Judeo-Christian moral tradition to critical areas of public policy."
Even if you've never heard of EPPC, their stance on some key issues in LGBTQ life will be familiar. The group supported the now-defunct Defense of Marriage Act, objected to the elimination of Don't Ask, Don't tell and supports efforts by conservative states to enact religious freedom restoration acts.
Although it might appear unusual that Johns Hopkins healthcare professionals would publish a paper of this kind in a religious publication with a political agenda, Mayer shrugged it off. He conceded in an email to ThinkProgress that the report "may be politically biased but it is not scientifically biased."
To the religious right wing of American politics, and in particular its leaders in the anti-gay and anti-transgender movement, the report is seen as "groundbreaking." That's what Brian Brown, president of the National Organization for Marriage, called it: a study that will "expose the lies of the media and LGBT activists, that contradict not only common sense but also the best scientific knowledge."
Human Rights Campaign Takes Action
But all that knowledge is going to be costly. NBC OUT has learned that unless Mayer and McHugh's bosses at Johns Hopkins immediately disassociate themselves from what the Human Rights Campaign (HRC) considers their transphobic findings, the reputation of the university, its medical school and its hospitals may suffer.
The claims made by the authors have triggered an unprecedented review by HRC, which is the nation's leading LGBTQ civil rights organization. The group says it has been warning the internationally respected university medical school for several months that it will remove its name from an elite classification in its Healthcare Equality Index (HEI) unless action is taken.
A person with knowledge of HRC's leadership decisions told NBC OUT that after repeated warnings, Johns Hopkins is now on the brink of losing its perfect score on that closely-watched benchmark for LGBTQ equality. The source provided the text of a warning sent in June, prior to the release of the report by Dr. Mayer and Dr. McHugh:
"Failure to take significant steps to distance Johns Hopkins Medicine from this line of Dr. McHugh's personal beliefs and opinions will be considered an activity that undermines LGBTQ equality and patient care for the purposes of the Healthcare Equality Index score for Johns Hopkins Hospital."
How important is the HEI ranking? James Page Jr., the top man in charge of diversity at Johns Hopkins Medicine, explained it best in March in a press release:
"We recognize the importance of a leader in health care also being a leader in health care equality," Page was quoted as saying in the statement heralding their latest perfect HEI score. "We are dedicated to making Johns Hopkins Medicine a fully inclusive place to work and seek care, and we are pleased to see our efforts being recognized."
"The 'research' Paul McHugh has been releasing and peddling and marketing are a weapon in the arsenal of anti-transgender politicians and extremists."
So, one would suspect it matters to Johns Hopkins that it would continue to be selected for this honor, to be one of fewer than 150 institutions chosen from more than 2,000 health care facilities nationwide. It's a sought-after recognition that follows a rigorous, independent evaluation of an institution's policies and practices that is, as HRC states on its website, "related to the equity and inclusion of their LGBTQ patients, visitors and employees."
NBC OUT reached out to spokespersons for both Johns Hopkins Medicine as well as the university, in hopes of getting their reaction to its endangered perfect score, and to ask whether anyone would endorse or would condemn the controversial report on transgender Americans.
A spokeswoman for Johns Hopkins Medicine, representing both institutions, addressed the issue via email, but refused to directly address the report:
"The Johns Hopkins University and the Johns Hopkins Health System are deeply committed to inclusiveness, including respect and support for our LGBTQ students, patients, employees and other members of the Johns Hopkins community.
"As one of the world's leading research institutions, we value scientific integrity and academic freedom. While members of our faculty are free to share their views and opinions, it is important to understand that those do not necessarily represent the views and opinions of our institution."
In other words, they're not endorsing Mayer and McHugh and "not necessarily" distancing themselves, either. On Monday, HRC sent another warning letter to Johns Hopkins, mentioning the report in the New Atlantis, according to the HRC official who requested anonymity.
Sarah McBride, HRC's national press secretary and the first-ever transgender speaker at an American political convention, talked to NBC OUT on the record and said she believed the report by Mayer and McHugh posed "dangerous consequences for transgender people, in particular transgender young people."
McBride noted that in contrast to what is popularly viewed as a year of tremendous acceptance and progress for transgender Americans, the stark reality is that trans people and their allies nationwide are on the defensive. "This year in particular, trans people have experienced pretty significant and harmful political and legislative attacks," she said in a phone interview.
"The 'research' Paul McHugh has been releasing and peddling and marketing are a weapon in the arsenal of anti-transgender politicians and extremists."
Kim Hoppe, a Johns Hopkins spokeswoman, issued a subsequent statement to NBC OUT, expressing pride for its HEI ranking and "inclusiveness." But first and foremost, Hoppe defended Johns Hopkins' dedication to providing its staff with "academic integrity and freedom of expression," which seems to suggest a resolution to this standoff may not be reached:
"This means both that the university will not penalize faculty for statements made in public debate and that we are committed to a strong principle of academic freedom in teaching and research. This is true even when a faculty member is expressing views that provoke controversy and others may consider wrong."
Although Hoppe did not directly answer NBC OUT's questions about its HEI ranking, she remained firm in deflecting the impact Mayer's and McHugh's opinions would have on the university:
"At times, the views of individuals are imputed to the university for which they work, and that may unfortunately affect others' views of the institution. I can assure you that as health care providers, we have taken steps across all of our hospitals to live up to the policy requirements to qualify as a leader in LGBT health care equality."
Not so fast, implied McBride. "There's no question that the public narrative is that this is a Hopkins study," and unless the institution were to take action there will be "consequences," she added. As to what those might be, McBride later emailed a statement to NBC OUT to shed a few new details.
"We are deeply troubled by the continued use of Johns Hopkins' name and reputation to back up the unscientific, unfounded, and harmful personal prejudices of a few of their doctors. We have repeatedly reached out to Johns Hopkins to express our disappointment and anger with the ongoing use of their credibility to back up discredited theories. The next version of our HEI will include criteria regarding institutional support for similar anti-LGBTQ actions, which means that unless Johns Hopkins addresses this situation, their score will be significantly impacted. We have made and will continue to make that fact clear to Johns Hopkins as we work to end this practice."
The Science Behind the Report
Ideology can be debated, but what of science? The Advocate invited Dean Hamer, PhD., to investigate Mayer and McHugh's report. Hamer, who is scientist emeritus at the National Institutes of Health, took a scalpel to Mayer and McHugh's claims in a scathing review titled New 'Scientific' Study on Sexuality, Gender Is Neither New nor Science.
Hamer did not mince words in his article, writing in conclusion: "When the data we have struggled so long and hard to collect is twisted and misinterpreted by people who call themselves scientists, and who receive the benefits and protection of a mainstream institution such as John Hopkins Medical School, it disgusts me."
Johns Hopkins to Offer 'Gender-Affirming Therapies'
The affiliation of Mayer and McHugh with Johns Hopkins is even more relevant considering Johns Hopkins Medicine, according to a Pride letter it released in June, "will join a growing number of leading academic medical centers this fall in offering gender-affirming therapies for transgender patients, including sex reassignment surgery and hormonal treatment as part of a range of support options available."
"Members of our Sexual Behaviors Consultation Unit are deeply engaged in offering affirming care to our transgender patients," Hoppe told NBC OUT. "We have established two steering committees related to continuously improving the competency of our workforce in the care of LGBT patients, and this work will further our ongoing expansion of services to the transgender and LGBT community."
"Johns Hopkins Medicine fully recognizes that gender transition services can be medically necessary for patients, as determined through evaluation by a qualified medical provider, and we will continue to treat each of our patients with the highest level of care and respect," Hoppe added.
While that speaks to the medical branch of the university as a whole, it leaves open the door to McHugh, Mayer and others to potentially influence individual treatment.
The End Game
The real test of Mayer and McHugh's controversial report will be whether it is largely ignored, as Dr. Hamer believes it will be, or whether it will find its way into the hands of the U.S. Supreme Court justices as they consider what could be a precedent-setting case on trans civil rights.
Dawn Ennis is an award-winning journalist who was the first to transition in a network TV newsroom. She is now a freelance writer, producer and editor, as well as a widow, a single parent of three children, and the subject of an award-winning documentary, Before Dawn/After Don. Ennis is also on YouTube, on Twitter and blogging at lifeafterdawn.com