/ Source: Associated Press
A human rights group is hoping to persuade travelers from Boston and other cities to avoid flying on Qatar's state-owned airline when going to the Middle East as international attention focuses on the tiny country leading up to its hosting of the 2022 World Cup.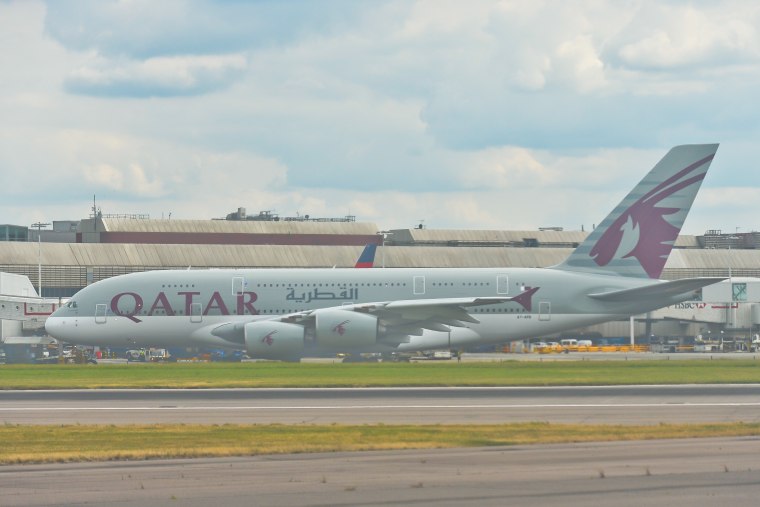 The Washington-based Alliance for Workers Against Repression Everywhere (AWARE) is stepping up its push for a boycott of Qatar Airways because of what it alleges are human rights violations by the country and the airline.
Qatar Airways is one of the fastest-growing airlines in the world, known for its luxury service and fleet of new aircraft. This year it launched service from several major U.S. cities, including Boston, Atlanta and Los Angeles. In those cities, AWARE ran a public campaign using billboard ads, op-ed pieces and social media to urge travelers to boycott the airline.
The group cites the country's poor record on women's rights and gay rights and reports of poor working conditions for a large population of migrant workers who are building stadiums, roads, hotels and other infrastructure in Qatar as the country gets ready to host soccer's World Cup. An Amnesty International report this year said migrant workers reported living in squalid conditions, having their payments withheld for months and having their passports confiscated.
Progressive activist Mike Lux, a political consultant who served on the Barack Obama-Joe Biden presidential transition team and is the main organizer of the boycott, said human rights groups have found that Qatar Airlines keeps tight control over its employees, putting them in company-owned housing and not letting them leave these "company towns." Lux said the airline also has a record of discriminating against women, firing workers who get married, become pregnant or are overweight.
"Mostly what we want travelers to know is that this airline and the country that backs it are built on the exploitation of workers," Lux said. "We want folks to understand that there are severe human rights violations in Qatar and part of the human rights violations are done by the airline itself and more of them are done by the country that owns the airlines and controls it."
Qatar Airways declined to comment on the boycott on Wednesday. But in an interview with Global Atlanta in June, the airline's senior vice president in charge of customer experience, Rossen Dimitrov, called the allegations made by AWARE "patently false."
"Qatar Airways respects the laws of every country it serves and does not discriminate on the basis of gender, sexuality, religion or nationality," Dimitrov said.
He said the airline offers pay, housing, global medical coverage and other benefits that "result in a highly desirable career opportunity."
This week, Qatar said it was introducing long-expected reforms to policies governing its foreign-labor force. The changes still require workers to get clearance from their bosses before leaving the country.
Qatar government officials said the reforms will abolish the kafala sponsorship system binding workers to their employers. Human rights activists say the reforms continue to leave workers open to exploitation by unscrupulous employers.