Omar* is a 30-year-old physician living in Alexandria, Egypt, the country's second largest city. He is also a gay man who has spent most of his life in what has become one of the most dangerous places to be a sexual minority.
"It's difficult to be gay in Egypt," he told NBC News. "You can't be out. If you're out, you can be subjected to discrimination, abuse, being arrested, having forced physical examinations or being sentenced to time in jail."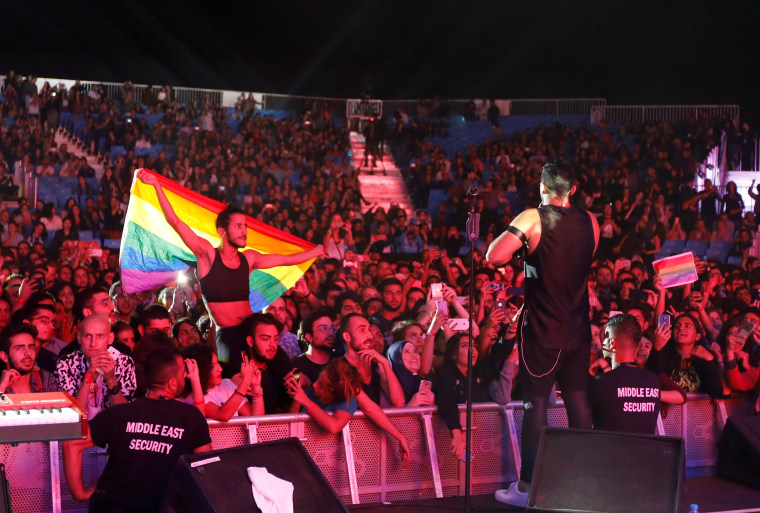 Homosexuality is not explicitly illegal in this country that bridges northeast Africa with the Middle East, but people are routinely arrested and imprisoned on the basis of their actual or perceived sexual orientation and gender identity, according to Amnesty International.
Last September was the worst crackdown in the country's history, with up to 76 people being detained, according to the human-rights organization. The crackdown was sparked after a gay man waving a rainbow flag was arrested during a concert in Cairo. The incident garnered international attention, but one year later, gay Egyptians and human-rights advocates say the persecution continues, and Egypt's LGBTQ community is living in fear.
EGYPTIAN LAW
While same-sex sexual relations are not explicitly prohibited in Egyptian law, a 2017 report by the International Lesbian, Gay, Bisexual, Trans and Intersex Association (ILGA) found that "the Law on the Combating of Prostitution, and the law against debauchery have been used liberally to imprison gay men in recent years." As such, ILGA includes Egypt in its list of 72 countries that criminalize homosexuality.
Omar, however, said, "It's not just gay, bisexual and transgender people who the authorities are after."
"Just for waving a rainbow flag you can get arrested," he explained. "You don't even necessarily need to be gay to get arrested, just seen to be associated with the LGBTQ community."
GAY LIFE IN EGYPT
Omar said the LGBTQ community has not always been so aggressively targeted. He said the 2011 Egyptian Revolution contributed to the growing hostility. The revolution, he explained, opened the floodgates to extreme politics in Egypt and forced the gay community underground.
"There are spots that are, to some extent, gay friendly, but even these places declined after 2011." Omar recalled. "The Islamic Brotherhood coming to power meant that there was a lot of fear from the owners of these places. They didn't want to look like they were that friendly towards gay people, so they closed their bars and cafés and left."
"The hunt has never stopped, and the arrest and intimidations continue."
Subsequently, many are turning to social media and geolocation apps to meet other members of the LGBTQ community.
"In our circle, we advise everyone to be as cautious as they can be when meeting somebody," Omar explained. "If I'm meeting somebody I don't know, I meet them in a public place, like a café, just to be generally cautions."
Omar's vigilance is understandable. There have been widespread reports of Egyptian authorities using gay dating apps to entrap gay men. Omar said his neighbor, a Syrian refugee, fell prey to this: The man was allegedly tricked into a meeting through Grindr by police officers. Omar said his neighbor was then arrested and deported from Egypt.
The police are not the only ones using these apps to persecute gay men, according to Omar. Those with homophobic intents have also been known to use them. "It's not just about being arrested," Omar said. "You could be robbed or assaulted when meeting people from apps."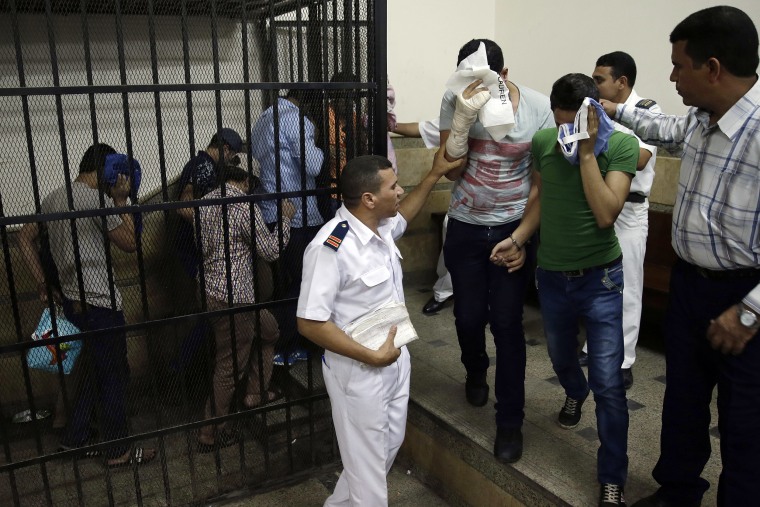 Moreover, Egyptian media is fueling society's negative views of LGBTQ people. Last month, a newspaper showed screenshots of gay dating app Grindr with the headline "Documenting the most dangerous online gay organization." Another Egyptian newspaper had an investigate article about "Polari," or gay slang. The writer claimed to be "exposing the secret dictionary of gay people in Egypt" and incited readers to report anybody heard using the "language."
Amid the growing hostility toward the LGBTQ community, Omar said he and his friends have nonetheless developed a true sense of community.
"I count on the gay community to survive," he said. "You have your safe zones and your support networks, so you know you just have to make sure that everybody is safe and that you're safe, too, but sometimes, the fear can still be there."
INTERNATIONAL RESPONSE
Shortly after Egypt's president, Abdel Fattah al-Sisi, won a second term in April of this year, Human Rights Watch, an international human-rights organization, urged him to "prioritize reforms to end serious human rights violations."
"The government has targeted sexual and gender minorities for heavy-handed repression, with more than 230 lesbian, gay, bisexual, and transgender (LGBT) people prosecuted on 'debauchery' charges," the organization stated.
Amir Magdi, a researcher for Human Rights Watch's Middle East and North Africa division, told NBC News the international community should be doing more to protect LGBTQ Egyptians.
"Egypt's allies, like the U.S., Canada, U.K. and Germany have been largely silent over one of the worst crackdowns against LGBT communities in the whole world," Magdi said. "This failed policy of 'quiet diplomacy' should change if the leadership of these countries want to achieve a real impact and protect the rights of these people."
All Out, another human-rights organization that has condemned the government-sponsored wave of anti-gay persecution in Egypt, said the crackdown is far from over.
"The hunt has never stopped, and the arrest and intimidations continue." Mathias Wasik, the organization's senior campaign manager, told NBC News. "Even foreigners are being targeted: Cases have been reported where tourists were arrested for 'debauchery' and deported from the country."
"The Egyptian state must remember its responsibility to protect all of their citizens, regardless of who they are or who they love," Wasik added.
Omar criticized western countries and international human-rights organizations, saying they have "failed to act" and have "lost touch with grassroots organizations working on the ground."
"I cannot say, personally, that there has been an international response to the crackdown," he said.
However, a new report by OutRight Action International, a global LGBTQ-rights organization, found Egypt to be one of 55 countries in the world where LGBTQ-rights groups are not able to legally register, which impedes the effectiveness of these organizations.
The current political situation in Europe has also discouraged gay Egyptians, like Omar, from seeking a new — and less fearful — life in the West.
"Europe is currently tackling a migrant crisis because of the movement from Syria," Omar explained. "With everything that is happening in Europe now, like with the increasing powers of the conservative and right-wing parties, I think it would be harder to set up a future there."
Despite this, Omar said his hope of moving away from Egypt has not yet escaped him entirely.
*Name changed due to personal safety concerns.