Today, she is America's sweetheart, the darling of daytime talkshows, and one of the faces of CoverGirl cosmetics. Given her current success, it can be easy to forget that Ellen DeGeneres wasn't always so readily embraced by the American public.
On April 30, 1997, ABC aired the "coming out" episode of DeGeneres' situational comedy, "Ellen." The episode, code-named "The Puppy Episode," saw the title character Ellen Morgan acknowledge for the first time that she is lesbian. The episode came two weeks after Degeneres' public coming out in Time Magazine under the headline "Yep, I'm Gay."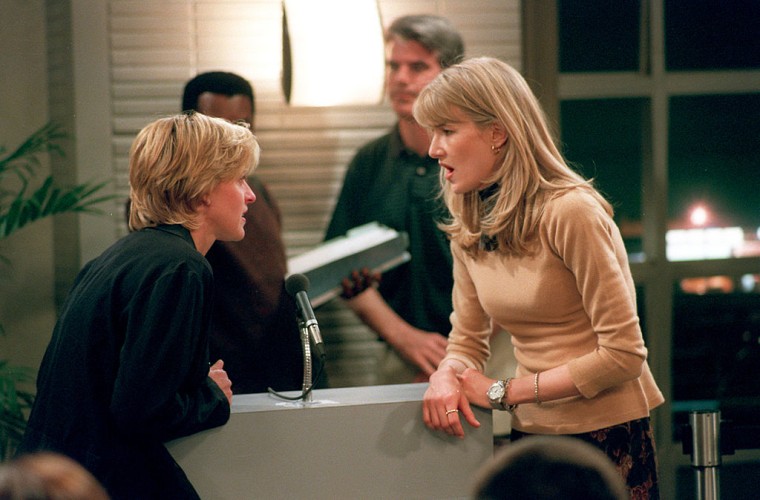 It was a breakthrough moment in mainstream television entertainment, but backlash was swift. Conservative watchdog groups like the Family Research Council were among the first to speak out and put pressure on advertisers to drop "Ellen."
''The only option, one that is as American as apple pie, is to ask advertisers not to support programming that viewers feel is objectionable and to let them know that if they do, viewers will vote with their wallets the next time they are in the grocery store,'' said Ed Vitagliano, the spokesperson for the Family Research Council at the time.
The late Rev. Jerry Falwell, a popular televangelist, called her "Ellen DeGenerate," and full-page newspaper ads were taken out against her. ABC started putting "adult content" warnings at the start of each episode after "Puppy," something Ellen claims she was not told about beforehand.
The episode would go on to win an Emmy and a Peabody, but ultimately sponsors fled, and "Ellen" was canceled after its fifth season. DeGeneres herself would go without work for more three years after the show.
Now, 20 years later, the episode is a cultural landmark in American LGBTQ and entertainment history. Ellen has since been awarded the Medal of Freedom by Barack Obama, the nation's highest civilian honor, and is one of the most popular television hosts in the country.
"You can look around and see that there's still a lot of work to be done," DeGeneres told the Associated Press in an interview about the anniversary of the episode. "You have to just hold on and know that something good will come from it and there's always a lesson in everything."