Adam Rippon's competitive skating days are over. The openly gay Olympian confirmed rumors of his retirement to CBS earlier this week, in which he also wrote a moving letter to his younger self.
"You will look in the mirror and finally see a winner looking back at you," he wrote, reflecting on the arc of his career. "Now go out and conquer the world."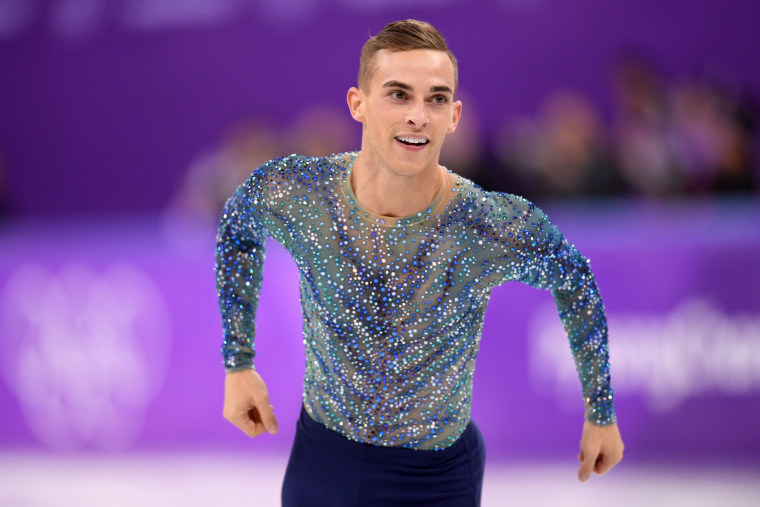 But while he will no longer be participating in competitive figure skating, Rippon's star is far from fading.
"It's just that I won't be competing in amateur competitions again," Rippon told NBC News over the phone. "I had such a great experience at the Olympics. It was everything I wanted it to be. And there was nothing left I wanted to do in the amateur competitive world."
At the PyeongChang Winter Olympics, Rippon helped bring home the team-event bronze medal for the U.S. and delivered a performance on the ice that fellow Olympic figure skater Johnny Weir called "spellbinding."
He also stole America's heart with his quick wit and effusive personality, so much so that NBC wanted to hire him as an official commentator for the remainder of the Winter Olympic events, a gig Rippon ultimately turned down.
"Over this past year, I've had the opportunity to test the waters in so many different things," Rippon said. "I'm so grateful, and I've been trying to take full advantage of them." Among those opportunities was a stint on the all-athletes edition of "Dancing With the Stars"last May, in which Rippon beat out fellow skater Tonya Harding for the crown.
His winning stint on the popular contest showwas just one in yet another venture into the public eye for Rippon, who was catapulted into fame almost over night. But he said the attention didn't then, and doesn't now, faze him.
"I've always kept an open mind to possibilities," he said. "At the games, when I was blowing up, it didn't distract me. I've always loved entertaining people and engaging with people. While I was there, I was able to do that on a much larger scale."
Recently, Rippon has turned to activism. He co-hosted an event for The Trevor Project, a suicide prevention organization for LGBTQ youth, in New York City last May with fellow openly gay Olympian Gus Kenworthy. He's also launched a fundraiser with GLAAD, an LGBTQ media advocacy organization.
"It's important to me to be a part of LGBTQ+ causes," Rippon said. "One thing I can do is find great causes and do what I can to help amplify the work people are doing."
But in some ways, activism would have found Rippon whether he sought it out or not. With all eyes on him at PyeongChang, he found acceptance, even adoration from the public without having to hide his sexuality. Also watching were LGBTQ young people, many of whom had perhaps never seen an openly gay man be so celebrated in the world of sports.
"Out of everything, I think that's probably the most surreal," Rippon said of becoming a role model. "For people to reach out to me and say they look up to me, or to say 'thank you.' Being gay is something I didn't work to achieve. But when I was younger, I didn't have a gay role model. I'm so lucky to be that for someone."
As for what's next, Rippon was coy about the possibility of becoming an official commentator on the next Winter Olympics. "I would enjoy commentating, but Johnny and Tara do a really great job," he said.
He also mentioned his room was a mess, because he was packing for a trip to Finland to see his boyfriend, Jussi-Pekka Kajaala.
In true Rippon fashion, he'll be playing the future by ear. But whatever is in the cards, one thing's for sure: Rippon has staying power. With PyeongChang firmly behind us, Rippon is still taking the center stage. He remains an advocate, and a powerful voice for change. He also says, despite his retirement, he's still a skater.
"Whenever I'm home in California, if I have an off day or any down time, I grab my skates and run to the rink," he said. "It's one of those things I've done forever. It's part of who I am."