Joe Biden is "disgusted and appalled" by reports of authorities in Chechnya torturing and killing men who are believed to be gay or bisexual.
On Friday, the former Vice President responded to growing concerns among international governments and human rights groups who have been pressuring the U.S. to take action and address the Chechen crisis with Russia.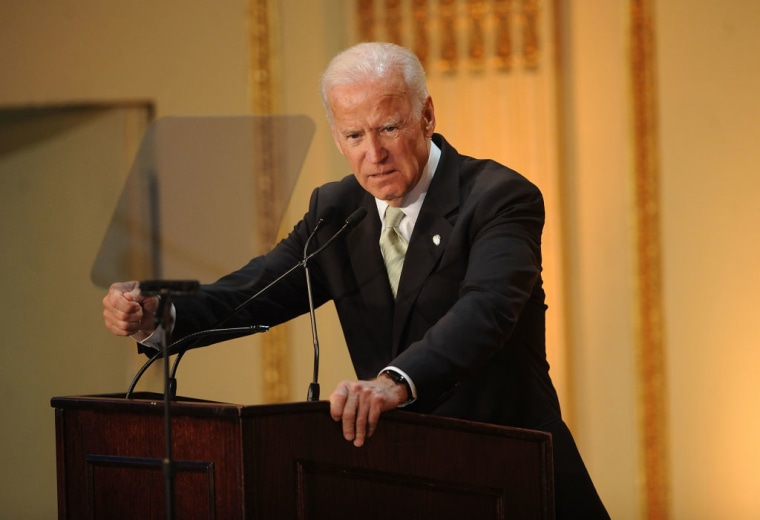 "When faced with such crimes of hate and inhumanity, it is the responsibility of every person of conscience to speak out — to oppose this campaign of violence before it continues further," Biden said in a statement released Friday afternoon.
The reports of a violent, state-sponsored campaign targeting local LGBTQ men in Chechnya first arose on April 1, when the Russian independent newspaper Novaya Gazeta published a story revealing details of a prison-like facility near the Chechen town of Argun.
Novaya Gazeta spoke with Chechen men who reported being arrested and subsequently tortured with beatings and electric shocks, as well as being forced to supply authorities with the names and phone numbers of other LGBTQ people.
A St. Petersburg advocacy group, Russian LGBT Network, set up an emergency hotline to take calls from Chechnya — and now says it has received about 50 calls from people who were targeted or are trying to escape the region. As many as 100 men were believed to have been arrested for suspected homosexuality. Russian LGBT Network told NBC News it believes around 20 men have been killed by authorities as part of the roundups.
"People are very intimidated and not eager to talk. They are hesitant to even talk to us," Natalia Poplevskaia, the network's International Advocacy Officer and Monitoring Program Coordinator, told NBC News on Tuesday. "The people who have been targeted by the campaign need some time to get back to normal life."
The Russian LGBT Network said it is helping to evacuate Chechens who have been tortured or are currently in danger.
But on Friday morning, the group's website briefly stopped functioning. Communications manager Svetlana Zakharova told NBC News that an IT investigation revealed the Russian LGBT Network website had been the target of a DDoS attack — a tactic used by hackers to crash a website by overwhelming it with traffic.
On Thursday, Novaya Gazeta, the newspaper that first reported the Chechen atrocities, was also hit with a DDoS attack. The paper also published an open letter stating that it had been threatened by Chechen leaders, who referred to reporters as "the enemies of our faith and our homeland" and promised that "retribution will overtake the true instigators ... without a statute of limitations."
In response to a growing international outcry about the reported LGBTQ torture campaign, Chechen leaders mocked concerns by claiming there are no gay people in the region and even encouraging citizens to "hunt down" anyone they believe to be LGBTQ.
Russian authorities have largely taken a hands-off approach, though Chechnya is technically under Kremlin rule.
On Thursday, Vladimir Putin's spokesperson, Dmitry Peskov, said he had been informed of the threats against Novaya Gazeta reporters and said, "If in someone's opinion, there were slanderous materials, there are legal methods of challenging prescribed by the law. Obviously, we are strongly opposed to any other methods of influence. Especially against actions that could pose a threat to the security and life of journalists."
Biden called for further action on Friday. His calls joined previous statements by the United Nations Human Rights Council, the U.S. Department of State and the Parliamentary Assembly of the Council of Europe, among others.
"Unfortunately, the human rights abuses perpetrated by Chechen authorities and the culture of impunity that surrounds them means that these hate crimes are unlikely to ever be properly investigated or that the perpetrators will see justice," Biden said on Friday. "But that does not mean that we should fail to defend basic human rights, fundamental freedoms, and universal values."