Those who rebelled at the Stonewall Inn almost 50 years ago could have never imagined who would stroll into the now-iconic bar Tuesday afternoon. After his second fundraiser of the day in New York City, former vice president and current 2020 presidential candidate Joe Biden was spotted talking with patrons and taking photos at the West Village gay bar.
Biden's visit came as a surprise to many, including Mark Segal, the founder of Philadelphia Gay News and a longtime LGBTQ activist who was present at the 1969 Stonewall uprising — and during Biden's visit Tuesday.
"If you would have suggested something like this 50 years ago, the 18-year-old me would think you were an alien," Segal told NBC News in an email.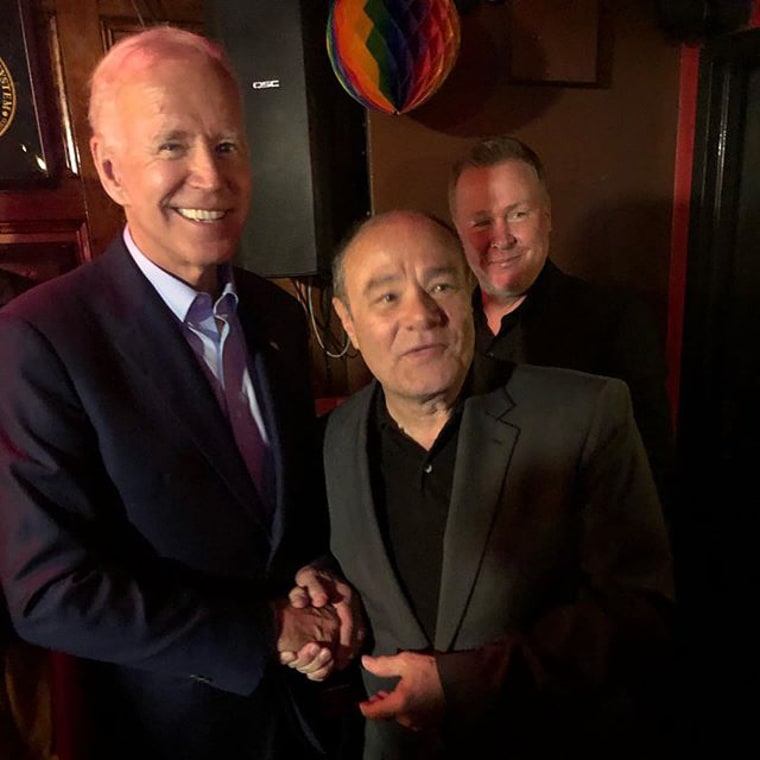 "His staff hearing that there was a Stonewall pioneer in the room brought us together," Segal added.
He said he and Biden shook hands and that Biden said, "Thank you for your service."
Chauncey Dandrige, a queer DJ and activist, was also caught off guard when Biden entered the bar.
"Just handed two Stonewall t-shirts to Joe Biden for him and his wife! Just another day at the office," Dandrige wrote on Twitter.
Biden's early support for same-sex marriage is still remembered. In 2012, he was asked on NBC's Meet the Press whether his views on marriage equality had evolved, to which he responded, "I am absolutely comfortable with the fact that men marrying men, women marrying women and heterosexual men and women marrying one another are entitled to the same exact rights, all the civil rights, all the civil liberties."
"Quite frankly, I don't see much of a distinction — beyond that," he added.
His comments were especially notable given that at the time, same-sex couples could marry in only six states and Washington, D.C., and President Barack Obama did not publicly support marriage equality.
The Stonewall Inn has seen other high-profile guests this month, including Taylor Swift, who performed there last weekend.
Sen. Tammy Baldwin, D-Wisconsin, the country's first openly gay U.S. senator, said "everyone who cares about moving equality forward in our country should visit" the Stonewall Inn, which was recognized as a National Monument under the Obama administration.
"Stonewall is an uniquely American story of those who came before us and bravely stood up and spoke out," Baldwin told NBC News in an email. "Today, our fight for equality continues, and we have more work to do to move our country forward."