John Kasich, GOP presidential contender and current governor of Ohio, has branded himself as a moderate Republican on LGBT rights, saying in a recent debate that he would continue to love his daughters unconditionally even if they were lesbian and that he plans to abide by the Supreme Court's ruling on same-sex marriage in Ohio. But his history on LGBT rights in the state of Ohio, in the realm of nondiscrimination legislation and marriage, lies in contrast to much of his recent socially moderate rhetoric.
"John Kasich is no moderate," wrote Joe Schiavoni, Ohio Senate Minority leader, in a recent editorial. "His words are just prettier packaging for the same right-wing agenda of the other GOP presidential candidates."
Equality Ohio said in an email to NBC News that Kasich "has a mixed record on LGBT rights." He recently attended the wedding of a gay friend along with Richard Hodges, the director of the Ohio Department of Health, according to the Ohio ACLU. But a couple of years ago Kasich was fighting against the ability for LGBT couples to get married in Ohio, supporting the state's constitutional ban on gay marriage.
"I think we have a good balance in Ohio and I don't see a reason to do any more," Kasich said last April.
Kasich was one of the original defendants in the case that became Obergefell v. Hodges, whose 5-4 Supreme Court decision legalized same-sex marriage nationwide. (Yes, that is the same Hodges who attended the gay wedding recently with Kasich.) The case began as James Obergefell v. John Kasich in 2013, when Ohio under Governor Kasich refused to recognize the marriage between James Obergefell and John Arthur as legitimate, even though it had been performed in Maryland, where same-sex marriage was legal at the time. As a defendant, Kasich argued to prevent Obergefell from being recorded as the surviving spouse on John Arthur's death certificate as he deteriorated from amyotrophic lateral sclerosis (ALS).
The GOP hopeful has refused to create statewide laws in Ohio that prevent discrimination based on sexual orientation. "You can still be denied a mortgage or service in a restaurant for being gay," wrote Ohio State Senator Schiavoni. "Kasich's willingness to attend a wedding does nothing to improve the lives of LGBT Ohioans that he could protect."
He has not adopted a Religious Freedom Restoration Act (RFRA), which neighboring states such as Indiana have passed. Many LGBT rights groups, such as the Human Rights Campaign, have argued that recent religious freedom laws in other states could be used as pretenses for discrimination against LGBT individuals, allowing shop owners and medical providers to refuse service to gay couples. "Kasich said he believed Ohio did not need a religious freedom law, like Indiana," said Mike Brickner, the senior policy director at ACLU Ohio. "But he also said that he didn't feel like statewide nondiscrimination laws were needed either. He want[s] to keep the status quo."
"I think we have a good balance in Ohio and I don't see a reason to do any more," Kasich said last April.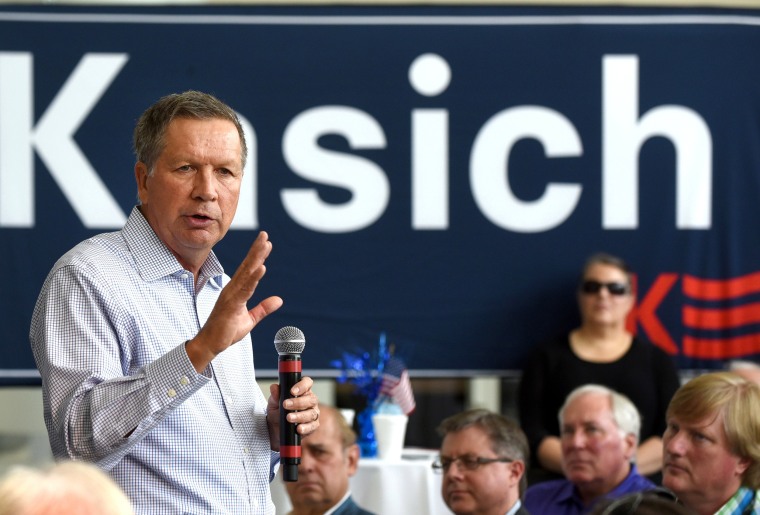 Governor Kasich issued an executive order protecting state employees from discrimination on the basis of sexual orientation, but he neglected to include protections for state employees based on gender identity. This is a departure from precedent, because the previous governor of Ohio, Ted Strickland, had issued an executive order during his tenure that protected state employees from discrimination on the basis of both sexual orientation and gender identity.
Regarding the change in protection for transgender Ohio state employees, John Kasich's press secretary, Rob Nichols, told NBC News, "We extended those protections in the way we thought most appropriate." Kasich's press secretary said he had no comment on the White House's recent hiring of Raffi Freedman-Gurspan, the White House's first openly transgender official. Nichols also said that Kasich does not want to weigh in on the Employment Non Discrimination Act, a federal bill that would protect people from discrimination on the basis of their sexual orientation and gender identity nationwide.
Kasich "consistently supported Don't Ask, Don't Tell" around the turn of the century. He also expressed disapproval when Texas overturned its anti-sodomy laws in 2003, according to Human Rights Campaign.
Kasich, who said that he was "very disappointed" after the Supreme Court's ruling on gay marriage in June, announced his presidential run approximately two weeks before the first official GOP debate in August. Based on a CNN/ORC poll conducted from August 13 to 16, Kasich currently is polling at around 5% in the expansive field of GOP candidates, tied with Carly Fiorina.