Jonathan Van Ness said Monday he is the first non-female to appear on the cover of Cosmopolitan U.K. in 35 years.
The "Queer Eye" star shared a photo of himself to his Twitter and Instagram accounts on the magazine's January 2020 issue in a dress by Christian Siriano.
Van Ness credited Cosmopolitan U.K. in a tweet for "showing more variations of beauty for young LGBTQ+ people."
The magazine's editor in chief Claire Hodgson described Van Ness in a statement Monday as "warm, funny, opinionated, kind and brave."
"Cosmopolitan has always tried new things and we are all for challenging the status quo," she also said. "We want to represent our diverse and beautiful readership, spark conversation and shake things up."
While British boy band One Direction appeared on the cover in 2012, the last solo non-female featured on the cover was Boy George, who appeared on the December 1984 issue.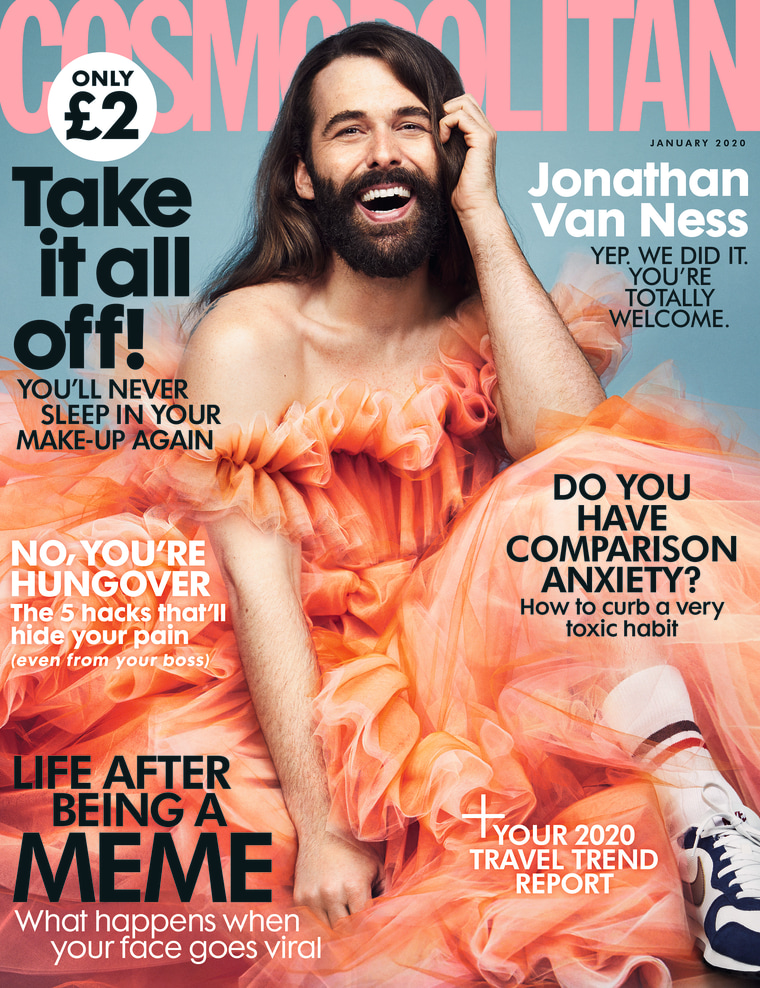 Amy Grier, executive editor of Cosmopolitan U.K., who wrote the cover story on Van Ness, said in an Instagram post that the the pair discussed "Brexit, Bake Off, Binaries, and Bernie Sanders" in the interview, as well as some things not beginning with "B."
Van Ness revealed that he was living with H.I.V. in a September preview of his memoir "Over the Top" that appeared in the "New York Times."
In June, Van Ness told Out magazine he describes himself as "nonbinary" and "genderqueer" and that while he prefers he/him pronouns, he does not identify as a man.
The January issue of Cosmopolitan UK is on sale Dec. 5.