RUTHERFORDTON, N.C. — A judge held a juror in contempt and declared a mistrial Tuesday in the case of a North Carolina church minister charged in the beating of a congregant who says he was attacked to expel his "homosexual demons."
Superior Court Judge Gary Gavenus immediately sentenced the juror, Perry Shade Jr., to 30 days in jail and a $500 fine. Gavenus said Shade brought in three documents Tuesday and handed them out to his fellow jurors. One of the documents was North Carolina case law.
Gavenus said he wasn't sure when a new trial would be scheduled for Brooke Covington, 58, a longtime minister at Word of Faith Fellowship in Spindale, North Carolina. Covington faced up to two years in prison if convicted on charges of kidnapping and assaulting former member Matthew Fenner in January 2013.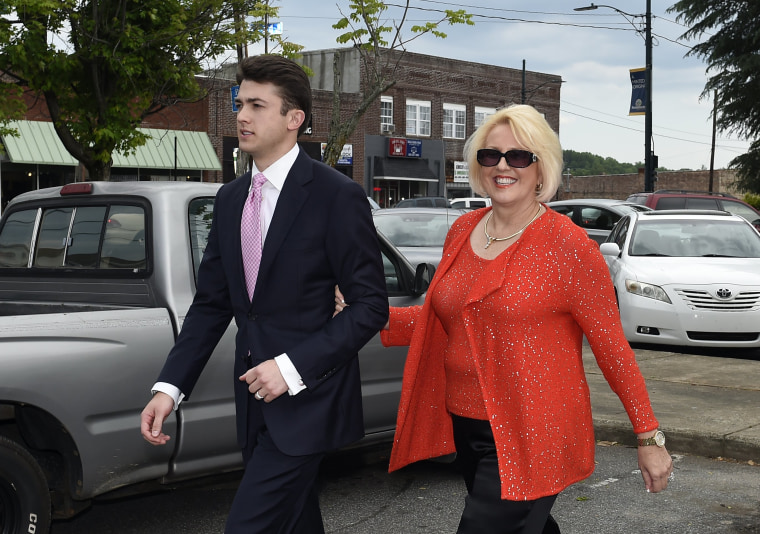 "This juror has impaired the integrity and fairness of the trial ... therefore I am removing this juror and declaring a mistrial," Gavenus said.
The audience gasped. Fenner dropped his head.
"I instructed the jurors over and over again not to do research," said the judge, who then stared at Shade.
"You are in direct criminal contempt," Gavenus said, ordering the bailiff to handcuff Shade, 71.
"Thirty days in jail and $500 fine. You are under arrest. Get him out of here," Gavenus said.
During jury selection last week, Shade said Covington's lawyer, David Teddy, once represented him in a case, but he didn't elaborate. Prosecutors and Teddy allowed Shade to be on the jury.
Prosecutors and witnesses were prohibited by a judge's order from discussing the case, but Fenner's friends and family were quick to respond.
"He's been waiting for justice for four years and now we're going to have to start all over. It's unfair to him," said former church member John Cooper.
Linda Reider, Fenner's aunt, said her nephew is hurt and disappointed.
"He's disgusted at the jury. It took a lot of courage for him to come forward in the first place. There were so many roadblocks put in place. Now this. But his family and friends will stick behind him. We won't give up."
Covington, whose trial began May 30, was the first of five church members to face trial in the case. Each defendant will be tried separately.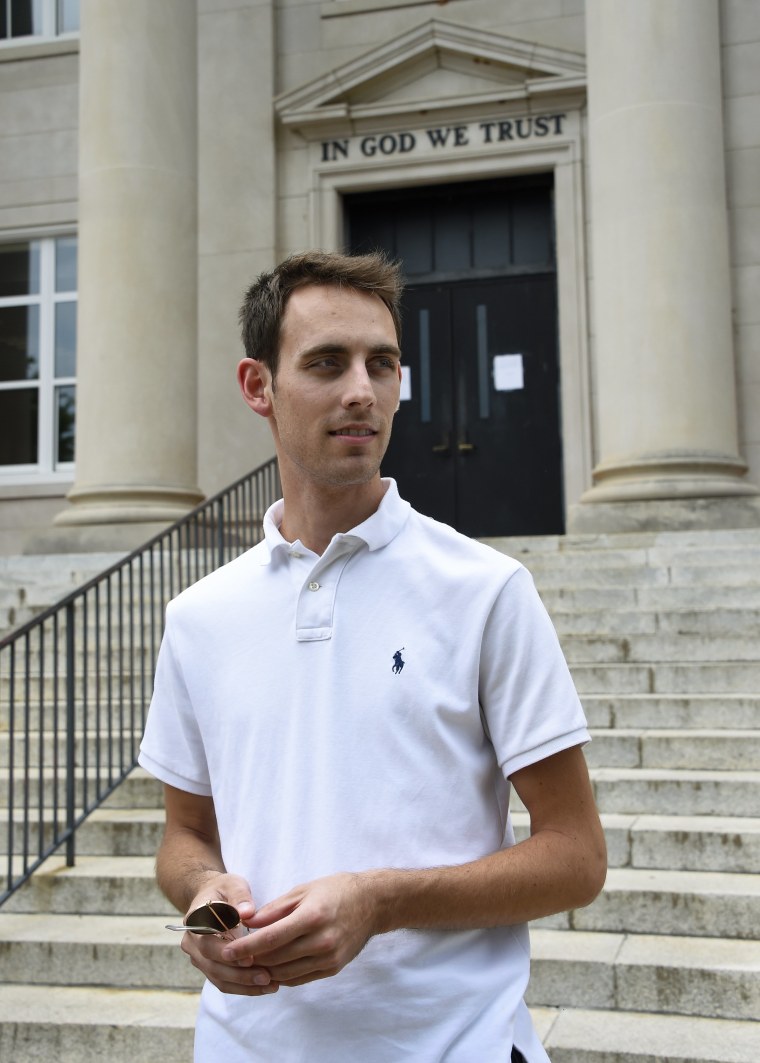 Fenner, 23, said he was leaving a prayer service Jan. 27, 2013, when nearly two dozen people surrounded him in the sanctuary. He said they slapped, punched, choked and blasted him — a church practice that involves intense screaming — for two hours as they tried to expel his "homosexual demons."
As part of an ongoing, two-year investigation into abuse of Word of Faith Fellowship congregants by church leaders, The Associated Press interviewed four former church members who said they witnessed Fenner's assault.
Earlier Tuesday, a man was charged with harassing the jurors.
Chad Metcalf, 35, was brought before Gavenus in handcuffs after he allegedly told the jury in a hallway to reach a verdict.
Gavenus said Metcalf could face 39 months in prison, and set bail at $100,000.
Rhonda Johnson, who said she is Metcalf's mother, told the AP in a message that her son was probably joking. She also said he isn't affiliated in any way with Word of Faith Fellowship.
Johnson said it was "absolutely crazy for them to do this" to her son because he probably didn't know not to talk to jurors and meant no harm.
Several former church members who were in the courtroom told the AP they didn't know or recognize Metcalf.
Court records show a man by that name had a court date Tuesday on a charge of driving with a revoked license. It wasn't clear if Metcalf has an attorney, and calls to a telephone number listed for him weren't answered.
During closing arguments, prosecutor Garland Byers said Fenner was held against his will and attacked.
"In the name of religion, you don't assault people. You don't get to hurt people. You don't get to confine people," he said.
"They were trying to scare him straight, and I hate using that terminology," Byers added.
Teddy countered that Fenner had been subjected to blasting before and had also participated in the form of prayer when it was used on others.
"He requested the prayer. He consented to the prayer. And I submit to you, he knew what was coming," Teddy told the jurors.
Teddy said Fenner wanted to punish the church for condemning his homosexuality.
"That is a cause, not a crime," he said.
Based on exclusive interviews with 43 former members, documents and secretly made recordings, the AP reported in February that Word of Faith Fellowship congregants were regularly punched, smacked, choked, slammed to the floor or thrown through walls in a violent form of deliverance meant to "purify" sinners by beating out devils.
Fenner said he joined the sect with his mother and brother in 2010. He said he fled after being attacked.
The AP's investigation also revealed that congregants were ordered by church leaders to lie to authorities investigating reports of abuse and that two assistant district attorneys and a veteran social worker were among those who coached congregants and their children on what to say to investigators. After the AP report, the prosecutors, including one who is a son-in-law of a church founder, left their jobs, and the social worker resigned.
The sect was founded in 1979 by Jane Whaley, a former math teacher, and her husband, Sam, a former used car salesman. Under Jane Whaley's leadership, Word of Faith Fellowship grew from a handful of followers to its current congregation in North Carolina, and another nearly 2,000 members in churches in Brazil and Ghana. It also has affiliations in other countries. Whaley is not charged in this case.