Zach Gingrich-Gaylord hoisted a rainbow pride flag outside his family's Wichita, Kansas, home two months ago, so he, his wife and their 11-year-old daughter could show their support for the LGBTQ community. On Saturday morning, the family found their flag "just melted down into a plastic mess," and authorities are now investigating the incident as a hate crime.
"I don't have a lot of words to whoever did this," Gingrich-Gaylord told KSNW-TV, NBC's local Wichita affiliate. "They are acting out of fear and bigotry and intolerance."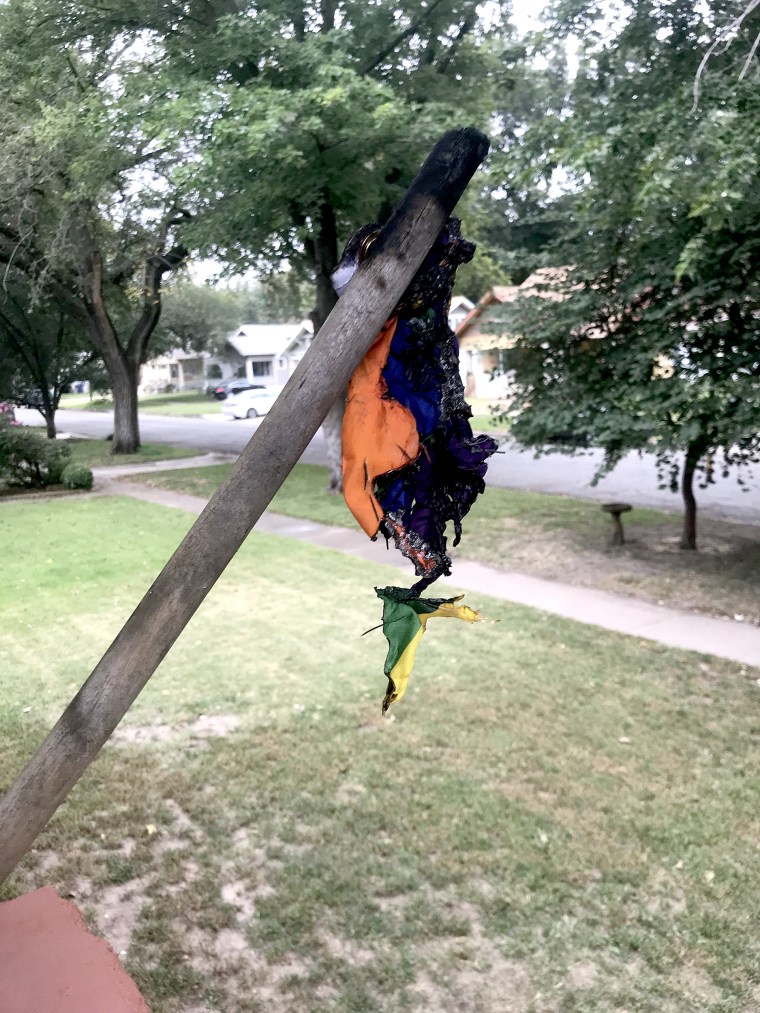 Gingrich-Gaylord said he and his family were the first on their street to fly a pride flag, and he thinks that's why their house was targeted.
"There wasn't any other vandalism associated with it," he added. "It was that specific flag on this specific house."
Saturday's flag burning — which police say happened between 1 a.m. and 6 a.m while the family was sleeping — was not the first act of vandalism against the Gingrich-Gaylord's pride symbol. A few weeks ago, the family's flag was stolen, but a neighbor found and returned it. They bought replacement flags in anticipation of never seeing it again, but when their flag reappeared, they gave away the additional flags to neighbors, who began to display them on their homes, Gingrich-Gaylord told KSNW-TV.
Nancy and Barry Carroll live in one of the four other homes on the block with pride flags displayed. They were shocked to hear about the flag burning.
"I thought it was very mean-spirited," Barry Carroll said. "It's the intention to frighten and scare us."
"It was disturbing to all of us," Nancy Carroll added.
In recent years, there has been an uptick in LGBTQ discrimination, including pride flags being stolen and windows being shot out, according to Thomas Witt, executive director of LGBTQ rights group Equality Kansas.
"It's a campaign to terrorize the LGBTQ community," he said.
As a result of these attacks, Witt said more allies are stepping up to support the community. Equality Kansas has been giving out flags at their Wichita center, and Gingrich-Gaylord was grateful to see other residents raising them.
"That's the proper response to this, is to overwhelm the conversation with love and respect and not to be silenced by people who are trying to get you to be afraid," Gingrich-Gaylord told KSNW-TV.
Micala Gingrich-Gaylord said at first she was frightened by the flag burning, but now she is proud of how the community and police responded in the aftermath.
She said she and her family will replace the flag as many times as necessary.
"We overwhelm something like this with acts of love," she told NBC News on Monday. "We did what we do as a family. We don't respond to bigotry or fascism."