An openly gay man running for office in the town of Cape Coral, Fla. allegedly received two threatening letters from the Ku Klos Knights, a division of the Ku Klux Klan.
James Schneider, who is running to represent District 5 in the city council, said his partner found the first letter Saturday on their doorstep. The note said, "We know where you live f----t. We are going to win. Quit now." The message then continued, "When you girls least expect it, We will be here for a nice visit."
"I didn't know what to do with that. I was spooked by it immediately. It really shakes you to the core," Schneider told the local NBC affiliate.
On Wednesday, Schneider posted photos of both letters he received to his campaign's Facebook page.
A spokesperson for the Cape Coral Police Department confirmed to NBC News via email that the incident is under investigation.
"The incident to which you are referring, involving a flyer placed on a resident's door, is an active/open investigation," the spokesperson said. "As such, I won't be able to get into detail at this time."
The Southern Poverty Law Center (SPLC) currently marks Cape Coral on its Hate Map as an area where the Ku Klos Knights are active. The Cape Coral Police Department spokesperson, however, said "the SPLC is listing Cape Coral only because a subject that listed they lived in Cape Coral on the KKK's website was selling KKK memorabilia online last year,"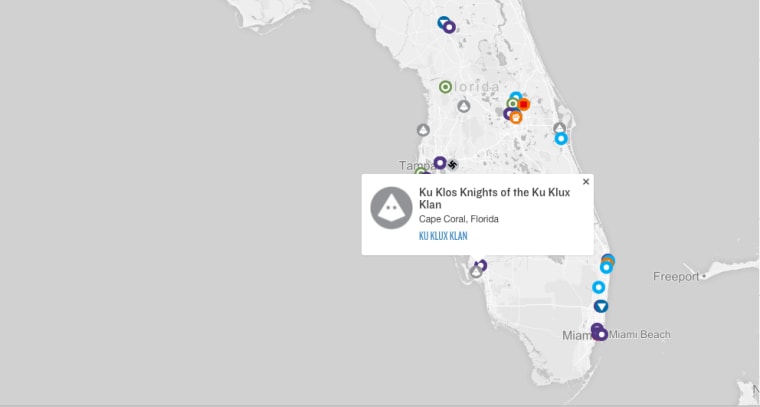 "In this incident," the spokesperson added, referring to the letters left on Schneider's doorstep, "the only connection to the KKK thus far, is unverified claims of affiliation by the flyer's author. We have not had any significant incidents of organized hate groups committing criminal activity in Cape Coral."
Schneider, who said he "almost quit" after the threats but will now "stay in the campaign," thanked his supporters on Facebook after the incident.
"We are shaken but not beaten," the post reads. "Thank you so much for those who have huddled around us at this time. We live in a messed up country."