Exactly 50 years to the day after the 1969 Stonewall uprising, pop icon and longtime LGBTQ advocate Lady Gaga made a surprise appearance outside the now-historic space.
"I love you so, so much. Happy World Pride," Gaga said as she took the stage in front of thousands of New Yorkers and visitors from around the world who gathered for Pride Live's Stonewall Day Concert on Friday afternoon. "Happy 50th anniversary of Stonewall. This is a historic day. You should be so, so proud of yourself."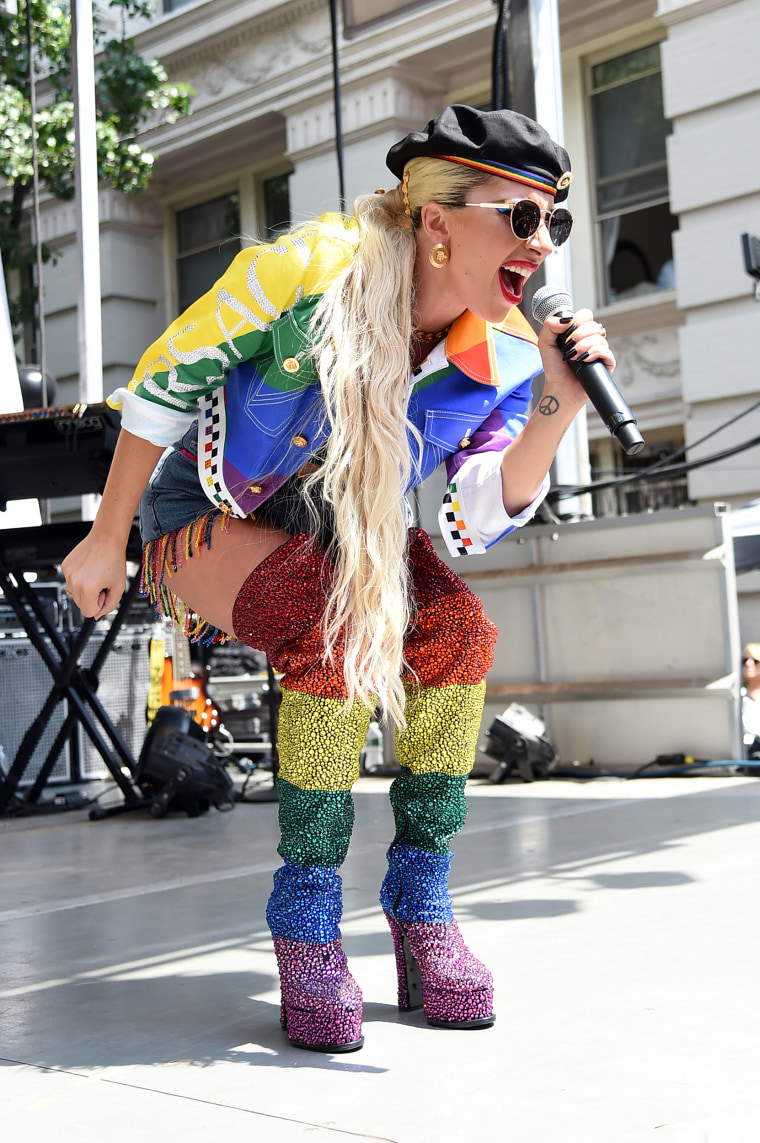 Gaga said she was overwhelmed and wondered how she could inspire the crowd the way they've inspired her.
"Look around you. Look at what you have done," the Grammy-winning artist said. "You are the definition of courage, do you know that?"
Referring to LGBTQ veterans such as Marsha P. Johnson, Sylvia Rivera, Harvey Milk and Audre Lorde — all of whom were integral in establishing the current rights movement — Lady Gaga said she is committed to continue their fight for equality and called for others to do the same.
"It is said that those who threw the first brick on that historic night were members of the trans community," the performer, who founded the anti-bullying nonprofit, the Born This Way Foundation, said. But, she added, "we find ourselves also at a time when attacks against the trans community" are at unacceptable levels. "I will not tolerate this, and guess what? I know neither will you," she added.
Many felt ignited by Lady Gaga's speech.
"I came here to celebrate, to be here and to be a part of it, to commemorate this important day," Alex Flores, an attendee who hails from California, told NBC News. "Celebrations like this mean we can be ourselves, be out and not be scared to be who we are."
Hosted by Elvis Duran of iHeartMedia New York's Z100 and supported by LGBTQ advocacy group GLAAD, the concert featured numerous other LGBTQ leaders and allies, including Donatella Versace, who shared her personal connection to the LGBTQ community during the opening speeches. The Italian fashion designer said her brother, the late designer Gianni Versace, came out to her when she was 11, and even though she said she grew up in a "conservative part of Italy," she did not care who her brother loved as long as he was happy and healthy.
"When I look out at all of you, I see the world as it should be and as it can be. A world where we celebrate each other … where we embrace and honor the legacy of our past to empower our future," Versace said.
Though the concert was an acknowledgment of all the progress the LGBTQ community has achieved in the past 50 years, advocates also used their time on stage to call for action.
Wilson Cruz, the star of "Star Trek: Discovery," recalled attending one of his first Pride events when he was 21 years old. While he feels like he has been able to embrace himself with the support of the LGBTQ community, he urged the audience to make space for all in their movement.
"This revolution should include and speak to and for all of us," Cruz said. "May I be so bold as to make a suggestion: as we continue to push for our own intersectional communities that we become conscious and deliberate allies as well, that we extend ourselves to each other."
Alicia Keys was the main performer of the concert and sang her song "Girl on Fire" and a cover of Cyndi Lauper's "True Colors," among other tracks. She concluded her performance with a rendition of "New York," swapping out references to the city in the lyrics for Stonewall.
Vincent Moleski from New Jersey had never been to the Stonewall Inn before Friday's event. He said he decided to attend the concert with his partner to better understand the impact of the uprising.
"It was very empowering and inspiring … I learned a lot, so it was really educational," he said. "It's a reminder to accept ourselves and to be fullest selves."