Moments before presenting themselves at the border in Nogales, Arizona, 16 gay and transgender refugees from Central America stood hand in hand for a moment of reflection. The journey to this point had been long, and it wasn't over yet.
Most of them had met each other for the first time on their way to Mexico, and all of them had faced persecution in their home countries. Some of them fled violence by police and gang members. Others fled violence from their families. They'd all heard stories of being turned away at the border, and so they banded together in a caravan.
"Where I come from, physical, psychological and verbal abuse is the norm for indigenous transwomen like me," said one of the 11 transgender asylum-seekers in the group. "I had to leave my tribal community by the age of 12 or face the dangerous consequences at the hands of my own tribal government, and that was just the beginning."
It's not uncommon for asylum-seekers to band together to provide moral and physical support as they make the journey to the border.
"The idea of them going together, one of the goals was to make sure they weren't turned away and not allowed to seek asylum," Keren Zwick, the associate director of litigation at the National Immigrant Justice Center, told NBC News. "Traveling in a group helped with that."
The majority of the members of the caravan are from Honduras, a country where the current regime, which rose to power after a coup in 2009, violently opposes LGBTQ civil rights. For transgender women in particular, the environment is fraught, with Amnesty International reporting violence against the community and murders that go uninvestigated.
"In a lot of countries in Central America, there are no protections in place for trans people, no legal recognition, no protection, no name change, and that's just the tip of the iceberg," Zwick said. "Trans people are often seen as counter to the overall masculine culture and breaking gender norms, especially in Honduras."
Zwick has represented LGBTQ refugees from Central America in the past and present. One of her clients is Tania Cordova, a transgender woman from Michoacán, Mexico, who described her experience with seeking asylum in the United States over the phone.
"I had a horrible childhood. I was sexually harassed, sexually abused. I had multiple rape attempts that I was able to escape, and I was a victim of bullying not only in my hometown, but also in my house," Cordova said. "My father kicked me out of the house for my gender identity. I came to the United States, because I had no other choice.
"I thought my life was going to change," she said. "But it didn't."
Cordova, who had come to the U.S. once before and had been removed, described the conditions she faced while seeking asylum, an experience that involved detention, harassment and segregation in a county jail that mostly housed people in criminal custody.
"They didn't have no place to house me, and they decided that if I wanted to be in general population, I was going to be housed with males," she said. "I remember one day I went back to detention, and there was a female officer there who was supposed to search us, but not see us without clothes. She wanted to see what a transgender looks like."
Cordova also said that when she was eventually grouped in with other women, she was housed with a woman in criminal custody who began harassing her. But it was Cordova who was removed and segregated.
"The members of the caravan are fleeing rampant discrimination, abuse, torture and other forms of violence because of their gender identity or sexual orientation," said Flor Bermudez, legal director at Transgender Law Center. "They should be eligible for asylum or other forms of relief and be allowed to be paroled into the country."
Bermudez and the Transgender Law Center are spearheading the Trans Immigrant Defense Effort (TIDE), a project that recruits and trains pro bono attorneys to meet the need for legal services for transgender and gender nonconforming immigrants. "We are currently seeking people to represent each of these caravan members," Bermudez said.
Advocates worry the chances for refugees from Latin America are tougher under the current Trump administration, as immigration is tightened and deportation orders have increased. Still, supporters of the caravan say there is reason for hope.
"We are optimistic in the sense that we filed an 844-page submission that includes conflict conditions and the stories for each of the caravan members," Noyola said. "Their asylum journey is going to be lengthy, and it is a process that puts many trans immigrants in vulnerable situations because you're essentially in limbo, waiting to hear if the state will accept your application."
One concern for transgender immigrants in particular is detention by Immigration and Customs Enforcement (ICE) where trans detainees have reported harassment and sexual assault.
"The agency remains committed to ensuring that all individuals in custody are held and treated in a safe, secure and humane manner, and that they have access to legal counsel, visitation, recreation, and quality medical and mental healthcare," ICE public affairs spokeswoman Yasmeen Pitts O'Keefe told NBC News. "The Transgender Care Memorandum reaffirms ICE's commitment to provide a safe, secure, and respectful environment for all those in our custody, including those individuals who identify as transgender."
Protocol for ICE employees in regards to caring for transgender detainees is detailed under the Transgender Care Memorandum which can be found on ICE's official website and went into effect in 2015.
"ICE employees have been given the tools and resources available to learn more about how to interact with transgender individuals and ensure effective standards exist to house and care for them throughout their custody cycle," Pitts O'Keefe said. "The Transgender Care Memorandum is intended to complement existing ICE and U.S. Department of Homeland Security policies and standards, including the DHS PREA Standards."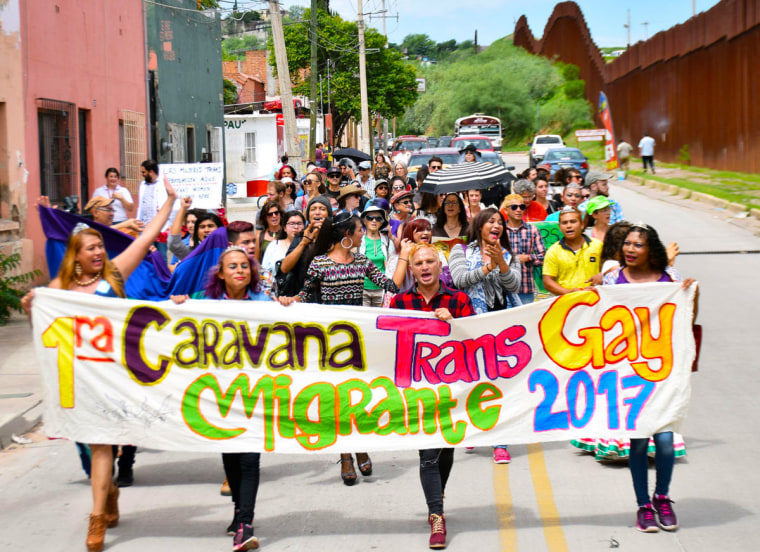 Zwick disagrees.
"I don't think that ICE can safely detain transgender folks, period," she said. "In the past seven months, the U.S. government has shut down the only facility that has a dedicated transgender housing unit in Santa Ana, California. The options for transgender folks right now is they either go to a male detention center where they are 14 times more likely to suffer sexual assault, or they go to solitary confinement which immigration calls segregation."
For now, the caravan members must await their credible fear interview, where they will have the chance to make their case. After that, they will be eligible for parole. Their supporters hope that the U.S. government will grant them the ability to be out in the community while their cases are pending.
"Thousands of LGBTQ people flee persecution and violence from Latin America," Bermudez said. "But this, the caravan, is the first time that such an event has gathered in such a public way. I don't know where they are right now. But they found each other, and they finished the journey together."