Shortly after President Donald Trump was inaugurated in January 2017, LGBTQ resources were removed from a number of government websites, including that of the Small Business Administration. At the time, SBA officials said that its LGBT Outreach page was "under construction and review" and assured lawmakers it would be reactivated in the near future.
More than a year later, the page is still devoid of content, while other pages that were also under construction —like one for veteran-owned businesses and another for women-owned businesses —have been reactivated. This prompted two Democratic members of the House Small Business Committee to send SBA Administrator Linda McMahon, a Trump appointee, a letter Wednesday inquiring about the page's removal and prolonged absence.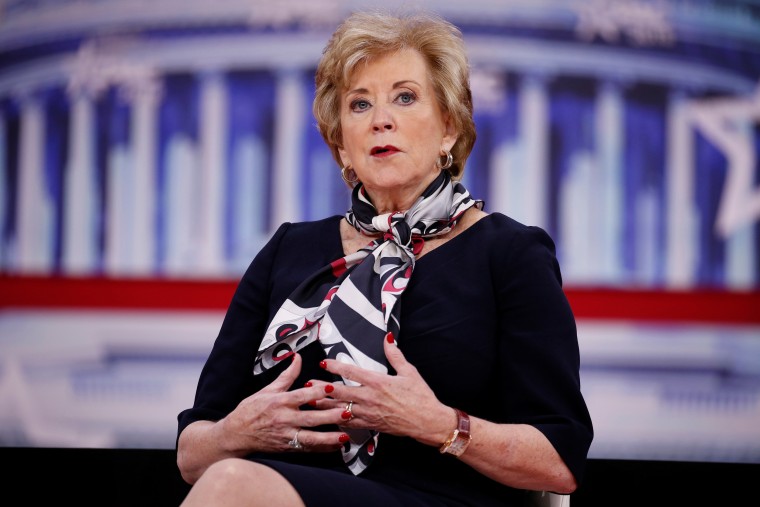 "This is deeply troubling and renews our concern that this page's removal may have been politically or ideologically motivated, rather than simply administrative," Reps. Nydia M. Velazquez and Yvette D. Clarke, both New York Democrats, wrote in the letter.
The letter touted the "nearly $2 trillion in economic contributions" made by America's estimated 1.4 million LGBT-owned businesses and noted these companies "are a critical segment of the nation's small business community and a powerful force for the economy."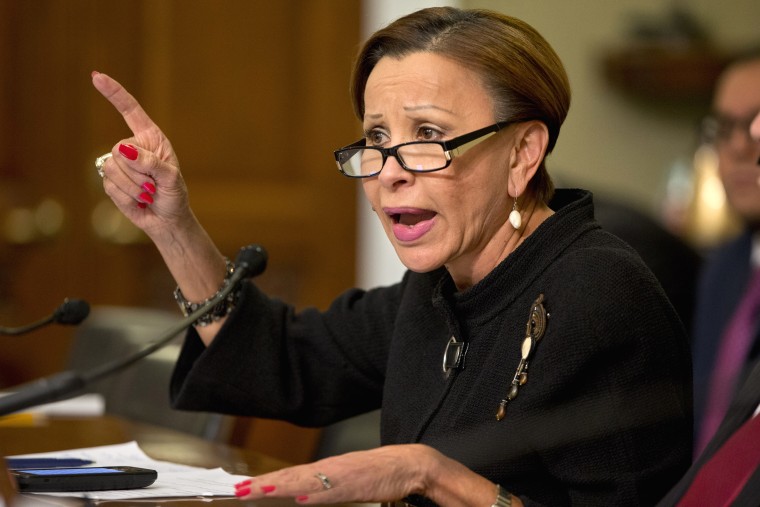 "Erasing these resources from SBA's website shortchanges gay, lesbian and transgender Americans who happen to be among our nation's most successful small business owners," Velázquez, the ranking member of the House Small Business Committee, said in a statement to NBC News.
"The fact that this move took place shortly after Donald Trump came into office raises troubling concerns and, as the committee of jurisdiction, we intend to get to the bottom of how this happened and see the situation rectified, quickly," she added.
Velazquez and Clarke listed six questions at the end of their letter to be answered by the SBA by May 22. The questions inquire about the agency's motive in removing the contents from the SBA's LGBT Outreach page, whether the resources that were on the page will be replaced and whether the agency will commit to engaging with lesbian, gay, bisexual and transgender business owners.
The Small Business Administration did not immediately respond to a request for comment.
Helen Russell, co-founder of Equator Coffees & Teas, an LGBT-certified business based in San Rafael, California, said it is "disheartening that the SBA has not taken action to restore the LGBT Outreach page." Russell's company, which she grew with the help of SBA loans, was named National Small Business of the Year by the SBA in 2016.
"LGBT business owners contribute over $1.7 trillion to the U.S. economy. We are innovators, job creators, taxpayers and providers of essential services that benefit our entire society," Russell told NBC News. "Erasing the page will not erase these contributions."
Justin Nelson, president of the National LGBT Chamber of Commerce, said the economic impact of the country's LGBTQ-owned businesses "knows no political ideology" and encouraged the SBA to reactivate the resources that "benefit job-creating, revenue-generating LGBT business owners."
"Our economy only works if everyone is represented and included," Nelson said, "and so we expect the SBA of the current administration to embrace what the private sector has known for decades: Diversity and inclusion are good for business"