Eleven Democratic senators called on the Trump administration Thursday to recognize the particular needs of people living with HIV as it responds to the global coronavirus outbreak.
In a letter to Health and Human Services Secretary Alex Azar on Thursday, the senators warned that the coronavirus "poses a serious health risk" to the estimated 1.1 million people in the U.S. who are HIV positive. The letter, which was shared with NBC News, says that "this risk is heightened by barriers to health care access" exacerbated by the White House's own policies.
"Your agency's actions to reduce health care discrimination protections for members of the lesbian, gay, bisexual, transgender, and queer (LGBTQ) community have created additional risks for this population during this national emergency," it states, further urging the federal government to "take affirmative action to ensure everyone in the United States, including people living with HIV, can safely access COVID-19 testing, treatments, and support services."
The letter — released the same day HHS was sued for axing LGBTQ discrimination protections — was signed by Sens. Bob Menendez of New Jersey; Charles Schumer of New York; Tammy Baldwin of Wisconsin; Richard Blumenthal of Connecticut; Chris Coons of Delaware; Tammy Duckworth of Illinois; Kamala Harris of California; Amy Klobuchar of Minnesota; Gary Peters of Michigan; Chris Van Hollen of Maryland; and Elizabeth Warren of Massachusetts.
In a phone interview with NBC News, Menendez said the Trump administration has done nothing to increase services for people living with HIV, who health experts and advocacy groups say are particularly vulnerable to the coronavirus. The senator added that this population is "right at the very heart" of the crisis, but it never gets "mentioned by the administration" when federal authorities discuss groups threatened by infection.
"They've done a poor job of meeting the needs of the community at large," Menendez said. "They certainly have been paying no particular attention to communities that have special needs."
As of Thursday afternoon, there were more than 9,000 known cases of COVID-19 in the U.S., resulting in at least 140 deaths. Among the populations most profoundly affected are elderly individuals, those with a history of respiratory issues and people with compromised immune systems. The latter group includes those living with HIV.
LGBTQ advocacy and health groups have recognized the particular dangers this growing pandemic poses for HIV-positive individuals, who are disproportionately likely to be gay, bisexual or transgender. Over 100 national and local organizations — including the National LGBT Cancer Network, Human Rights Campaign and Lambda Legal and — signed a March 12 open letter addressed to public health entities and government agencies asking them to ensure that people living with HIV are "adequately served during this outbreak."
"The undersigned want to remind all parties handling COVID-19 surveillance, response, treatment, and media coverage that LGBTQ+ communities are among those who are particularly vulnerable to the negative health effects of this virus," the letter stated.
In addition to higher rates of HIV, the signatories of the March 12 letter note other factors that make LGBTQ individuals particularly vulnerable include higher rates of cancer, which, like HIV, can lead to a compromised immune system; higher rates of tobacco use, which can be a particularly harmful when combined with a respiratory illness like COVID-19; and health care discrimination, which may make LGBTQ people more reluctant to seek medical care.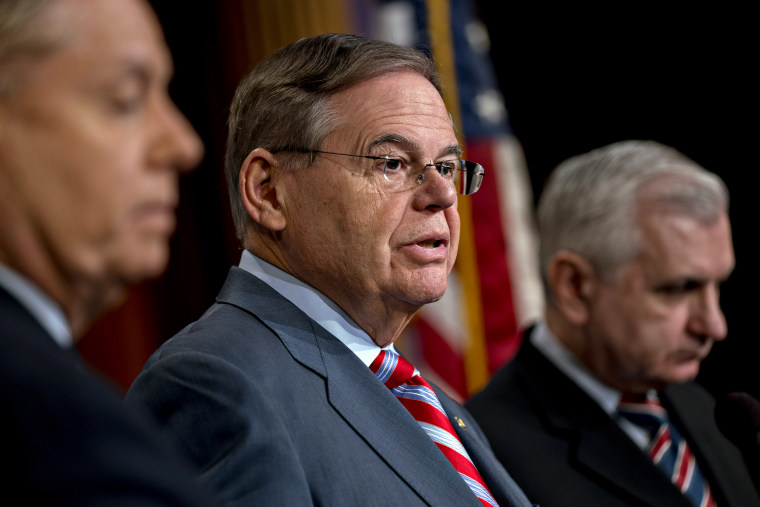 Menendez said the Trump administration's own decisions may make it difficult for people living with HIV or other affected groups get care should they contract coronavirus.
In 2018, the White House announced the creation of a Conscience and Religious Freedom division within HHS dedicated to the concerns of health workers who fear they may have to treat people or participate in care that goes against their "moral or religious convictions." A year later, the administration further codified those actions by proposing a rule critics said would be a "license to discriminate" against LGBTQ people in health care settings. For its part, HHS says it's "committed to fully enforcing the civil rights laws passed by Congress" and added that its 2019 rule proposal would help eliminate regulatory burdens "on the free exercise of religion."
Menendez, however, said HHS's actions "have in essence reduced the opportunity for those living with HIV to be protected from the virus."
In order to ensure that people living with HIV aren't denied care while seeking treatments, the senator called on the Trump administration to immediately "repeal rules seeking to undermine the antidiscrimination protections in the Affordable Care Act." But he also called on the White House to make sure HIV-positive individuals are able to get the medication they need by lifting the "refill limits of maintenance drugs."
As lawmakers negotiate a $1 trillion stimulus package to assist Americans struggling with a crisis that has left many out of work, Menendez said the president can play a significant role in making sure the government meets its responsibilities to communities in need. Trump has faced criticism for his handling of the coronavirus — from suggesting it's a "hoax" aimed at undermining his re-election bid and spreading false information to a delay in federal action that undermined the relief effort.
What's more, the president has notably shook hands in recent meetings and news conferences, ignoring the advice of public health authorities to stay at least 6 feet from each other and not shake hands. Coronavirus is primarily spread through person-to-person contact, which is why many are self-isolating to prevent future transmissions.
"The president is, at the end of the day, so to speak, the father figure of the country," Menendez said. "If he doesn't do the right thing, well, then people may say, 'Well, I don't need to do it. The president's not doing it.'"