The Department of Health and Human Services quietly removed lesbian and bisexual content from its women's health website last fall, according to a new report from the Sunlight Foundation, a nonprofit government watchdog group.
The findings, released on Wednesday, noted that the HHS-operated Office of Women's Health (OWH) "removed a webpage with extensive information about lesbian and bisexual health, and links that correspond to that webpage." The removal, according to the report, happened between September and October 2017.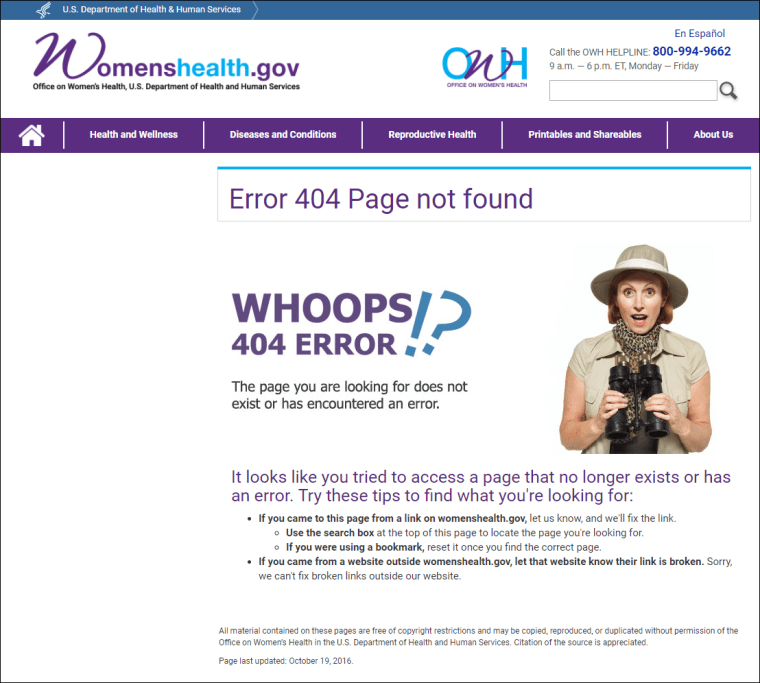 The removed "Lesbian and bisexual health" page, which had last been updated in 2012, contained answers to LGBTQ-specific health questions, including "What factors put lesbians' and bisexual women's health at risk?" and "What challenges do lesbian and bisexual women face in the health care system?" What was once the URL for this page now leads to a "page not found" error. A hyperlink that had previously led to the "Lesbian and bisexual health" page from the OWH's "A-Z Health Topics" page has also been removed.
The OWH website, womenshealth.gov, provides a wide variety of resources for women, from information on asthma to tips on healthy eating. Since May 2017, OWH has altered or removed several links and webpages from the website, which has been visited approximately 700,000 times over the past 30 days. The removal of other content will be the subject of subsequent reports, according to the Sunlight Foundation.
In a statement, an HHS spokesperson said the LGBTQ health content was removed in an effort to "provide the most accurate health information" on the site.
"As OWH updates its site, the outdated lesbian and bisexual health pages were removed and the health content was integrated into the relevant health topics pages across the website," the spokesperson said. "This aligns with how people search for content. You can now find lesbian and bisexual health content by searching for relevant health topics on the womenshealth.gov website."
The chlamydia page, for example, includes "Can women who have sex with women get chlamydia?" among its contents.
'TANTAMOUNT TO DISCRIMINATION'
LGBTQ health advocates, however, are not entirely convinced the content's removal was benign.
The Gay and Lesbian Medical Association (GLMA), which was listed as a resource on the now-obscured "Lesbian and bisexual health" page, issued a statement strongly condemning HHS' removal of the content.
"The erasure of lesbian and bisexual health content from WomensHealth.gov is tantamount to discrimination against a vulnerable population that already suffers significant health disparities and discrimination in healthcare," GLMA President Dr. Gal Mayer stated, adding that the removal is "yet another step HHS has taken to dismantle LGBTQ health initiatives over the past year under the Trump administration."
GLMA is also calling on health professionals across the U.S. to take action against a recent HHS proposal, titled "Protecting Statutory Conscience Rights in Health Care," that would allow health care providers to "refuse to perform, accommodate or assist with certain health care services on religious or moral grounds." This proposal would, according to GLMA, be a license to discriminate against LGBTQ people.
A CALL FOR TRANSPARENCY
Toly Rinberg, a co-author of the Sunlight Foundation report and director of the organization's Web Integrity Project, told NBC News that HHS' decision to take down the "Lesbian and bisexual health" webpage could generate confusion among visitors of the site, and the department should offer clearer communication to the public.
"What we're seeing is that federal offices and agencies are not proactively disclosing why they're changing websites," Rinberg said. "The government should be minimizing confusion, especially at a time when there's such uncertainty in shifting priorities."
Rinberg said the Sunlight Foundation monitors thousands of web pages across HHS with software that flags changes in the pages' contents. If a change is significant enough, Rinberg said it is reported on. Sunlight Foundation uses the Way Back Machine, an internet archive tool, to verify the changes.
"Was the fact sheet removed because it was out of date?" Rinberg asked, referring to a resource that had been on the "Lesbian and bisexual health" page. "Was it removed due to maintenance? Was it the result of an untransparent policy decision? The public can't differentiate those without clear communication and advanced notice, which in this case was not provided."
LGBTQ health experts also emphasized the need for transparency from government organizations providing resources to at-risk populations.
"There are a lot of misconceptions about health related to sexual and gender minority people," said Dr. Alex Keuroghlian, director of the National LGBT Health Education Center and assistant professor at Harvard Medical School.
"There's a lack of training of clinicians in this area, and both patients and clinicians are desperate for resources to be able to ensure that lesbian and bisexual women receive [adequate] care," Keuroghlian said. "I'm of the opinion the more readily available and visible we make these resources, the better our public health strategy is for sexual minority women."
LGBTQ HEALTH DE-EMPHASIZED?
The Sunlight Foundation report raised concerns regarding "other indications" that HHS has "deemphasized access to LGBTQ health" under the Trump administration.
For example, the official OWS Twitter account, @womenshealth, has not mentioned LGBTQ health issues since a November 2016 post under the Obama administration.
The report also noted an HHS Draft Strategic Plan released in October 2017 made "no mention of LGBTQ health," and that same month an HHS department withdrew a 2014 proposed rule that would have ensured Medicare- and Medicaid-participating health facilities treat same-sex married couples equally.
In another move that some advocates took to be indicative of a deemphasis of LGBTQ health, the White House did not mention gay and bisexual men or transgender women — groups disproportionately impacted by HIV — in President Trump's World AIDS Day proclamation.
LGBTQ CONTENT REMOVED FROM OTHER FEDERAL WEBSITES
HHS is not the only government department that has scrubbed LGBTQ-related content from its website.
Most notably, perhaps, was the removal of the White House's LGBT page, which had formerly been found at whitehouse.gov/lgbt. Under the Obama administration, the page stated the administration's commitment to the LGBTQ community and provided resources on bullying, AIDS and the now-defunct "don't ask, don't tell" policy. Now, however, it leads to a "page not found" error.
"We have the tools to monitor our federal government in this way," Rinberg said of tracking changes to federal websites. "But at the same time, we shouldn't have to."