Two decades ago, Sandra Moran said she could not speak publicly about her sexual identity. Instead, she shared her experience in private with Mujeres Somos, an underground self-help group she co-founded in 1995 for lesbians in Guatemala.
This made it even more groundbreaking when Moran spoke publicly about her sexuality when running for political office two years ago. She won more than 30,000 votes, becoming in January 2016 the first openly LGBTQ member of the Guatemalan Congress, an accomplishment she said wouldn't have been possible just a few years prior.
"I decided to make my identity public to open a path toward representation but also to avoid that people would use my identity against me," Moran told NBC News. "Fortunately, many young men and women identify with me, and this is so important. I don't think I'm the first [LGBTQ member of Congress], but this is the first time that someone identifies publicly with this community and openly tries to develop actions for it."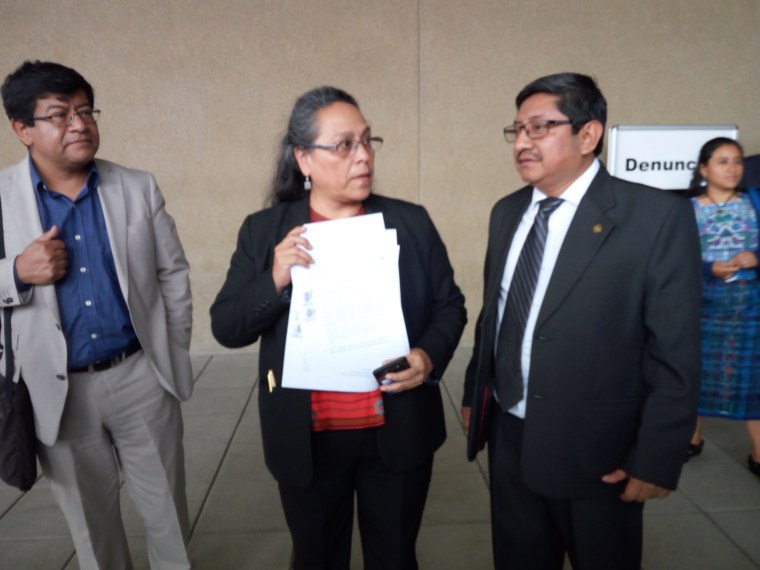 Moran's election was a major step forward for the traditionally Catholic, conservative country, which has not historically accepted the LGBTQ community. In recent years, the Central American nation has made strides to strengthen the rule of law and respect human rights, sending corrupt politicians to jail and expanding its laws to protect more citizens. This has made Guatemala a safer place for LGBTQ citizens, particularly in comparison to neighboring El Salvador and Honduras.
Congresswoman Moran has been an important advocate in this fight for LGBTQ rights. The policies for which she has fought show representation matters, particularly in a historically conservative country where not everyone wants to embrace progressive policy.
Since being elected, the 57-year-old has worked toward passing key legislation that would protect LGBTQ Guatemalans. This includes a proposal that would expand the country's anti-discrimination law to include sexual orientation and gender identity, making it easier to protect the LGBTQ community from hate-based crimes. The law is still under consideration in Congress.
"One of the main ideas that I had [for my platform] is how to prevent the violence that affects the lives of so many people," Moran said. "The violence against the LGBT community because of homophobia, lesbophobia and transphobia is overwhelming."
A Long History of Activism
Moran's time in office is a continuation of her decades-long fight against inequality and discrimination in Guatemala. She first joined the fight for social justice in the 1970s at the age of 14 as a member of a leftist student movement. At that time, she said the country was in the middle of a brutal civil war where leftist activists systematically disappeared at the hands of the state. At 19, she joined the guerrilla insurgency known as Ejército Guerrillero de los Pobres, or Guerrilla Army of the Poor.
In 1981, as many of her friends and comrades were disappearing, Moran said she fled to Mexico and later Canada and Nicaragua where she continued activism work. In 1994, she returned to Guatemala as the conflict started to come to a close. Once again in her home country, she became involved in efforts to include women in the process of signing a peace accord, which was finalized in 1996.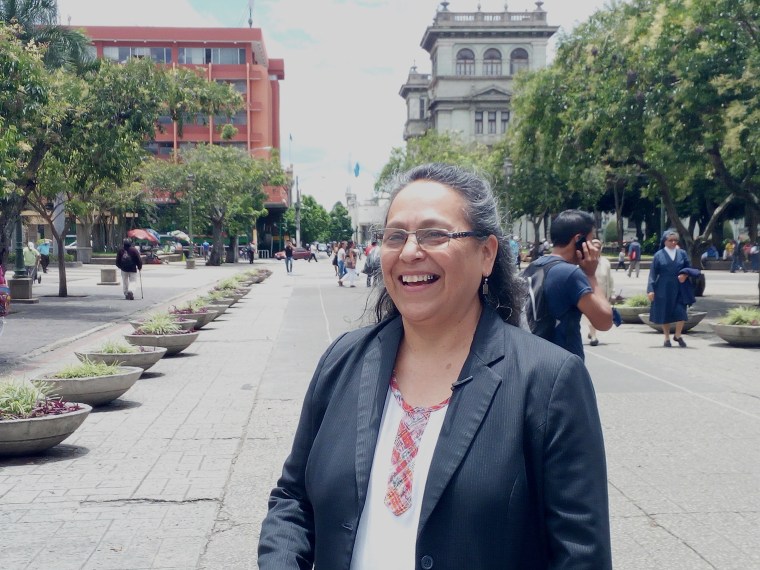 Nearly two decades later, in 2015, Guatemala experienced a grassroots protest movement where tens of thousands of citizens took to the streets to demand an end to corruption. Around that time, Moran said she got a phone call from a member of the newly formed Convergence Party, which was building a platform around social issues. The representative asked Moran if she would be interested in running for office. She initially declined, but after further consideration Moran decided to put herself on the ticket.
"Congress, as it should be, is a representation of the people," Moran said. "It should be a true representation of we Guatemalans who make up the country, but unfortunately, it's not like that."
Only 21 out of 158 members of the country's Congress are women, and an estimated 12 representatives have a social justice background. Three seats in Congress belong to Moran's leftist Convergence Party, one of more than a dozen political parties.
Not all Guatemalans have welcomed Moran's presence in Congress. She has been the target of multiple personal and political attacks in her two years in office, including a campaign that argued being a lesbian made Moran unfit to lead the Women's Assembly. "It's an identity that isn't easy to have," Moran said.
Despite resistance, Moran remains steadfast in her commitment to advocating for Guatemalans who are discriminated against, silenced and pushed to the side. She said she will continue to do so even when her term is up in 2020, whether it is from inside Congress or on the streets.
"I am going to contribute where I can and where I am. Every moment and every space gives you an opportunity to contribute and learn," Moran said. "The objective is always the same: a Guatemala with prosperity and possibilities for every man and every woman."