Wedding planning can be stressful, but for Kendall Brown and Mindy Rackley, the arrangements were going uncharacteristically well.
"There were no issues. It's different when two women are planning, because usually the bride does the bulk of the planning," Brown told NBC News. "Of course, we had to compromise on certain decisions to make our dreams come true, but it was going really smoothly."
But their plans derailed when Brown attempted on June 3 to book their wedding rehearsal dinner at Madison's Cafe, an Italian restaurant in O'Fallon, Missouri.
"The owner's wife [Julie Kuhn] called me and asked me what the groom's name was, and I told her there wasn't a groom and that I was marrying a woman, and her name is Mindy," Brown, 28, recalled. "She told me, 'Well, I'm sorry, but we're going to have to refer you to somewhere else.' I was silent."
Brown said Kuhn added that she was refusing her service "out of love for her" because she wasn't "in a healthy relationship." Stunned by her comments, she immediately called Rackley in tears.
"You hear things like this happening all the time, but I think for us, we live in this little bubble," Brown said. "We surround ourselves by people who are so loving and so supportive that when it happened, I felt so alone."
Rackley posted their story to Facebook in an attempt to create awareness about the discrimination LGBTQ people face, and to alert other LGBTQ people that Madison's Cafe might not be a "safe" space for them to visit.
"I wanted it to be known that we choose not to fight hate with hate," Rackley said. "I also wanted people to make an educated choice about where they choose to eat … Nobody deserves to be treated like that. That's not human."
As news about the couple's experience spread online, people began to leave an influx of negative reviews on the restaurant's Yelp page. Yelp has temporarily suspended new posts on the page, stating that, "This business recently made waves in the news, which means people come to this page to post their views on the news rather than their actual consumer experiences."
Tom Kuhn, the owner of the restaurant, said that he had "no comment," but referred NBC News to the restaurant's website, where a statement listing the owners' religious values was recently added.
"We believe that the Bible teaches that the only true and appropriate marriage is the union of one man and one woman, as created, and that other types of marriage are immoral. We also believe that it is our religious duty not to aid or assist others to act immorally," the statement reads.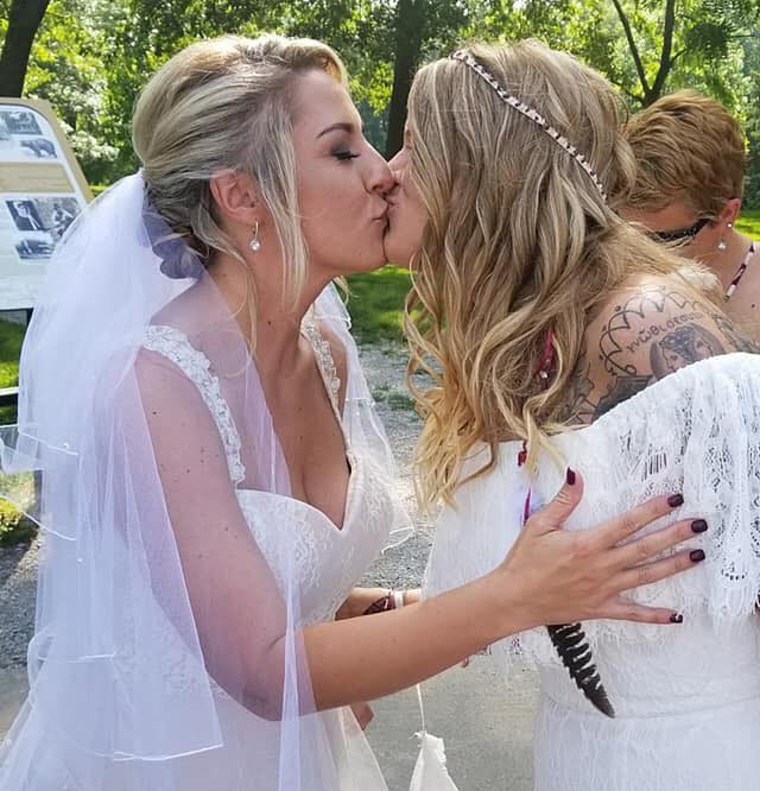 Brown and Rackley, who both identify as spiritual, disagree with those religious interpretations, stating that the Jesus they know accepts everyone.
"We honor their choice to believe whatever they have chosen, but when do you draw the line?" Brown asked. "Not too long ago, people were using religion to justify racism and not serving African Americans. We can't hide this inhumanity under a religious umbrella."
Steph Perkins, the executive director of the statewide LGBTQ advocacy organization PROMO, said that turning the couple away for their rehearsal dinner is legal in the state of Missouri.
"The Missouri Human Rights Act offers protections based on sex, religion, disability, race and other categories, but it does not include protections for gender identity and sexual orientation," Perkins said. "Some municipalities in Missouri have their own inclusive protections for gender identity and sexual orientation, but O'Fallon, where this restaurant is located, does not have any law that would prohibit people from denying service to LGBT people."
Perkins added that because there are no such protections, there have been numerous instances similar to Brown's and Rackley's. One recent case included two other women, Rachel Cathey and Beverly Vaughn, who wanted to get married at the Heritage Ranch in Sedalia, Missouri, but were cast out because of their sexuality. Another included Bev Nancy and Mary Walsh, a lesbian couple whose application to the Missouri retirement home, the Friendship Village, was rejected because staff said their marriage is "not understood by the Bible."
Brown and Rackley wed this past Saturday and said they were welcomed with open arms by Rizzo's, another Italian restaurant in Wentzville, Missouri.
"They were amazing. They were honored to be a part of it," Rackley said. "The world we live in can seem so hateful and sad, but seeing others rally behind us has changed my perspective."