Fatma Marouf, 41, and Bryn Esplin, 33, married in 2015 and decided to settle in Fort Worth, Texas, the following year. Marouf is a law professor at Texas A&M and director of its Immigrant Rights Clinic, and Esplin is a bioethics professor at the university's medical school.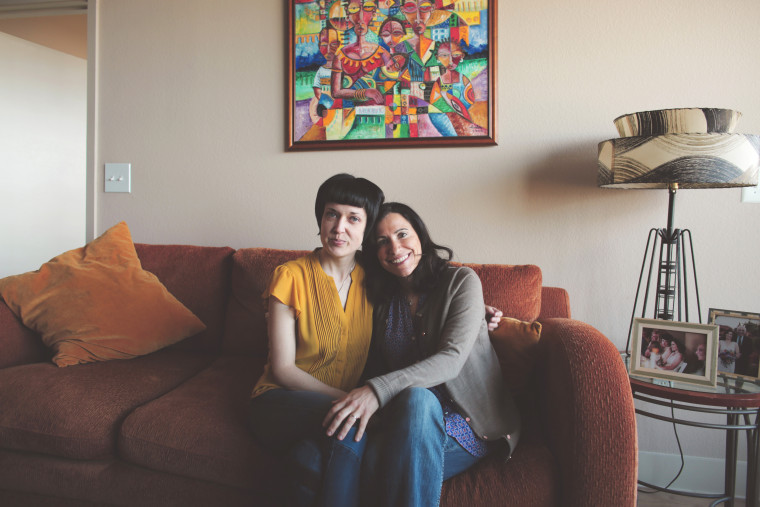 Through Marouf's work at the Immigrant Rights Clinic, she was made aware of Catholic Charities of Fort Worth and its role in placing unaccompanied refugee children with families in the area. CCFW receives funding to do so from the U.S. Conference of Catholic Bishops (USCCB), which in turn receives funding from the U.S. Department of Health and Human Services (HHS).
After a visit to CCFW's facility in early 2017, at the request of the organization's CEO, Marouf said she was struck by the urgency to provide homes to refugee children.
"There are hundreds and hundreds of children who come in as refugees who have gone through enormous ordeals and need places to stay," Marouf told NBC news.
"What is infuriating is federal taxpayer dollars being used for discrimination and denying equal rights, which is completely unconstitutional."
Jamie Gliksberg
That visit, Marouf said, inspired her and Esplin to apply to foster a refugee child. "It just seemed like a really good fit," she said.
However, after several email exchanges and a phone call with CCFW where it was made clear the women were a same-sex couple, Marouf said a CCFW board member informed them they were ineligible to foster a child because they did not "mirror the Holy Family." She said the rejection "felt like a slap in the face."
"We were shocked," Marouf added. "We're both highly educated, stable. We have a lot of love to give."
Earlier this week, one year after their foster care application was rejected, Marouf and Esplin filed a lawsuit against HHS, USCCB and several HHS officials. The suit, filed by LGBTQ nonprofit Lambda Legal on the couple's behalf, claims HHS unlawfully funds "certain child welfare organizations that perform federal taxpayer-funded services relating to unaccompanied refugee children in federal care and custody in a manner that impermissibly discriminates against same-sex couples who are prospective foster and adoptive parents."
Jamie Gliksberg, a Lambda Legal staff attorney working on the case, called the defendants' actions "infuriating."
"HHS is funding social services using federal taxpayer dollars while all along knowing that USCCB refuses, on religious grounds, to provide these services to same-sex couples," she said. "What is infuriating is federal taxpayer dollars being used for discrimination and denying equal rights, which is completely unconstitutional." The defendants' actions, she added, are also "depriving children of loving and supportive" homes.
Gliksberg said HHS was aware of USCCB's policies related to religion and same-sex couples, because USCCB disclosed in its grant applications that it would only provide service in accordance with the teachings of the Catholic Church. USCCB's stance on same-sex marriage was also a matter of public record. "It's all over their website," Gliksberg said.
Marouf, Esplin and Gliksberg said this issue should have never come to litigation. Marouf said she immediately notified HHS via email that CCFW had denied the couple's application but said she received "total silence." After several months went by with no response, she and Esplin decided to pursue legal action. "If they had just fixed it right away, it wouldn't have had to be litigated," Marouf said.
The couple's difficulty with the foster care system occurs against the backdrop of the Trump administration's decision last month to establish a Conscience and Religious Freedom Division inside the HHS, dedicated in part to shielding health care workers who refuse to provide services on religious grounds.
As for its impact on Marouf and Esplin's case, Gliksberg said it's "unclear" what role the newly created division will have.
"This administration has had that same goal of disguising its discrimination and calling it religious freedom," Gliksberg said. "That right doesn't come at the expense of other people's constitutional rights."
The "humiliating rejection" experienced by Marouf and Esplin, she added, "perfectly illustrated how one of our most cherished rights is being turned into a weapon to discriminate against LGBT people."
A spokesperson for HHS told NBC News the department does not comment on pending litigation, and USCCB did not respond to multiple requests for comment.