"Maiden Voyage," an illustrated children's book following the love story of two women, is on the horizon.
A Kickstarter campaign for the storybook, which is aimed at 5 to 10 year olds, had generated nearly $30,000 as of Monday afternoon.
"Diverse books like ours face an uphill battle to publication," the project's Kickstarter page states. "Campaigns like this one are the best way to prove there is demand, and make children's literature more inclusive."
The story follows a fisherman's daughter, Ru, who inherits a treasure map from her father and joins the crew of the adventurous Captain Freya. Captain Freya and Ru develop a strong bond on the high seas as they try to escape a gang of pirates, and that bond eventually turns into love.
"Maiden Voyage" is the follow-up to "Promised Land," a children's book released in February that centers around the love story of a farmer's son and a prince.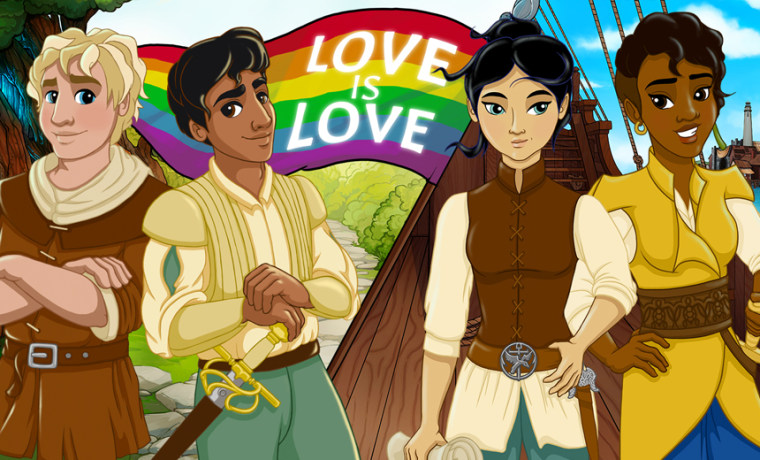 "It's important for young people to feel included, that they have a place in the world and something they can relate to," "Maiden Voyage" co-author Jaimee Poipoi said in a statement sent to NBC News. "If they can identify themselves within a story, that empowers them to be who they are."
Poipoi said "Maiden Voyage" was a project he "just could not say no to." He said he hopes it will lead to "more respectful discussions about what equality is and what it may look like."
"Maiden Voyage" is expected to be released in June 2018, just in time for LGBTQ Pride Month.