A federal appeals court ruled last week that federal anti-discrimination law extends protections to gay and lesbian workers in cases where they claim discrimination based on both their sexual orientation and gender.
The ruling further divides federal courts on the topic of whether Title VII of the Civil Rights Act of 1964 — which "prohibits employment discrimination based on race, color, religion, sex and national origin" — covers discrimination based on sexual orientation and gender identity.
LORI FRANCHINA V. CITY OF PROVIDENCE
Last Thursday, the U.S. Court of Appeals for the 1st Circuit upheld an $800,000 jury award, plus attorney fees, for Lori Franchina, a former firefighter in Providence, Rhode Island, who said she experienced persistent harassment and abuse from male colleagues because she is both a woman and a lesbian. Franchina initially sued in federal court in 2012, alleging she developed severe post-traumatic stress because of the constant mistreatment.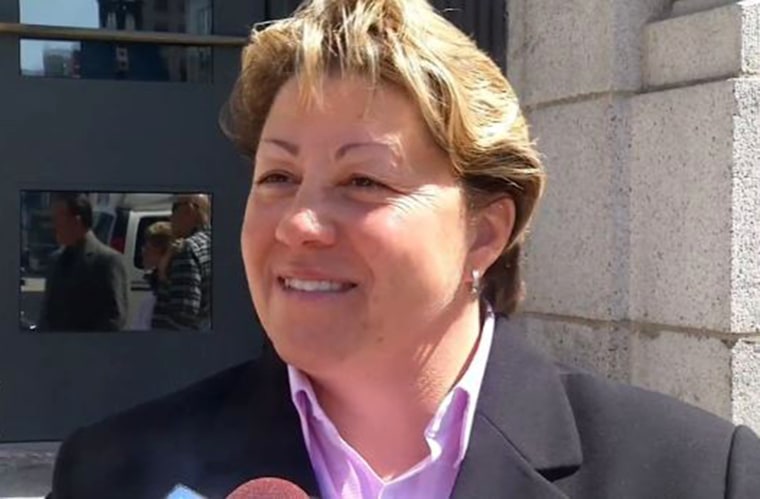 "The abuse Lori Franchina suffered at the hands of the Providence Fire Department is nothing short of abhorrent," Judge Ojetta Rogeriee Thompson wrote for the majority. "As this case demonstrates, employers should be cautioned that turning a blind eye to blatant discrimination does not generally fare well under anti-discrimination laws like Title VII."
The ruling recounts a relentless pattern of verbal and physical harassment by co-workers and retaliation after Franchina filed complaints. Franchina claimed the mistreatment began in 2006 following her promotion to lieutenant.
"Sticks and stones may break some bones, but harassment can hurt forever," Thompson's ruling stated. Franchina "was also spit on, shoved, and — in one particularly horrifying incident — had the blood and brain matter of a suicide-attempt victim flung at her by a member of her own team," the judge said.
A spokesperson for the city of Providence said Thursday's ruling won't be appealed and asserted the city remains committed to maintaining a workplace that's free from harassment and discrimination.
'SEX-PLUS CLAIMS'
The court's decision, which took into account the harassment Franchina faced because of her sexual orientation and gender, referred to her claim as a "sex-plus claim."
"In short, 'sex-plus claims' are a flavor of gender discrimination claims where 'an employer classifies employees on the basis of sex plus another characteristic,'" the ruling stated.
Anthony Kreis, a professor at Chicago-Kent College of Law, explained that the court's decision means "sexual orientation can add on to a sex-discrimination claim."
For example, women who are mothers may be subject to discrimination on the basis of their sex, but also because an employer has prejudiced beliefs about the ability of mothers to perform their job. In this example, the "plus" would be motherhood, and in the case of Franchina, the "plus" would be sexual orientation.
In a section of the ruling titled "What's Required to Prove a Sex-Plus Claim Under Title VII," the judge asserted that Title VII "bars discrimination when sex is 'a motivating factor,' not 'the motivating factor.'" She then went on to explain that under Title VII, a plaintiff who is a sub-class of a protected class can win a favorable verdict "even when not all members of a disfavored class are discriminated against."
TITLE VII: AN UNSETTLED ISSUE
The extent to which Title VII should be read to encompass sexual orientation and gender identity is an unsettled issue, and last week's ruling in favor of Franchina further divides federal courts on the topic.
In April 2017, the U.S. Court of Appeals for the 7th Circuit, in a landmark ruling, Hively v. Ivy Tech Community College, found that Indiana educator Kimberly Hively had been fired due to her sexual orientation and was protected by Title VII.
By contrast, however, the 11th Circuit, in Evans v. Georgia Regional Hospital, declined to reconsider the case of Jameka Evans, a Georgia security guard who alleged employment discrimination on the basis of her sexuality and gender-nonconformity. The Supreme Court also declined to take up Evans' case this session.
The 2nd Circuit is currently considering a similar case, one involving a New York skydiving instructor who claimed he was fired for being gay. In July, the Justice Department filed a brief in the case, Zarda v. Altitude Express, which argued Title VII does not cover sexual orientation, putting the department at odds with the Equal Employment Opportunity Commission. The DOJ then released a memo in October stating Title VII also does not cover gender-identity claims.
Kreis said last week's ruling by the 1st Circuit "does not stand in direct contrast to the DOJ's position, but certainly does undermine what the DOJ has been arguing."
The 1st Circuit "really cracked the door open" to understanding "sexual-orientation discrimination as a form of sex discrimination," Kreis added.