The acronym "LGBT" typically stands for lesbian, gay, bisexual and transgender. However, flyers sent to Tennessee gay bars last week with the acronym emblazoned on them were not interpreted by the local community to be supportive of gender and sexual minorities.
Gay bars in Nashville received pamphlets with the acronym and images of the Statue of Liberty (L), a gun (G), a beer bottle (B) and President Donald Trump (T). The gun pictured in the flyer, an assault rifle, is similar to the one used in the shooting at Orlando gay nightclub Pulse, advocates pointed out.
Melvin Brown, owner of Stirrup Sports Bar, found the flyer Thursday in his bar's mailbox. He called it "disturbing" and said whoever created it was sending a "very deliberate" threat.
"We live in a post-Pulse world in the LGBTQ community, especially in the bar scene," Brown told NBC News. "To see somebody send a postcard that had a picture of the weapon used in one of the deadliest assaults in this nation's history, and one that happened at an LGBTQ bar, and to send that image to LGBTQ bars, to me is not a coincidence."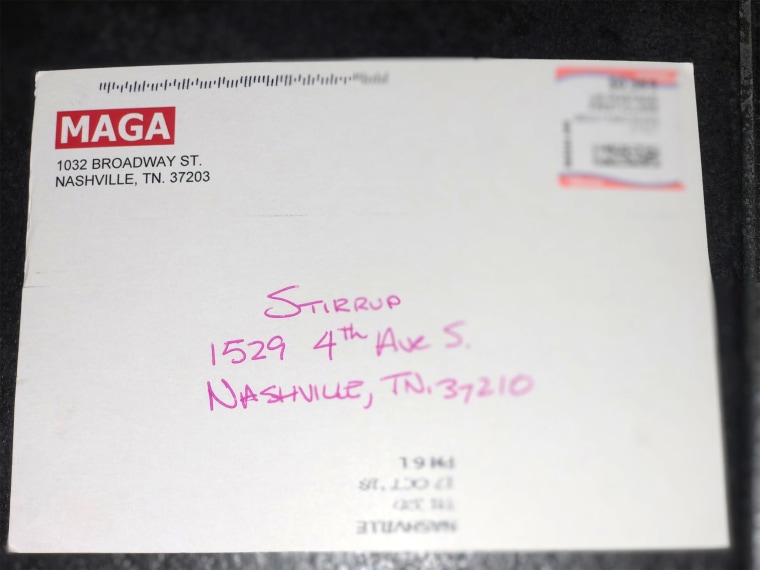 The flyer was sent to at least four gay bars in the area, according to WTVF Newschannel 5. The return address on the mailing is that of an empty parking lot, and the sender signed the flyer "MAGA," an acronym for President Trump's popular catchphrase: "Make America great again."
Chris Sanders, executive director of the Tennessee Equality Project, said the flyers were mailed for intimidation purposes and could be politically motivated. He explained that many gay bars — including Stirrup Sports Bar — host voter registration drives.
"This has a very aggressive tone about it," Sanders said. "It doesn't use many words, but it uses a lot of images I think are meant to threaten us. The community's message back is, 'Yes this is frightening, but we're going to turn out and vote regardless.'"
Kris Mumford, a spokesperson for the Metropolitan Nashville Police Department, told NBC News the department is aware of the incident, but said there is no investigation at this time. Mumford did, however, say the department has dispatched additional officers to patrol Church Street and other areas where gay bars are located.
Brown said he has no idea who could have sent the flyer to his bar, but he confidently said if their intent was to "scare," "intimidate" or "threaten" the LGBTQ community, "it won't work."
"It will galvanize," he said. "People will respond in ways that are positive and uplifting, because that's the way we choose to live our lives."